Earlier today, Sentai Filmworks announced that they acquired the rights to two new titles. The publisher will add the following to their Summer 2019 simulcast lineup:
O Maidens in Your Savage Season
Re:Stage! Dream Days♪
Both titles will stream on select digital outlets, followed by home video releases.
O Maidens in Your Savage Season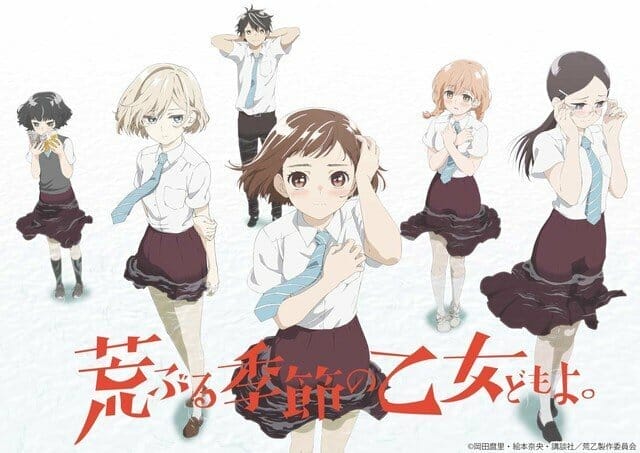 Sentai will stream O Maidens in Your Savage Season worldwide, outside of Asia, Germany, France, and Australia.
Masahiro Ando (Snow White with the Red Hair, Sword of the Stranger) will co-direct O Maidens In Your Savage Season with Takurō Tsukada at Lay-duce, with Kaori Ishii providing character designs. Creator Mari Okada (Maquia: When the Promised Flower Blooms, Mobile Suit Gundam: Iron-Blooded Orphans) is in charge of series composition.
Sentai describes the title as:
When the girls in the literature club ask themselves, "What do you want to do before you die?" one of them gives a most surprising response. Now they're all preoccupied (for better or for worse) by their friend's unexpected answer! Soon each of these very different young women find themselves propelled along the uncertain road to adulthood, their emotional journeys taking them down paths as surprising as their friend's unconventional wish. Poignant, painful and awkward in turns, O Maidens in Your Savage Season chronicles with humor and with grace the universal rites of passage so endemic to growing up.
Re:Stage! Dream Days♪
Sentai will stream Re:Stage! Dream Days♪ in the following regions:
United States
Canada
United Kingdom
Ireland
Australia
New Zealand
Latin America
Scandinavia
The Netherlands
South Africa
Spain
Portugal
Shin Katagai (Neo Angelique Abyss, Eyeshield 21) was tapped to direct the project at Yumeta Company and Graphinica, with Motohiro Taniguchi (My Sweet Tyrant, Yuruyuri San Hai!) providing character designs. Original author yoree is in charge of series composition for the project.
Sentai describes Re:Stage! Dream Days♪ as:
Young Mana Shikimiya once had big dreams, but she set those dreams aside once she reached middle school in order to live a normal life. When Mana joins the Singing and Dancing Club of Homareboshi Academy to help save the group from being shut down, her dreams of stardom are rekindled. She'll give it her all to win the Prism Stage competition and be named the top idol. With her friends beside her, there are no dreams too big!