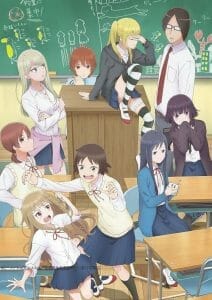 On June 28, Sentai Filmworks announced that they picked up the rights to Wasteful Days of High School Girls. The publisher will stream the series as part of their Summer 2019 simulcast lineup in the following regions:
United States
Canada
Australia
New Zealand
United Kingdom
Ireland
South Africa
The Netherlands
Scandinavia
Spain
Portugal
Latin America
Takeo Takahashi (Spice and Wolf, Rokka: Braves of the Six Flowers) was tapped to serve as chief director, while Hijiri Sanpei directs the project at Passione. Sachiko Yasuda (Seven Mortal Sins) is providing character designs, while Masahiro Yokotani (Rascal Does Not Dream of Bunny Girl Senpai, Free! – Iwatobi Swim Club) takes care of series composition.
The confirmed voice cast includes:
Nozomu Tanaka: Chinatsu Akasaki
Akane Kikuchi: Haruka Tomatsu
Shiori Saginomiya: Aki Toyosaki
Saku Momoi: Maria Naganawa
Minami Yamamoto: Miyu Tomita
Kanade Ninomae: Rie Takahashi
Hisui Kujō: M.A.O
Lily Someya: Satomi Satou
Masataka Sawatari: Kazuyuki Okitsu
Sentai Filmworks describes the title as:
Bored out of her skull, Tanaka decides to give her friends some rather quirky nicknames, but they aren't going to take her unflattering descriptions lying down. Sakuchi (who got saddled with "Ota" due to her nerdy otaku tendencies) and Saginomiya (dubbed "Robo" thanks to her deadpan personality) decide to call Tanaka "Baka" — and honestly? This should give you a pretty good idea of the shenanigans these three get up to. They're at the height of their youth and they're utterly ridiculous, eagerly and hilariously wasting away their days as high school girls!
Bino's Joshi Kōsei no Mudazukai launched in the pages of Comic Newtype in 2014. The series also runs in Nico Nico Seiga, as well as pixiv Comic. Four volumes of the series have shipped to stores to date, with the most recent hitting stores on November 10, 2018.
Source: Sentai Filmworks (Press Release)