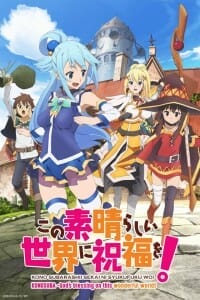 On July 6, Crunchyroll announced that they would add the KonoSuba OVAs to their digital platform. Both episodes hit the service earlier today for all subscribers outside of Asia, Spain, Portugal, Australia, New Zealand; and German, French, Italian and Dutch Speaking Europe.
The Season 1 OVA is available in subtitled Japanese, as well as dubbed in English, Portuguese, and Spanish. Crunchyroll describes the feature as:
After a trip to Wiz's shop, the gang encounters Megumin's self-proclaimed rival, Yunyun. Annoyed at the group's increased level of obnoxiousness with a new member added, Kazuma notices a choker at his feet. After trying it on casually, he realizes he's in trouble: it's actually a "Wish-Granting Choker" which won't come off until the wearer's wish is granted, on top of gradually strangling them over time. The party tries everything they can think of to grant Kazuma's wish: Wiz lets him lay his head in her lap, Darkness does push-ups while her chest sways, and Megumin and Yunyun play strip rock-paper-scissors while Aqua runs errands and serves drinks. But in spite of it all, the choker shows no sign of coming off.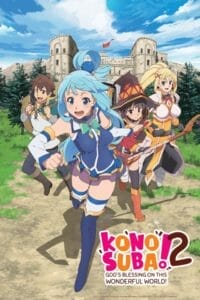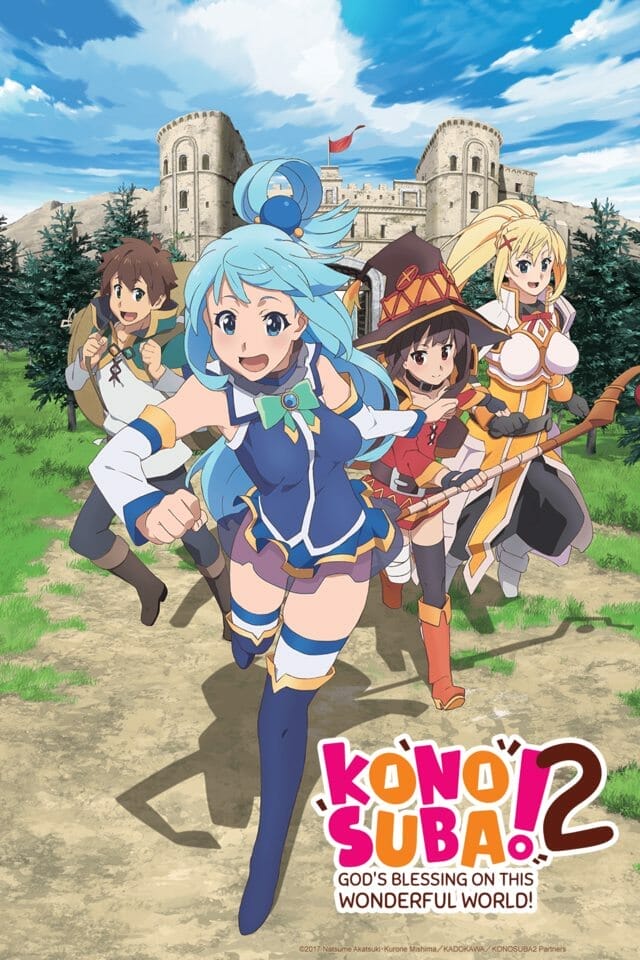 The Season 2 OVA launched today in subtitled format, with dubbed versions slated for an unspecified later date as of press time. Crunchyroll describes the episode as:
After returning from Arcanretia and defeating one of the Devil King's generals, Hans, Kazuma is able to cash in the reward and live a stress-free life of luxurious laziness. One day, at the guild hall, he runs into a newbie adventurer named Ran who idolizes him for his exploits, and wants to shake his hand. While Kazuma smugly indulges his new fan, Luna, the guild's receptionist, assigns him a golem extermination quest. Not wanting to look bad in front of his admirer, Kazuma ends up accepting the task, and heads to the ruins with Aqua, Megumin, and Darkness in tow.
In addition, Crunchyroll announced that the second season of KonoSuba -God's blessing on this wonderful world! will receive an English dub. The adaptation is slated to launch on the service "soon."
KonoSuba aired in the Winter 2016 broadcast season. A second season aired in the Winter 2017 broadcast season.
Takaomi Kanasaki (Is This a Zombie?, Tokyo Ravens) directed the title at Studio DEEN, with Koichi Kikuta providing character designs. Makoto Uezu (Akame ga KILL!, The Heroic Legend of Arslan) was in charge of series composition.
Crunchyroll describes the show as:
After a traffic accident, Kazuma Sato's disappointingly brief life was supposed to be over, but he wakes up to see a beautiful girl before him. She claims to be a goddess, Aqua, and asks if he would like to go to another world and bring only one thing with him. Kazuma decides to bring the goddess herself, and they are transported to a fantasy world filled with adventure, ruled by a demon king. Now Kazuma only wants to live in peace, but Aqua wants to solve many of this world's problems, and the demon king will only turn a blind eye for so long…
Source: Crunchyroll, Twitter (Konosuba_Anime)