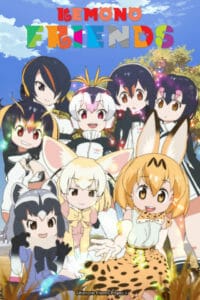 Earlier today, Discotek Media hosted their industry panel at Otakon. During the event, the publisher announced the English dub cast for Kemono Friends. The series will star the following:
Kaban: Suzie Yeung
Serval: Dani Chambers
Lucky Beast: Suzie Yeung
Common Raccoon: Madeleine Morris
Fennec Fox: Alexis Tipton
Hippopotamus: Melissa Sternenberg
Small-Clawed Otter: Emi Lo
Jaguar: Terri Doty
Japanese Crested Ibis: Michelle Marie
Alpaca Suri: Corinne Sudberg
Sand Cat: Kristi Rothrock
Tsuchinoko: Sarah Williams
Black-Tailed Prairie Dog: Sarah Wiedenheft
North American Beaver: Elisa Annette
Lion: Krystal LaPorte
Siberian Moose: Hayden Daviau
Princess: Amanda Lee
Emperor: Dawn M. Bennett
Gen: Megan Shipman
Rocker: Morgan Berry
Hululu: Kayli Mills
Mirai: Suzie Yeung
Aurochs: Marcie Teague
Arabian Oryx: Leah Clark
Giant Armadillo: Emily Fajardo
Crested Porcupine: Anairis Quinones
White Rhinoceros: Cassie Ewulu
Panther Chameleon: Jad Saxton
Shoebill: Sandra Toure
Japanese Black Bear: Amanda Gish
Professor (Northern White-Faced Owl): Kimberley Anne Campbell
Assistant (Eurasian Eagle Owl): Bryn Apprill
Margay: Caitlin Glass
Ezo Red Fox: Apphia Yu
Silver Fox: Natalie Van Sistine
Reticulated Giraffe: Amber May
Gray Wolf: Marissa Lenti
Campo Flicker: Yenni Ann
Golden Snub-Nosed Monkey: Michelle Rojas
Brown Bear: Amber Lee Connors
African Wild Dog: Danielle McRae
Aardwolf: Lindsay Sheppard
Fossa: Chasity Conner
Indian Elephant: Elise Baughman
Axis Deer: Felecia Angelle
Tasmanian Devil: Geordie Holly
Frilled Lizard: Tia Ballard
King Cobra: Kira Buckland
Indian Peafowl: Meli Grant
Southern Tamandua: Kristen McGuire
Okapi: Jocelyn Michelle Townsie
Scarlet Ibis: Katelyn Barr
Capybara: Alison Viktorin
Short-Beaked Common Dolphin: Alex Moore
Black Cerulean: Chris Guerrero
The publisher will work with Sound Cadence Studios to produce the adaptation. Marissa Lenti will direct the dub and write the scripts. Discotek started streaming an English trailer for the feature, which you can check out below.
Last but certainly not least, here's our full trailer for the dub of Kemono Friends. Look forward to it– it comes out in September 2019!! pic.twitter.com/1YzfjfWXdd

— ????Discotek Media (@discotekmedia) July 28, 2019
The publisher also streamed two clips from the dub. one features Triple-P's song, as performed by the English cast, while the other introduces the major cast members.
That does it for new title announcements. Now, we'll talk about the new dubs we've done with @SoundCadence. First off: let's meet the main cast of Kemono Friends in this adorable video clip!! pic.twitter.com/RB5ZukCLm0

— ????Discotek Media (@discotekmedia) July 28, 2019
DID YOU KNOW: that Triple-P's song was dubbed in English, too?? It's true! Check it out! pic.twitter.com/r2MZYTNsDr

— ????Discotek Media (@discotekmedia) July 28, 2019
Kemono Friends will be released on Blu-Ray on September 24. Planned extras on the release include "Friend Bios, Bloopers, Behind-the-Scenes Video, [and] Commentary Tracks", among others.
Kemono Friends began life as a smartphone game from publisher Nexon, which launched in March 2015. The game ended service on December 14, 2017, ahead of the anime's January 10 première. In February, Nexon announced that, despite the anime's popularity, the game wouldn't return. A spokesperson softened the message later, stating that it's "possible" for a revival of the game.
The Kemono Friends anime, which aired in Winter 2017, is based on said smartphone game. TATSUKI directed the show at Yaoyorozu, with Shigenori Tanabe (Danchi Tomoo) writing and overseeing the show's scripts. Sgt. Frog creator Mine Yoshizaki is credited with the original character concept designs.
Crunchyroll streamed Kemono Friends as it aired in Japan. They describe the show as:
About The story takes place in Japari Park, an enormous integrated zoo built somewhere in this world. A mysterious substance found there, called "Sand Star," causes the animals to turn into humanoid beings called "Animal Girls"! These new creatures spend every day peacefully with the zoo's visitors… but after some time, a lost child turns up in the park. The child's attempt to find the way home turns into a great adventure with the Animal Girls!
Source: Twitter (DiscotekMedia)