Earlier today, Discotek Media hosted their industry panel at Otakon. During the event, the publisher announced that they acquired nine new titles. The publisher will release the following:
Battery the Animation
Bludgeoning Angel Dokuro-chan
Cleopatra
Kyo Kara Maoh! R
Kyo Kara Maoh! 3rd Series
Medabots
NG Knight Lamune & 40
Senki Zesshō Symphogear Season 1
The Great Passage
Battery the Animation
Discotek will release Battery The Animation on subtitled Blu-Ray.
Tomomi Mochizuki (Princess Nine, House of Five Leaves) directed the Summer 2016 series at studio Zero-G, and handled series composition duties. Hideoki Kusama (Grand Blue Dreaming) provided character designs.
Amazon streamed Battery The Animation as part of their simulcast lineup. They describe the title as:
Takumi Harada is a talented baseball player. Takumi meets Go Nagakura, a catcher who can catch Takumi's fastest pitches. They join the school baseball team and grow together as a battery unit.
Bludgeoning Angel Dokuro-chan
Discotek will release Bludgeoning Angel Dokuro-chan on Blu-Ray in 2020. Their release will include both seasons of the show, in dubbed and subtitled formats.
Tsutomu Mizushima (Genshiken, Girls und Panzer) directed the 2005 series and wrote the scripts at studio Hal Film Maker, with Makoto Koga (Aria the Animation, Panyo Panyo Di Gi Charat) providing character designs.
Media Blasters orignally released the title in North America, and describe it as:
Imagine a world where the secret to immortality has been discovered, causing women to stop aging by the time they turn twelve. Sounds like it might be a perfect playground for a discoverer with less-than-wholesome interests, doesn't it? That's exactly why the Big Man Upstairs sends Dokuro-chan, one of his angelic assassins, into the past to "deal" with the sicko who messed with nature!

But Dokuro-chan decides instead to move in with her target, Sakura Kusakabe, and keep him too occupied to find eternal life. Funnily enough, the path of nonviolence leads to a fountain of blood, as Dokuro-chan accidentally kills Sakura on an almost-daily basis only to resurrect him with a magical chant moments later.
Cleopatra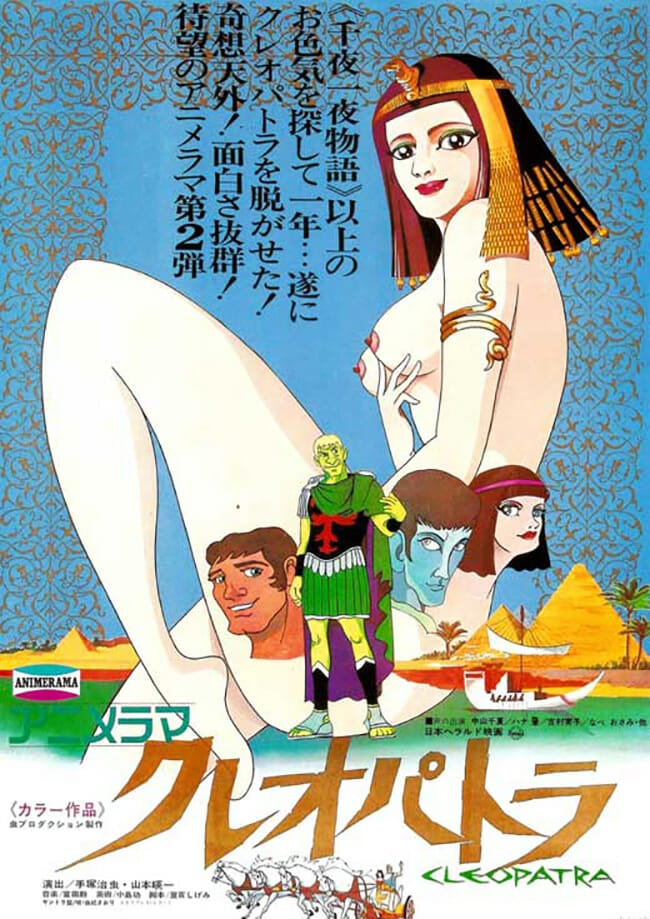 Discotek will release Cleopatra on subtitled Blu-Ray.
Eiichi Yamamoto (Kimba the White Lion, Astro Boy: Hero of Space) and Osamu Tezuka directed the 1970 film at Mushi Production, with Kou Kojima providing character designs. Shigemi Satoyoshi wrote the film's screenplay.
Kyo Kara Maoh!
Both Kyo Kara Maoh! season 3 and Kyo Kara Maoh! R will be released on subtitled Blu-Ray.
Junji Nishimura (Ranma ½, Zenki) directed the 2004 series at Studio DEEN, with Yuka Kudo (Full Moon o Sagashite, Tetsuko no Tabi) providing character designs. Akemi Omode (Getbackers, Princess Princess) was in charge of series composition.
Discotek describes the series as:
Yuri Shibuya is an average baseball loving high school student. One day, Yuri tries to save his former classmate from a group of hoodlums. Turning on him, they drag Yuri into the bathroom and push his face into the toilet.

When they flush the toilet, he is transported to another world! Yuri is then taken to a castle and crowned King of the Demon World! Is he going to end up as the leader of the land, surrounded by his extraordinarily handsome lieges or will he make it back home?
Medabots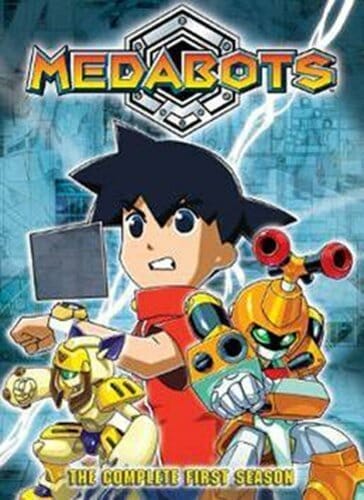 Medabots will be released on SD Blu-Ray in 2020. The first season will be released as a dub-only title, though Discotek is planning to release the Japanese version at a later date.
Tensai Okamura (Blue Exorcist, Darker than Black) directed the 1999 series at Bee Train, with Tokuyuki Matsutake (You're Under Arrest!, Dimension W) providing character designs. Ryota Yamaguchi (Blue Exorcist, Glitter Force Doki Doki) was in charge of series composition.
Shout! Factory released Medabots on DVD in North America. They describe the show as:
Set in the near future, Medabots revolves around the supercharged battling adventures of a group of kids and their pet robots. Fueled with artificial intelligence and a specialized arsenal of high powered weapons, Medabots compete against each other in exciting Robattles, with the winners acquiring Medaparts from the defeated Medabot. With over 370 unique robots ready to Robattle, Medabots is filled with explosive adventures in a world where kids have the ultimate power. But more than anything else, these challenges are about courage and mind power, where the soul of the Medafighter and Medabot combine to emerge victorious. Are you ready to Robattle?
NG Knight Lamune & 40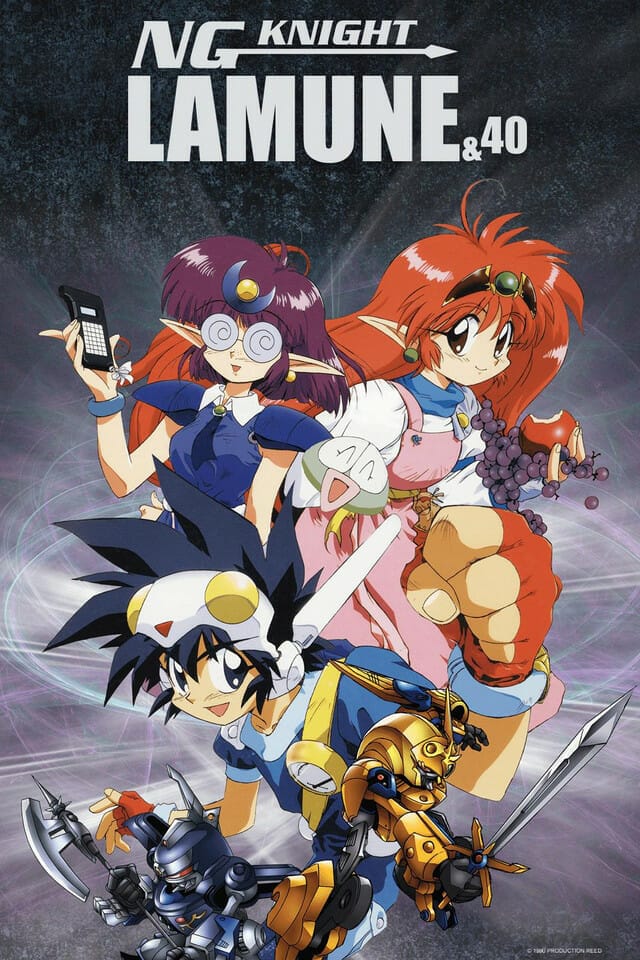 NG Knight Lamune & 40 will be released on SD Blu-Ray in 2020. The series will be presented in subtitled format.
Hiroshi Negishi directed the 1990 series, which features character designs by Takuya Saito.
Crunchyroll streams the title as part of their digital lineup, and describes it as:
After 4th grader Baba Ramune beats a video game he bought from a cute and mysterious girl, he is transported to Harahara World, where he is revealed to be Lamuness, the one destined to defeat the great warlock Don Harmage!
Senki Zesshō Symphogear
Senki Zesshō Symphogear's first season will be released on Blu-Ray in 2020. The series will be presented in subtitled format.
The title is an ongoing series from studio Satelight. Tatsufumi Itō (Shugo Chara! Party!) directed the first season, with Satoshi Koike (Soul Eater Not!, Etotama) providing character designs. Akifumi Kaneko was in charge of series composition.
Crunchyroll currently streams Symphogear, which they describe as:
Noriyasu Agematsu, of music production group Elements Garden, along with Akifumi Kaneko, designer of many famous RPGs and other games, are back for a third installment of the original TV animation. Its emotional and highly original battle scenes, where the characters sing as they fight, are back and better than ever, making the story even more dramatic. This time, the heroine, Hibiki Tachibana, and the other five Symphogear Weilders are faced with their largest and toughest foe yet: a mysterious group of warriors.
The Great Passage
Discotek will release The Great Passage on subtitled Blu-Ray.
Toshimasa Kuroyanagi (Shonen Hollywood – Holly Stage for 49, "Eiyu" Kaitai) directed the 2016 series at studio Zexcs, with Hiroyuki Aoyama providing character designs. Takuya Sato (Fate/stay night, Code-E) was in charge of series composition.
Amazon streamed the title as part of their simulcast lineup. They describe it as:
"I'm just saying 'read the air' a little more.""You are using 'air' to mean situation."Mitsuya Majime, an awkward salesman, and Masashi Nishioka, an easy-going dictionary editor meet by coincidence. Genbu Book's veteran dictionary editor Araki is looking for a successor. He hears about Majime from Nishioka and decides to meet him.This is a story about the clumsy people who live for words.
Source: Twitter (DiscotekMedia), Twitter (2D2Will)