Earlier today, the "World Witches Project" website updated with new details on the Renmei Kūgun Kōkū Mahō Ongaku-tai Luminous Witches anime. The site updated with a new trailer, two visuals, and a pair of cast members.
We break the details down below.
Trailer
The two-and-a-half minute promo introduces the major cast members, with a special segment dedicated to the newest players.
Key Visuals
Two visuals were revealed, which feature the entire character lineup. The first features the cast in their military uniform, the other highlights them in their idol outfits.
Military Uniform
Stage Outfits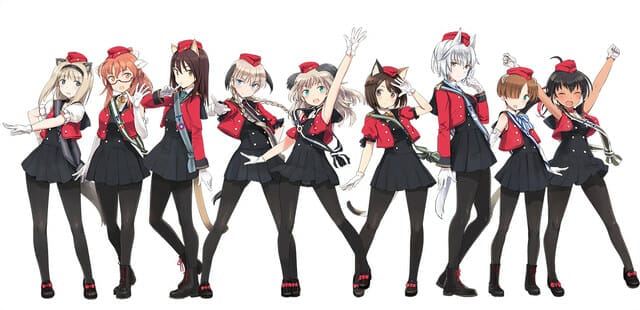 Cast
The series will add the following:
Manaia Matawhaura Hato: Misaki Yuki
Sylvie Cariello: Miu Kotosaka
Shouji Saeki (Wish Upon the Pleiades, Mahoromatic: Summer Special) will take the director's chair, and handling series composition for the project, while Kadokawa produces the music.
Other confirmed staffers include:
Original Work: Humikane Shimada
Original Work: Projekt World Witches
Original Character Designs: Humikane Shimada
Witches Series Literature: Shinya Murakami
Three cast members were confirmed:
Virginia Robertson: Mai Narumi
Inori Shibuya: Minako Hosogawa
Lyudmila Andreyevna Rouslanova: Ami Aimoto
Eleonore Giovanna Gassion: Sayaka Tsuzuki
Aira Payvikki Linnamar: Ryō Mamiya
Maria Magadalene Dietrich: Momo Hana
Renmei Kūgun Kōkū Mahō Ongaku-tai Luminous Witches will hit Japanese TV in 2021. The series will revolve around the titular Luminous Witches, a group within the military who doesn't protect humanity on the front lines. Instead, they protect the smiles those who have been driven out of their homes by the Neuroi with the power of song and dance.
Source: Comic Natalie