Earlier today, the official Violet Evergarden anime website updated with a new teaser trailer for upcoming film Violet Evergarden Gaiden: Eien to Jidō Shuki Ningyō (Violet Evergarden Side Story: Eternity and the Auto Memories Doll), as well as the main voice cast. We break the details down below.
Trailer
The minute-long promo introduces the film's main cast. Theme song Amy by Minori Chihara kicks in as a background track at the 24-second mark.
Cast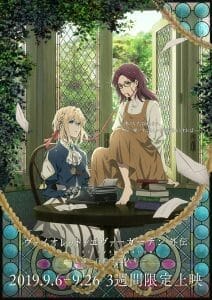 The film will star the following:
Taylor Bartlett: Aoi Yūki
Isabella York: Minako Kotobuki
Violet Evergarden: Yui Ishikawa
Cattleya Baudelaire: Aya Endo
Iris Cannary: Haruka Tomatsu
Benedict Bleu: Kouki Uchiyama
Erica Brown: Minori Chihara
Claudia Hodgins: Takehito Koyasu
Violet Evergarden Gaiden: Eien to Jidō Shuki Ningyō hits Japanese theaters on September 6. The film will run through September 26.
Haruka Fujita is directing the project at Kyoto Animation, with Akiko Takase providing character designs. Reiko Yoshida (Girls und Panzer, K-ON!) is in charge of series composition, while the team of Takaaki Suzuki and Tatsuhiko Urahata wrote the screenplay.
The Violet Evergarden anime made its world debut at Anime Expo 2017. Netflix describes the series as:
The war is over, and Violet Evergarden needs a job. Scarred and emotionless, she takes a job as a letter writer to understand herself and her past.
Source: Twitter (Violet_Letter)