Earlier today, Sentai Filmworks announced that they will give Utano☆Princesama Maji LOVE Kingdom a theatrical run in North America. The film will screen in select theaters starting September 13, 2019.
Tickets for the show are currently available via the film's North American website. Twenty-nine locations  in the United States and Canada have been confirmed as of press time.
Sentai also started streaming a two-minute trailer for the picture, which you can check out below.
Takeshi Furuta (The Comic Artist and His Assistants) returned as chief director for the project, while Tomoka Nagaoka directed at A-1 Pictures, with Maki Fujioka (ItaKiss, La Corda D'Oro – primo passo) providing character designs. Elements Garden scored the soundtrack.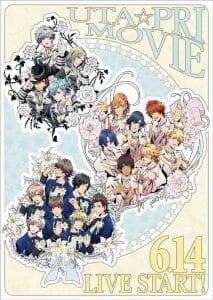 The confirmed voice cast includes:
Shō Kurusu: Hiro Shimono
Ren Jingūji: Junichi Suwabe
Masato Hijirikawa: Kenichi Suzumura
Natsuki Shinomiya: Kishō Taniyama
Cecil Aijima: Kousuke Toriumi
Tokiya Ichinose: Mamoru Miyano
Otoya Ittoki: Takuma Terashima
Ai Mikaze: Shouta Aoi
Reiji Kotobuki: Showtaro Morikubo
Ranmaru Kurosaki: Tatsuhisa Suzuki
Camus: Tomoaki Maeno
Sion Amakusa: Daiki Yamashita
Kira Sumeragi: Daisuke Ono
Van Kiryūin: Hidenori Takahashi
Eiichi Ōtori: Hikaru Midorikawa
Yamato Hyūga: Ryohei Kimura
Nagi Mikado: Tsubasa Yonaga
Eiji Ōtori: Yūma Uchida
The fourth season of Utano☆Princesama aired in the Spring 2016 broadcast season. Sentai Filmworks currently holds the rights to Utano☆Princesama Legend Star. Crunchyroll describes the show as:
In this new season, the stars and heavens collide once more as our vibrant vocalists delve deeper into the competitive and turbulent idol world. With HE☆VENS on the rise, ST☆RISH and Haruka must up their game to bring their performances to sparkling new heights!
Source: Sentai Filmworks (Press Release)