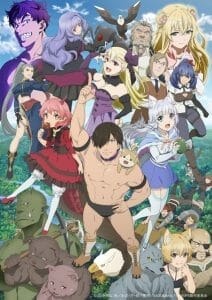 Earlier today, the official Hataage! Kemonomichi anime website updated with details on the show's premiere. The series is slated to air on October 2, with the following premiere schedule (All times JST)
AT-X: 10/2/2019 at 22:00 (10/2/2019 at 10:00PM)
Tokyo MX: 10/2/2019 at 25:05 (10/3/2019 at 1:05AM)
KBS Kyoto: 10/2/2019 at 25:05 (10/3/2019 at 1:05AM)
Sun TV: 10/2/2019 at 25:30 (10/3/2019 at 1:30AM)
BS11: 10/2/2019 at 25:30 (10/3/2019 at 1:30AM)
TV Aichi: 10/2/2019 at 26:35 (10/3/2019 at 2:35AM)
Kazuya Miura (DRAMAtical Murder) will direct the project at ENGI, with Tomoka Noumi providing character designs. Touko Machida (Chaika – The Coffin Princess, Show By Rock!!#) is in charge of series composition for the title.
The confirmed voice cast includes:
Macadamian "MAO" Ogre: Tetsu Inada
Shigure: Akira Sekine
Carmilla: Arisa Sakuraba
Genzō Shibata/Kemona Mask: Katsuyuki Konishi
Hanako: Yuki Yagi
Natsume Akatsuki and illustrators' Mo-suke Mattaku and Yumeuta's Kemonomichi manga launched on Kadokawa's Web Ace service in November 2016. To date, four volumes have been released, with the fifth due to ship to stores on September 25.
Manga resource Baka-Updates describes the title as:
Pro-wrestler Shibata Genzo who's maniac pet animals suddenly was summoned to a different world. Genzo was asked by the princess to get rid of the evil beasts called monsters roaming in this world. Outraged that he was asked to kill monsters, he german suplexed the princess. Unable back to get back to earth, he decided to live a slow peaceful life in this world. This is a story about an eccentric Japanese man who was a former pro wrestler and manages a "Monster Pet" shop.
Source: Animate Times