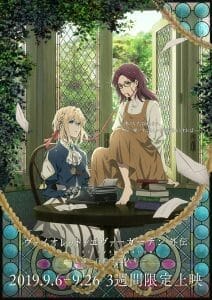 Earlier today, it was announced that Kyoto Animation will credit all staffers who worked on upcoming feature film Violet Evergarden Gaiden: Eien to Jidō Shuki Ningyō (Violet Evergarden Side Story: Eternity and the Auto Memories Doll).
Typically, the studio credits only those who've worked at Kyoto Animation for at least a year. Haruka Fujita, who is directing the project, stated that he wanted to recognize all who worked on the feature, including those who perished in the arson fire that devastated the company in July. An attorney for the studio added "It's proof that all of the people who participated in the production lived, including those who suffered in the disaster."
On July 17, fire broke out at Kyoto Animation's No. 1 studio. Thirty-four passed away in the blaze, and more than thirty were injured.
Police determined the cause of the fire to be arson, and have arrested a suspect in the action. According to NHK, the police apprehended a male who was seen spraying an accelerant "like gasoline" both in and around the studio. The man's license indicates that he is in his 40s.
According to NHK, the suspect was saying "Go die" as he ignited the fuel.
Kyoto Animation was established in 1981 by former Mushi Pro staff members. Since its foundation, the studio has worked on numerous prominent anime titles, including The Melancholy of Haruhi Suzumiya, Clannad, K-On!, Free!, Miss Kobayashi's Dragon Maid, and Sound! Euphonium.
Violet Evergarden Gaiden: Eien to Jidō Shuki Ningyō hits Japanese theaters on September 6. The film will run through September 26.
Haruka Fujita is directing the project at Kyoto Animation, with Akiko Takase providing character designs. Reiko Yoshida (Girls und Panzer, K-ON!) is in charge of series composition, while the team of Takaaki Suzuki and Tatsuhiko Urahata wrote the screenplay.
Source: JiJi Press