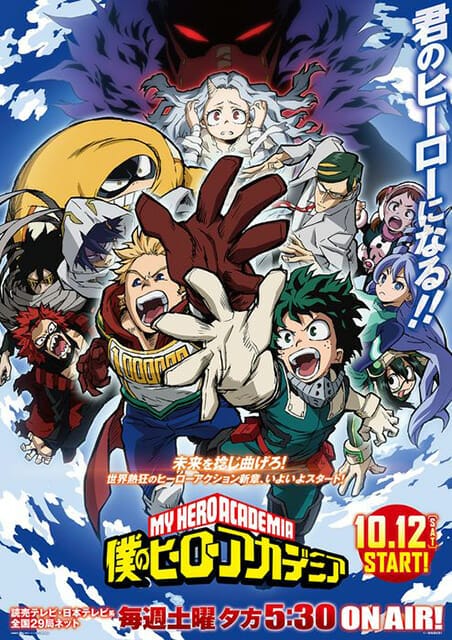 Get those quirks ready and mark your calendars superhero fans! 
In a brand new key visual posted earlier today, the fourth season of My Hero Academia revealed that it will premiere at 5:30 pm JST on Saturday, October 12!
In the key visual, Deku is front and center with one of the top students at UA Academy along with familiar and not so familiar faces behind them. Up at the top is a new character named Eri who will be played by Seiran Kobayashi. The tagline on the visual reads "I will become your hero."
My Hero Academia is a manga series created by Kohei Horikoshi that began serialization in Weekly Shonen Jump starting June 2014 and has 24 compiled volumes as of this year. The anime adaptation began airing its first season in April 2016 with new seasons appearing yearly ever since. A theatrical movie, My Hero Academia: Two Heroes, was released in August 2018 and another theatrical movie, My Hero Academia: Heroes Rising, is set to release during December 2019. 
The story takes place in a world where superheroes exist thanks to special powers called "quirks". One young man named Izuku was born without a quirk but still desperately wanted to grow up to become a hero like his idol All Might. After a couple of chance encounters between the two, Izuku is scouted by All Might to inherit his power and also helps him enroll in a very special school for heroes in training. All three seasons of the anime have focused squarely on Izuku's training but the fourth season is set to cover the Intern arc which began in the manga's 14th volume. 
Via LisAni