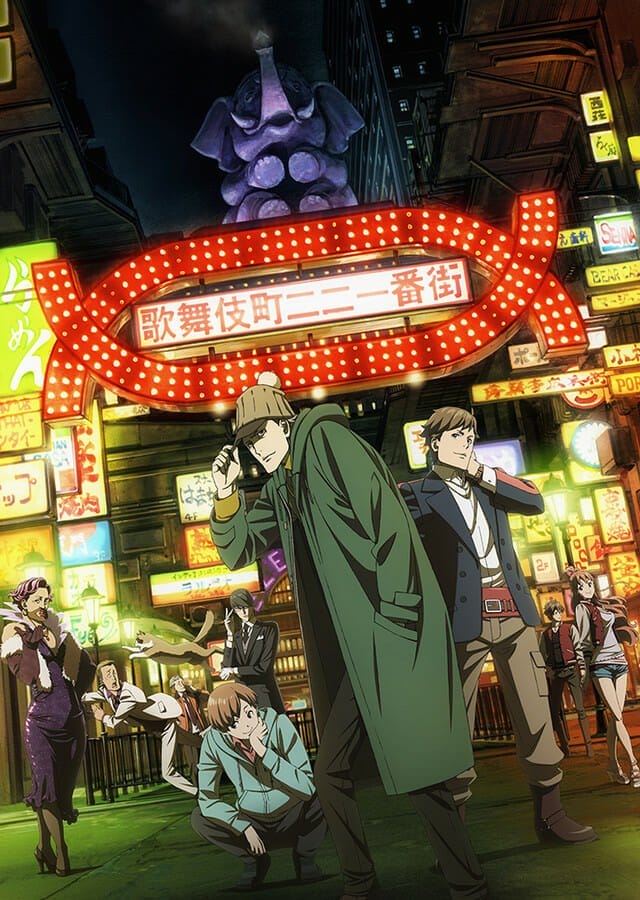 In a report that hit Moca News this morning, it was revealed that the upcoming fall anime Kabuki-cho Sherlock will premiere on Friday, October 11. Also revealed in the announcement is that the series will run for two consecutive cours. 
The original project from famed studio Production I.G, as the name implies, will be set in a fictionalized version of Shinjuku's Kabuki-chō district. Production I.G. describes the series as:
Shinjuku ward, east side… In the heart of this chaotic city, the neon lights that blanket Kabuki-chō are expanding. As the lights shine brighter, the shadows grow darker. The curtain rises on this night stage, where bizarre murders take place! Suspense? No comedy? An indistinguishable drama is about to begin.
The cast members that have already been announced are as follows:
Sherlock Holmes:

Katsuyuki Konishi

John H. Watson:

Yūichi Nakamura

James Moriarty:

Seiichirō Yamashita

Fuyuto Kyogoku:

Sōma Saitō

Mary Morstan:

Nao Tōyama

Lucy Morstan:

Mariko Higashiuchi

Michel Belmont:

Yutaka Aoyama

Toratarō Kobayashi:

Tatsumaru Tachibana

Mrs. Hudson:

Junichi Suwabe