J-Novel Club announced that they will host a Kickstarter to produce a print edition for the Invaders of the Rokujouma!? light novels. The Kickstarter will launch on October 7, and intends to fund the production of ten omnibus volumes. The books will inclue all thirty-one volumes of the title, plus volumes 7.5 and 8.5.
Invaders of the Rokujouma?! is an original title from Takehaya and Poco. The title made its debut under Hobby Japan's label in March 2009. The title spans thirty-one volumes, plus two "in-between" volumes (7.5 and 8.5).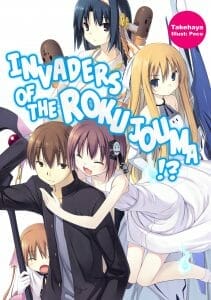 J-Novel Club describes the series as:
Just starting high school, Koutarou is moving out on his own to take some of the burden off of his widower father. Lucky for him, he's found a room at Corona House. It has a great landlord, it's not too far from school, and best of all, it's dirt cheap. It really is perfect… except for the strange girls that keep appearing to try and take it over! But even as room 106 turns into a battlefield, Koutarou isn't willing to give up his apartment without a good fight. The invasion begins!
Invaders of the Rokujouma?! received a 12-episode anime series, which aired during the Summer 2014 broadcast season. Shin Oonuma (Baka and Test – Summon the Beasts, Watamote) directed the show at Silver Link, with Hideki Furukawa (Watamote, Magic of Stella) providing character designs. Shogo Yasukawa (Terraformars, Chivalry of a Failed Knight) was in charge of series composition.
Sentai Filmworks currently holds the license for the Invaders of the Rokujouma?! anime series.
Source: J-Novel Club (Press Release)