On September 16, the official Beastars anime website updated with a new trailer, as well as details on the show's theme songs.
We break the details down below.
Trailer
The 38-second trailer previews the major cast members, as theme song Wild Side by Ali plays as a background track.
Theme Songs
Ali will perform opening theme song Wild Side, while Yurika will perform closing theme Le zoo.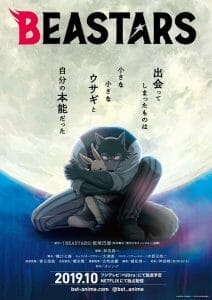 Beastars will air on Fuji TV's [+Ultra] block in October. Netflix will be the exclusive streaming distributor for the show. The full premiere schedule is as follows (All times JST):
Fuji TV: 10/9/2019 at 24:55 (10/10/2019 at 12:55AM)
Kansai TV: 10/10/2019 at 25:55 (10/11/2019 at 1:55AM)
Tokai Television: 10/12/2019 at 25:55 (10/13/2019 at 1:55AM)
TV West Japan: 10/9/2019 at 25:55 (10/10/2019 at 1:55AM)
Hokkaido Culture Broadcasting: 10/13/2019 at 25:15 (10/14/2019 at 1:15AM)
BS Fuji: 10/16/2019 at 24:00 (10/17/2019 at Midnight)
Netflix: 10/8/2019
Shinichi Matsumi will direct the project at Orange, with Nao Ootsu providing character designs. Nanami Higuchi is in charge of series composition for the project.
Other confirmed crew members include:
Music: Satoru Kousaki
Art Director: Minami Kuribayashi
Color Designer: Ken Hashimoto
Director of Photography; shiori Furusho
Chief CGI Director: Eiji Inomoto
Editor: Junichi Uematsu
The confirmed voice cast includes:
Regoshi: Chikahiro Kobayashi
Haru: Sayaka Senbongi
Louis: Yuuki Ono
Juno: Atsumi Tanezaki
Jack: Junya Enoki
Gouhin: Akio Ohtsuka
Collot: Takeo Ōtsuka
Voss: Yoshiyuki Shimozuma
Sanou: Fukushi Ochiai
Miguno: Yūma Uchida
Durham: Naoto Kobayashi
Kai: Nobuhiko Okamoto
Bill: Takaaki Torashima
Els: Sayumi Watabe
Dom: Genki Muro
Kibi: Yūichi Iguchi
Shiira: Yuko Hara
Aoba: Ikuto Kanemasa
Ellen: Akane Ōchi
Mizuchi: Hibiku Yamamura
Legom: Sakura Andou
Mayor: Mitsuaki Hoshino
Oguma: Kenyuu Horiuchi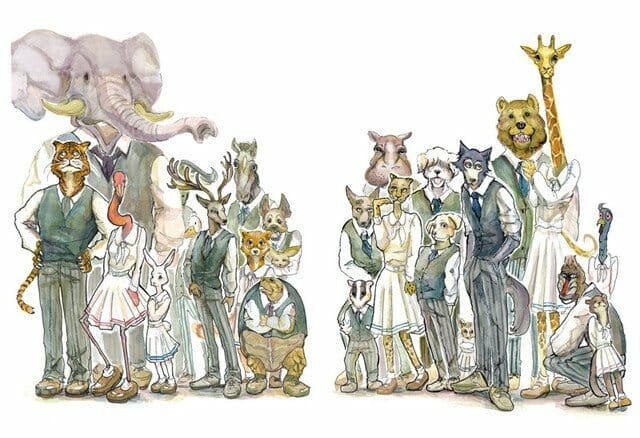 Paru Itagaki's Beastars manga launched in the pages of Akita Shoten's Weekly Shōnen Champion magazine. Fourteen volumes of the title have hit stores to date, with the most recent shipping on July 8.
Viz Media currently holds the rights to the title, which they describe as:
At a high school where the students are literally divided into predators and prey, it's personal relationships that maintain the fragile peace. Who among them is a Beastar—an academic and social role model destined to become a leader in a society naturally rife with mistrust?
Source: Comic Natalie