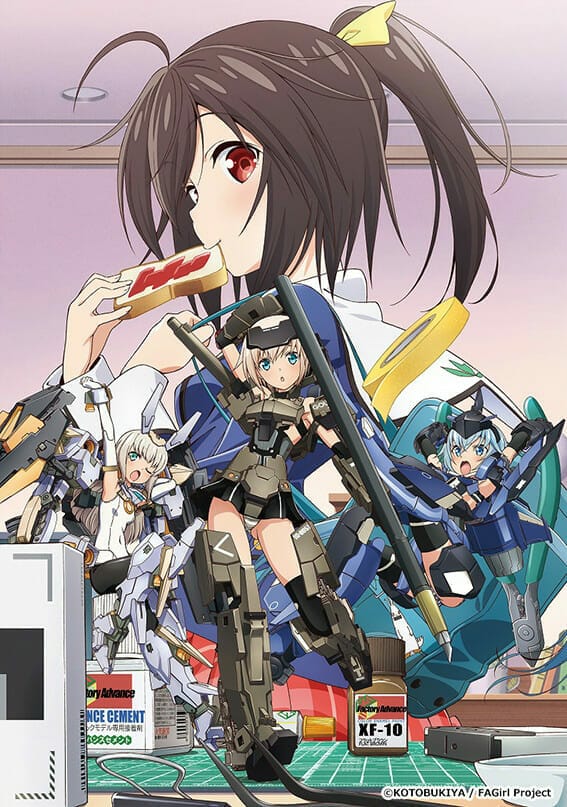 Earlier today, the New York Comic Con announced that they will screen the United States premiere for Frame Arms Girl: Kyakkya Ufufu na Wonderland. The film will be shown on October 5, at 3:00PM Eastern as part of the convention's Anime Fest @ NYCC event.
The premiere will begin with a sixty-minute panel, which will be followed by the screening. Tickets are on sale via the convention's website; attendees will receive a free clear file and model kit, while supplies last.
New York Comic Con describes the movie as:
Join Ao, an ordinary school girl, in her everyday life with the Frame Arms Girls, and watch their bonds deepen. Ao, an ordinary high school girl, receives something mysterious in the mail one day, and upon opening the package, she finds herself with Gourai, a petite autonomous robot called a Frame Arms Girl.

Wow it's a toy! It's a plastic model kit!

But! Gourai isn't just any ordinary Frame Arms Girl. Unlike normal artificial intelligence programs, Gourai is an experimental prototype model endowed with AS ("Artificial Self"), giving her human-like emotions. Furthermore, this Gourai is the only one in the world to be successfully activated, and by Ao no less!

Together with Ao, who has zero knowledge of the Frame Arms Girls, Gourai gathers battle data and learns about emotions. And so our heroine begins a curious, yet fun and exciting, lifestyle with Gourai and the other Frame Arms Girls!
In this exciting film, you too can join the Frame Arms Girls as they reminisce on their adventures and time together!
The film is a compilation film that adds new scenes.
In July, it was announced that Frame Arms Girl would get a sequel film project. In October, it was revealed the film would hit in "Early Summer."
The Frame Arms Girl anime originally aired in the Spring 2017 broadcast season. Keiichiro Kawaguchi (Hayate the Combat Butler, Hunter × Hunter -The Last Mission-) directed the project at Studio A-Cat and ZEXCS, with Kōsuke Kawamura (OniAi, Island) providing character designs. Deko Akao (Arakawa Under the Bridge, Flying Witch) was in charge of series composition.
Sentai Filmworks holds the rights to Frame Arms Girl, and describe the show as:
When Ao found the package on her doorstep, she thought it was a present from her father, but inside the box was something truly unexpected: Gourai! A Frame Arms Girl, Gourai is a walking, talking, miniature artificial person with the intelligence of a ten-year-old human and a selection of snap-on weapons and armor. And the reason Gourai needs armor quickly becomes clear as two more Frame Arms Girls, Stylet and Baselard, arrive intent on testing Gourai's combat capabilities! It seems that Ao has been chosen to help test a new toy line and the good news is that she'll get paid for hosting her diminutive charges' battles! Of course, since they're mainly interested in fighting and gathering information, things are going to get awkward when they follow her to school in FRAME ARMS GIRL!
Source: New York Comic Con