On September 22, Aniplex of America started streaming a subtitled trailer for feature film Rascal Does Not Dream of a Dreaming Girl. The promo is identical to a teaser that streamed in Japan earlier this year.
The film will screen in the United States on October 2 and 3. The Canadian run will be held on October 4 and 5.
Sōichi Masui (Brotherhood: Final Fantasy XV, Chaika – The Coffin Princess) returned to direct the project at CloverWorks, with Satomi Tamura providing character designs. Masahiro Yokotani (Free! Eternal Summer, Sakura Quest) reprised his script-writing duties for the project.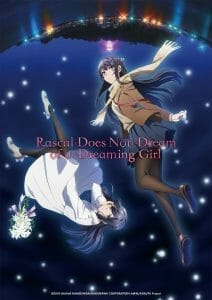 The film will star the following:
Shōko Makinohara: Inori Minase
Sakuta Azusagawa: Kaito Ishikawa
Mai Sakurajima: Asami Seto
Tomoe Koga: Nao Tōyama
Rio Futaba: Atsumi Tanezaki
Nodoka Toyohama: Maaya Uchida
Kaede Azusagawa: Yurika Kubo
All confirmed cast members are reprising their roles from anime TV series
Aniplex describes the film as:
In Fujisawa, where the skies are bright and the seas glisten, Sakuta Azusagawa is in his second year of high school. His blissful days with his girlfriend and upperclassman, Mai Sakurajima, are interrupted with the appearance of his first crush, Shoko Makinohara. For reasons unknown, he encounters two Shokos: one in middle school and another who has become an adult.

As Sakuta finds himself helplessly living with Shoko, the adult Shoko leads him around by the nose, causing a huge rift in his relationship with Mai.

In the midst of all of this, he discovers that the middle school Shoko is suffering from a grave illness and his scar begins to throb…
Source: YouTube (AniplexUS)