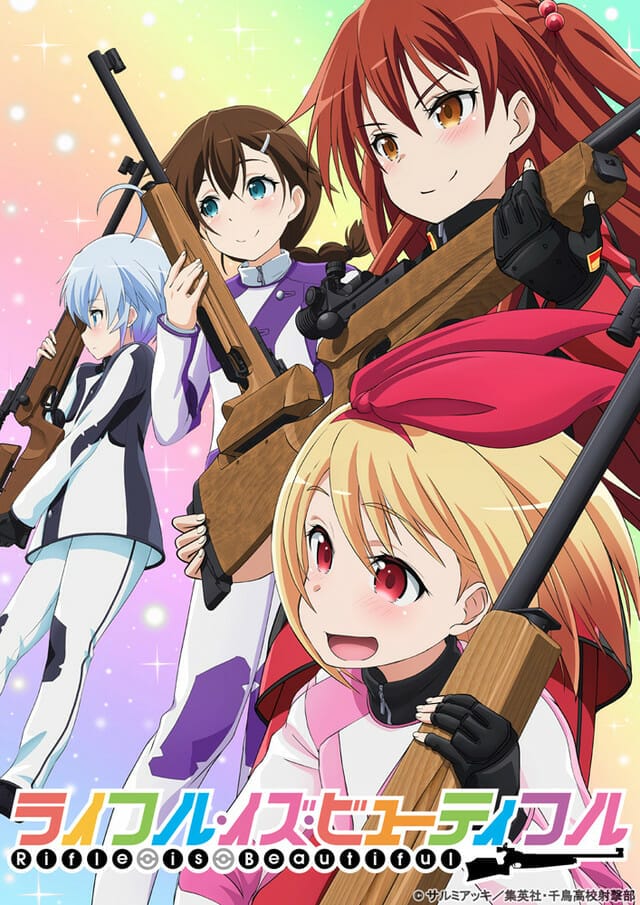 Earlier today, the official Rifle Is Beautiful anime website updated with nine new cast members. The series will add the following:
Akira Shinonome: Natsumi Fujiwara
Karen Sakashita: Minami Takahashi
Rei Asakura: M.A.O
Misa Kuroi: Reina Ueda
Ryōko Mochizuki: Manaka Iwami
Yūko Tsurumaki: Yukiyo Fujii
Marina Tsuji: Azusa Tadokoro
Ako Tōma: Hiyori Kono
Nodoka Ogura: Kaori Nazuka
Rifle Is Beautiful will hit Japanese TV on October 13. The full premiere schedule is as follows (All times JST):
Tokyo MX: 10/13/2019 at 23:00 (10/13/2019 at 11:00PM)
Sun TV: 10/13/2019 at 25:30 (10/14/2019 at 1:30AM)
KBS Kyoto: 10/13/2019 at 23:00 (10/13/2019 at 11:00PM)
BS11: October, Late Night
Masanori Takahashi (When Supernatural Battles Became Commonplace, For Whom the Alchemist Exists) was tapped to direct the project at Studio 3Hz, with Ken Mukaigawara providing character designs. Tatsuya Takahashi (Ms. vampire who lives in my neighborhood, Eromanga Sensei) is in charge of series composition.
Both the opening theme song, Let's Go! Rifling 4!!!! and ending theme Sunset Friends (Yūyake Friends) will be performed by Rifling 4: an idol unit composed of the show's main voice cast.
Other confirmed crew members include:
Art Design: Jyu Ishiguchi
Art Director: Tatsurō Ōnishi (Kusanagi)
Color Design: Akiko Inoue (Wish)
Prop Design: Jyu Ishiguchi
Animation Director: Ken Mukaigawara
HOA: Tri-Slash
Graphic Art: Hirofumi Araki
Director of Photography: Kazumasa Someya
The confirmed voice cast includes:
Hikari Kokura: Machico
Izimi Shibusawa: Akane Kumada
Erika Meinohama: Saki Minami
Yukio Igarashi: Anna Yamaki
Rifle is Beautiful is a four-panel series, which launched on Shueisha's Tonari no Young Jump digital platform in 2015. The series currently spans a single compiled volume. Manga resource Baka-Updates describes the title as:
Kokura Hikari is a first-year high school girl who loves rifle shooting. She entered Chidori High School because it had a shooting club, but finds that the club had been disbanded. She had only one day to find enough members to reform the club, but luckily was able to find three other first-year girls who she had met at a competition in middle school.

Thus begins the daily activities of the Chidori High Shooting Club.
Sources: Ota-suke, Animate Times