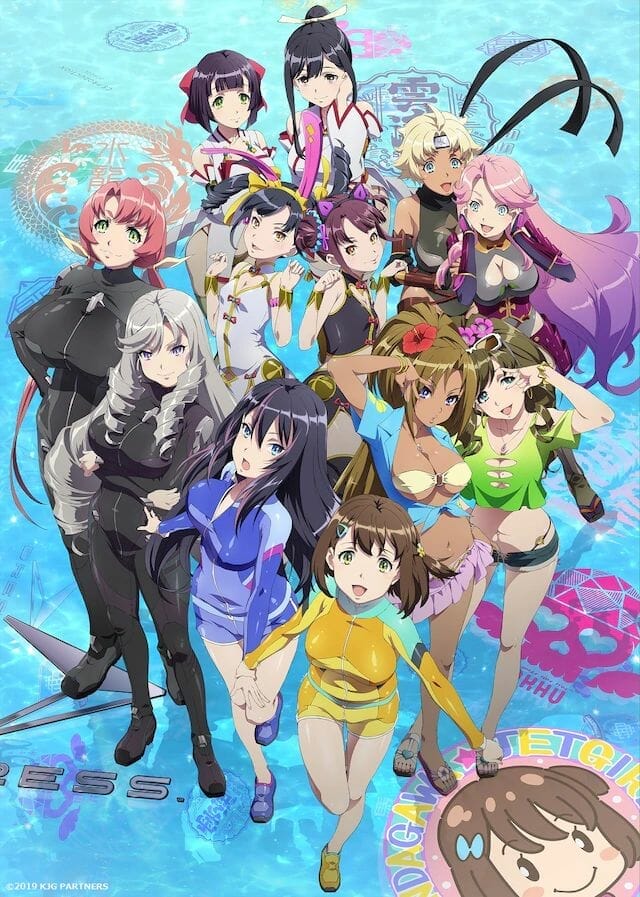 In a press release put out earlier today by Sentai Filmworks, it was revealed that they've licensed the fall watersports anime Kandagawa Jet Girls in the following regions: North America, Australia, New Zealand, the UK, Ireland, South Africa, the Netherlands, Scandinavia and Nordic Countries, Spain, Portugal and Central and South America.
Sentai Filmworks describes the series as:
"Jet-Racing" has become a mega-popular extreme sport across the world, and with good reason! The "Jetter" pilots a high velocity watercraft and is paired with a "Shooter" who blasts rival teams with a hydro gun. It all adds up to explosive, wet-and-wild action as they race to the finish and compete to earn supremacy. Among those competing is Rin Namiki, and racing is in her blood. Rin aspires to become a legendary Jetter just like her mother, and after meeting the cool and gorgeous Shooter Misa Aoi, it looks like Rin's dreams are finally in reach with a partner who shares her passion! Every race brings them tighter together as a team and closer than ever to their dream of becoming the best Jet Racers on the water.
Hiraku Kaneko (The Qwaser of Stigmata, Maken-Ki! Battling Venus 2) will direct the project at TNK, with Tsutomu Miyazawa (Soul Buster, G.I. Joe Sigma Six) providing character designs. Go Zappa (Shin Koihime Musō, We Never Learn: BOKUBEN) is in charge of series composition for the title.
The confirmed voice cast includes:
Misa Aoi:

Riko Kohara

Rin Namiki:

Yū Sasahara

Emily Orange:

Ai Fairouz

Kuromaru Manpuku:

Aya Suzaki

Inori Misuda:

Aya Uchida

Fūka Tamaki:

Ayaka Asai

Kaguya Shinjūin:

Azusa Tadokoro

Manatsu Shiraishi:

Chika Anzai

Yuzu Midorikawa:

Kaori Maeda

Jennifer Peach:

Lynn

Pan Tina:

Naomi Ōzora

Pan Tsui:

Rumi Okubo
Kandagawa Jet Girls is a multimedia project by Kadokawa, Marvelous, and EGG FIRM. A PlayStation 4 game by Marvelous and Honey∞Parade Games is in the works for Sony's PlayStation 4 console.
Source: Press Release