Hi, I'm L.B. and I have a not-so-secret confession to make. I enjoy crossplaying at anime conventions.
In the cosplay world, "crossplaying" is defined as the act of cosplaying a character of the opposite gender to one's own. It's equal parts art and hobby, which I've been absolutely addicted to for the better part of a decade.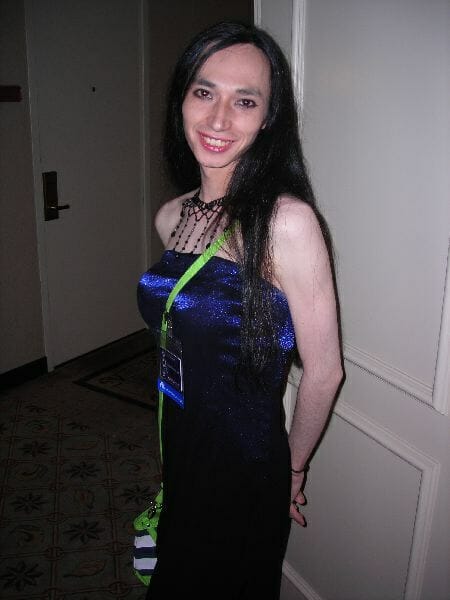 My life as a crossplayer began innocently enough. I was sitting around a table, playing
Pathfinder
with some friends in the latter half of the previous decade. During our conversation, the subject of cosplay came up. My friend, Stephanie, was (and
still is
) an avid cosplayer who thought that it would be fun to do a group cosplay with me.
To say that I was hesitant at the time would be a gross understatement. At this particular point in my life, I was a pretty avid blogger, and that was more than enough excitement for this guy!
Sure, I adored anime and I loved the convention experience. Still, I didn't think I had the courage to actually cosplay and draw that much attention to myself. She persisted, though, and I eventually relented. I told her I'd cosplay, but only if certain ground rules were followed.
I wanted to use my natural hair (i.e. no wigs)
I wanted to crossplay as a female character.
At the time, I honestly thought these rules would deter her from persisting further. How naive I was. Instead, my guidelines kicked her motivation to get me cosplaying into overdrive!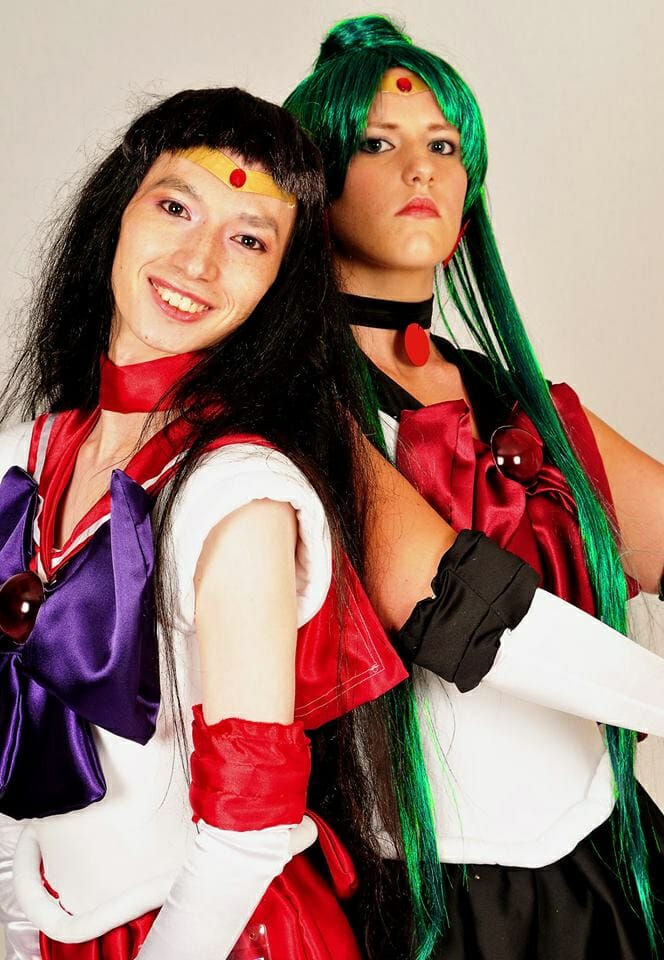 A couple of weeks later, we were gathered around the gaming table again. It was here that Stephanie presented me with her idea: KumoriCon was just around the corner. She would make me into Sailor Mars/Rei Hino from the
Sailor Moon
franchise for the event. She, meanwhile, would go as Sailor Pluto/Setsuna Meioh. It was a natural fit; not just because Mars had long black hair, but also because
Sailor Moon
was my gateway into the wide, wonderful world of anime. In a way, my crossplaying would be akin to paying homage to the series that got me started.
For weeks, Stephanie and I plotted and planned. She was taking care of the cosplay outfits themselves, while I studied up on my Sailor Moon lore in order properly "play the part," as it were. Stephanie worked her fingers to the bone, as she sewed our skirts in-between battle rolls at the Pathfinder table. Week after week, the outfits came ever-closer to completion.  I, in turn, grew ever more nervous about making my big convention cosplay debut. Things were almost derailed entirely at the last minute when I realized that I had forgotten to order my heels!
In a time that was far too long and far too short at the same time, the big weekend came. KumoriCon in Portland, Oregon would see the two of us make our senshi debuts. I have to admit that I was nervous when I stepped off the elevator for the first time. My skirt was quite short and my heels didn't fit right, which HURT. Still… I had come that far, and there was no way that I was going to chicken out.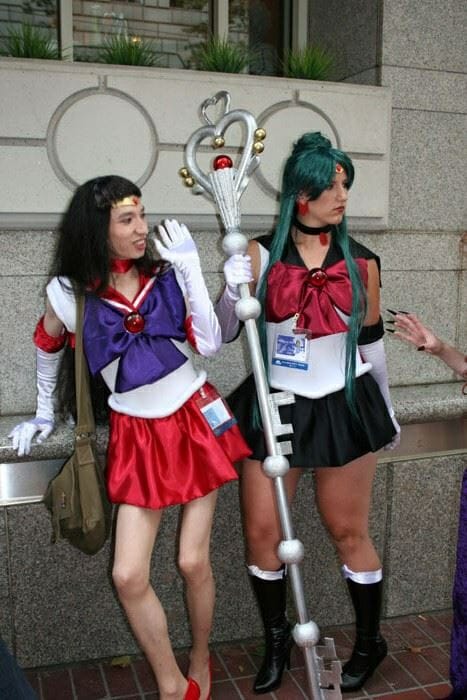 Over the course of two days, Stephanie and I got to experience one of the most memorable weekends of our lives up to that point. Our first stop, though, was the photo booth. The attraction was providing free portraits for cosplayers. I can clearly recall reapplying my makeup while waiting for my turn when, suddenly, from behind me I distinctly heard someone yell "Oh my God! Sailor Mars is a dude!" This would become a familiar refrain, which would follow me throughout the rest of the weekend.
Perhaps the most interesting experience of the weekend, though, came during one of our rest moments. Stephanie and I were both in pain from uncomfortable shoes. We were sitting on some chairs in the hotel lobby when I suddenly found myself with a young man kneeling in front of me with hope glimmering in his eyes.
"Will you have my children?" He asked earnestly.
"That's sweet of you to ask," I replied, being as gentle as I could, "but I don't have the right equipment," Defeat washed over him, and he left a few seconds later.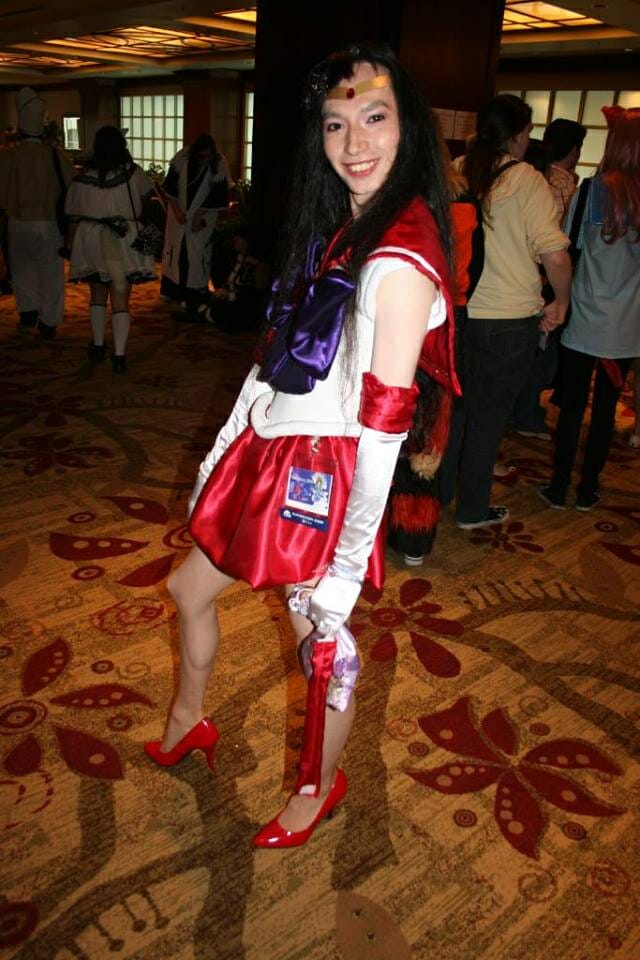 After that break, I decided to step outside for a smoke. (Yeah, a sailor guardian smoking a cigarette… it's a charming visual, I know.) I didn't make it more than ten feet past the doors, when I suddenly heard "Rei-chan! Rei-chan!" Looking up, I saw an excited group of Japanese tourists waving their cameras around.
It was at that moment that I unlocked the "Excite Teenage Asian Girls" achievement.
Still, the support that I got from the community was wonderful. Even the convention parents were incredibly sweet. At one point, I was walking from one building back to the main hotel and stopped to rest my feet.
"Honey, those shoes are adorable, but you look like you're in so much pain," the mother of a younger con-goer said.
"I am," I admitted in response before we found ourselves engaged in a very pleasant conversation. She asked questions about Sailor Mars, which I was happy to answer before we parted ways.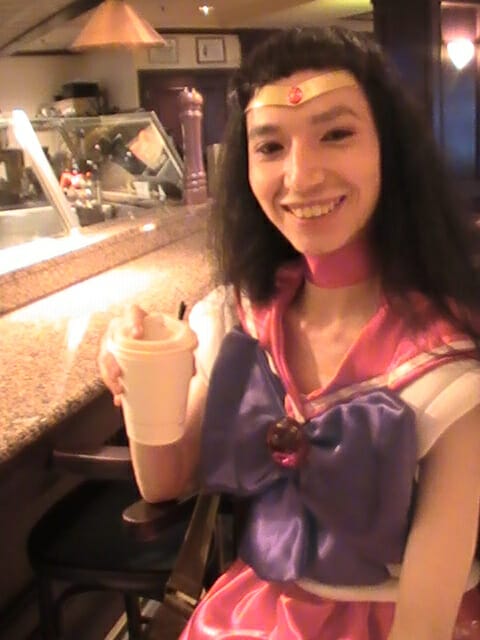 After two days of being a senshi, though, it was time to don our formal apparel and attend the masquerade ball. Getting dressed in one of the most wonderful dresses I've ever worn, the ball was a particular highlight of the weekend. At one point, Stephanie and I could even hear another individual remarking about the "charming couple" dancing together.
All in all, it was a wonderful weekend — though it did take about a week for my feet to recover from being in those damned heels — that reminded me that the anime community at large can be quite the amazing place and filled with downright wonderful people. Stephanie and I bonded as friends in a way that very few people get to experience, and I'm glad that I did it.
Since that weekend a decade or so ago, I've crossplayed many more times. I've always enjoyed my experiences, thanks to the fantastic people that I've met along the way… and I have the memories to prove it.
Early Access Article
Our  amazing patrons got to read this two weeks early. It's our way of thanking them for their help in bringing you a high-quality publication that's ad-free and free to access.
Consider backing us on Patreon for as little as $1 a month, to support new content from our amazing team, and get access to our long reads two weeks before everybody else.