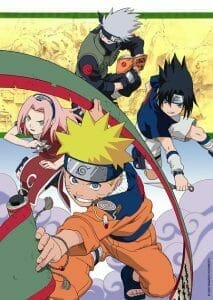 Earlier today, Funimation announced that they will stream Naruto in the United Kingdom and Ireland. The series will be available in its entirety in subtitled and English dubbed formats starting October 15.
Funimation describes the title as:
Twelve years ago, Konohagakure, a village hidden within a vast, dense forest was attacked by a monstrous nine-tailed beast known as Kurama. Desperate to halt the city's destruction, the leader of the village (or Hokage) sacrificed his life, sealing the demon within baby Naruto Uzumaki. Now older, Naruto struggles to find his place within the village, but his dream to become the next great Hokage begins with him becoming a part of Team 7. The young ninja's bonds of friendship will be put to the test as dark, sinister evils begin to move from the shadows into the light!
Naruto aired from Fall 2002 through Winter 2007, spanning 220 episodes. Hayato Date (Saiyuki, Ultramarine Magmell) directed the title at Studio Pierrot, with Hirofumi Suzuki and Tetsuya Nishio (Ghost in the Shell: Stand Alone Complex – Individual Eleven, The Sky Crawlers) providing character designs.
Source: Funimation