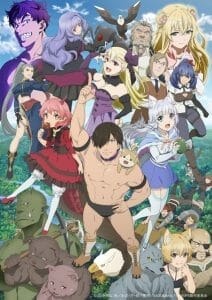 On October 16, Funimation took to Twitter to announce their English dub cast for Kemono Michi: Rise Up. The series will star the following:
Genzo: Tyson Rinehart
Hiroyuki: Samantha Herek
Shigure: Emily Hornsby
Misha: Leah Clark
Wolfgang: Gabe Kunda
Jeremy Inman is directing the adaptation.
Kemono Michi: Rise Up's English SimulDub launched on October 16.
Kazuya Miura (DRAMAtical Murder) will direct the project at ENGI, with Tomoka Noumi providing character designs. Touko Machida (Chaika – The Coffin Princess, Show By Rock!!#) is in charge of series composition for the title.
Funimation describes the title as:
3,2,1…RUMBLE! Genzo, Japan's number one animal-loving pro-wrestler, gets transported to another world where magical beasts run rampant. In order to save the kingdom, the princess asks him to rid the world of the beasts, but he refuses and wants to save them instead! Genzo opens a pet shop for his new beast friends, but he gets too attached to them and is unable to sell them which leads to constant financial problems for his new shop! Join Genzo and his cute demi-human employees as they find loving homes for the many beasts of the kingdom!
Natsume Akatsuki and illustrators' Mo-suke Mattaku and Yumeuta's Kemonomichi manga launched on Kadokawa's Web Ace service in November 2016. To date, four volumes have been released, with the fifth due to ship to stores on September 25.
Source: Twitter (Funimation)