Earlier today, the official High School Fleet anime website updated with a new teaser trailer. The 49-second promo introduces the film's newest cast members, as a sweeping symphonic melody plays.
【✨第2弾特報映像解禁✨】
2020年1月18日(土)全国ロードショーとなる「劇場版 ハイスクール・フリート」の新規カット含む第2弾特報映像を解禁????https://t.co/jpuxUnsj9z#はいふり pic.twitter.com/Cbl41ownse

— 「ハイスクール・フリート」公式 (@hai_furi) October 25, 2019
The High School Fleet film will open on January 18, 2020.
Jun Nakagawa will direct the film at A-1 Pictures, with Yuu Nobuta (Katana Maidens: Mini Toji, High School Fleet TV) working at chief director. Naoto Nakamura (The Prince of Smiles, High School Fleet TV Series) is providing character designs, while the team of Takaaki Suzuki and Kunihiko Okada will co-write the script.
Trysail will perform the film's main theme song.
Other confirmed crew members include:
Music: Shigeo Komori (F.M.F.)
Mechanical Design: Kenji Teraoka
Sub-Character Design: Keisuke Watanabe
Prop Design: Hisashi Tojima
Original Concept: Takaaki Suzuki
Original Character Design: Atto
Color design: Hitomi Ikeda
Art design: Hideyasu Narita (Kusanagi)
Art director: Shingo Kanai (Kusanagi)
3D CGI Director: Shinichi Miyakaze (Graphinica)
3D CGI Animation Director: Kazuma Nakato (Graphinica)
Modeling Director: Isao Matsunaga (Graphinica)
Director of Photography: Koujirou Hayashi (Graphinica)
Editor: Masato Yoshitake (Graphinica)
Sound Director: Hiroto Morishita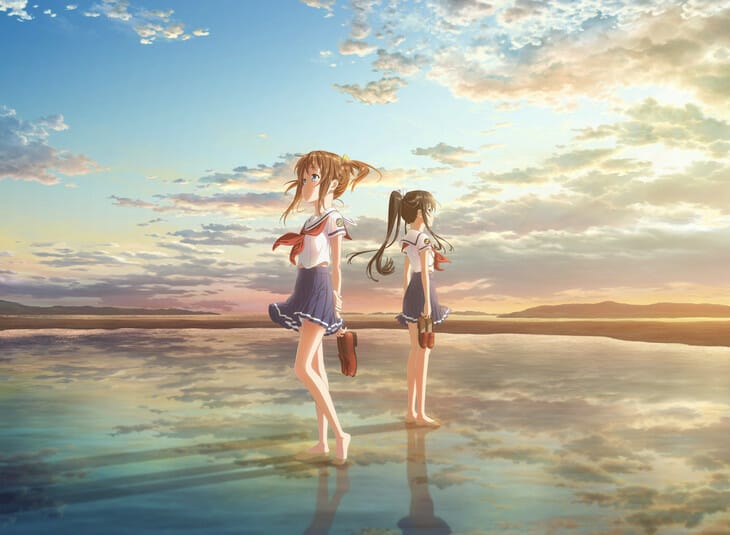 The confirmed voice cast includes:
Akeno "Mike" Misaki: Shiina Natsukawa
Mashiro "Shiro" Munetani: Lynn
Shima "Tama" Tateishi: Nozomi Furuki
Mei Irizaki: Atsumi Tanezaki
Kōko Nosa: Yūko Kurose
Rin Shiretoko: Yurika Kubo
Miharu SawadaHikari Ogasawara
Michiru Takeda: Hitomi Kikuchi
Junko Heki: Minami Tanaka
Ritsuko Matsunaga: Yuka Maruyama
Kayoko Himeji: Rui Tanabe
Kaede Marikōji: Sakura Nakamura
Satoko Katsuta: Chisato Satsuki
Hideko Yamashita: Yō Taichi
Mayumi Uchida: Emi Miyajima
Tsugumi Yagi: Nanami Yamashita
Megumi Uda: Akane Fujita
Machiko Noma: Yu Kobayashi
Maron Yanagiwara: Natsumi Takamori
Hiromi Kuroki: Natsuki Aikawa
Reo Wakasa: Ayaka Shimizu
Sakura Ise: Sanae Fuku
Runa Suruga: Ari Ozawa
Sora Hirota: Sayaka Kaneko
Hime Wazumi: Hiyori Nitta
Momo Aoki: Ayuru Ōhashi
Mikan Irako: Momo Asakura
Akane Kinesaki: Kanae Itō
Homare Kinesaki: Kanae Itō
Mimi Tōmatsu: Airi Ootsu
Minami Kaburagi: Kana Asumi
Moeka China: Sora Amamiya
Isoroku: Satoshi Tsuruoka
Wilhelmina B. I. Friedeburg: Hiromi Igarashi
Thea Kreutze: Chitose Morinaga
Yui Fujita: Ayaka Shimizu
Sango Sugimoto: Sanae Fuku
Tōmi "Miya" Miyazato: Minami Takahashi
Shia "Nomu" Nomura: Maria Naganawa
Azumi "Azu" Abe: Tomori Kusunoki
Tsubame Kawano: Satomi Amano
Sachiho "Sunny" Chiba: Miyu Tomita
Keiko Nogiwa: Sayumi Suzushiro
The High School Fleet anime originally aired on April 7, 2016. Yuu Nobuta (A Good Librarian Like a Good Shepherd) directed the project at Production IMS, with Naoto Nakamura providing character designs. Reiko Yoshida (The Cat Returns, Girls und Panzer) was in charge of series composition for the show.
The title spawned an OVA, which hit retailers in 2017.
Aniplex of America currently holds the domestic rights to the High School Fleet anime. They describe the title as:
Living by the sea, protecting the sea, and journeying across the sea…They're the BLUE MERMAIDS! Because of a shift in tectonic plates around 100 years ago, Japan lost much of its area to submergence. To preserve Japan's territories, Coastal Cities sprung up, one after the other. Eventually, they became Marine Cities, and along with the expansion of sea-lanes to connect them, the need arose for a sizable staff to protect the seas. At the same time, maritime jobs were becoming more popular among women. Hence, the BLUE MERMAIDS, tasked with keeping the seas safe, had become every female student's dream job. This is when childhood friends Akeno Misaki and Moeka China enroll in a marine high school in Yokosuka, along with other girls who share their goal of "BECOMING A BLUE MERMAID."
Sources: Animate Times