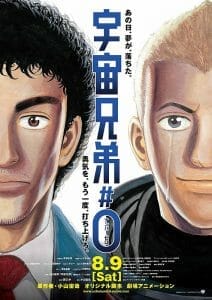 Earlier today, Sentai Filmworks announced that they acquired the rights to Space Brothers #0. The publisher will release the film on home video and streaming outlets at a later date.
Sentai's release will include the theatrical version, as well as Chuya Koyama's Special Edition cut.
Space Brothers #0 hit Japanese theaters in August 2014. Ayumu Watanabe (Major 2nd, Gurazeni: Money Pitch) directed the feature at A-1 Pictures, with Koji Yabuno (Naruto Shippūden: Blood Prison, Kishin Taisen Gigantic Formula) providing character designs. Series creator Chuya Koyama wrote the screenplay.
Sentai describes the film as:
Set four years before the events of the Space Brothers TV series, Space Brothers #0 tells the story of two brothers on disparate paths. Hibito Namba is a rookie astronaut in training while his brother, Mutta, has found his own ambitions at a disappointing standstill. When Hibito is selected to train for a coveted NASA space mission, it sets in motion a series of events that takes the brothers to the crossroads of destiny and dreams.
The Space Brothers anime originally aired in the Spring 2012 broadcast season. Ayumu Watanabe directed the series at A-1 Pictures, with Koji Yabuno providing character designs. Makoto Uezu and Yoichi Kato took charge of series composition for the project.
Sentai describes the show as:
Mutta's life has hit rock bottom. He's been fired, blackballed from his profession, and even had to move back in with his parents. Meanwhile, the career of Mutta's brother, Hibito, has taken off like a rocket as he trains for the job Mutta once dreamed of: becoming an astronaut. But is it ever too late to go after your dreams? Through a little coercing and a bit of covert activity, Mutta's family and friends can get his resume on the right desk, but from that point on it'll be up to Mutta himself.

Does he have what it takes to turn his life around and put his footprint on the moon? The first step on the highway to the stars is always the hardest, and in a job where crash and burn isn't just a euphemism, it'll be the biggest risk Mutta's ever taken. But with the right support team, maybe he'll find what he needs to rekindle the spark inside him and light the biggest candle of them all!
Source: Sentai Filmworks (Press Release)