Earlier today, an official website for Brand New Animal opened its doors. The site includes the main cast, a premiere window, and the base story premise.
Visual
The image features Michiru Kagemori standing back-to-back with Shirou Ogami. She's dribbling a basketball as they stand against a blue background.
Cast
The confirmed voice cast includes:
Michiru Kagemori: Sumire Morohoshi
Shirou Ogami: Yoshimasa Hosoya
Nazuna Hiwatashi: Maria Naganawa
Alan Sylvasta: Kaito Ishikawa
Visuals for each character were also revealed, which you can check out below.
Plot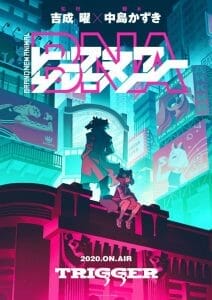 Trigger describes the show as:
In the 21st century, animal-humans who'd hidden themselves in the shadows of history have begun to reveal themselves to the world.

Michiru Kagemori, who had lived her life as a normal human, suddenly transforms into a tanuki-human hybrid. She runs away, escaping the humans to find refuge in "Anima City," a special refuge for animal-humans that was created to allow animal-humans to live as themselves.

It is here that Michiru meets Shirou Ogami, a wolf-human who hates humankind. It's through Shirou that Michiru begins ot learn of the life, the joys, and the struggles of her fellow animal-humans. As the two try to unravel the mystery of why Michiru suddenly transformed, Michiru and Ogami find themselves drwn into a major incident.
Brand New Animal will air in April 2020 on Fuji TV's +Ultra block.
Yoh Yoshinari (Gurren Lagann Parallel Works, Little Witch Academia) will direct the project at studio Trigger, while Kazuki Nakashima (Kill la Kill, Tengen Toppa Gurren Lagann)takes charge of series composition.
Source: Animate Times