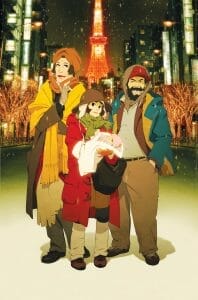 Earlier today, GKIDS announced that they acquired the North American theatrical and home video rights to Tokyo Godfathers. The publisher is producing a new English dub and a 4K restoration of the film, which will get a run in theaters across the continent in 2020.
Tokyo Godfathers first hit theaters in 2003. The film was directed by Satoshi Kon (Perfect Blue, Millennium Actress) at Madhouse, with Satoshi Kon and Kenichi Konishi (My Neighbors, the Yamadas, The Tale of Princess Kaguya) providing character designs. Satoshi Kon and Keiko Nobumoto (Cowboy Bebop, Wolf's Rain) co-wrote the script.
GKIDS describes the film as:
In modern-day Tokyo, three homeless people's lives are changed forever when they discover a baby girl at a garbage dump on Christmas Eve. As the New Year fast approaches, these three forgotten members of society band together to solve the mystery of the abandoned child and the fate of her parents. Along the way, encounters with seemingly unrelated events and people force them to confront their own haunted pasts, as they learn to face their future, together.
Sony Pictures Entertainment originally released Tokyo Godfathers in North America in 2004, following a premiere at the 2003 Big Apple Anime Fest.
Source: Twitter (GKIDSfilms)