Earlier today, an official website and Twitter account for the Sakura Wars (2019) anime opened their doors. The site updated with a trio of cast members, as well as a key visual and teaser trailer.
We break the details down below.
Trailer
The minute-long trailer introduces the main voice cast, as well a the new Moscow Combat Revue. Theme song Geki! Teikoku Kagekidan kicks in as a background track at the 31-second mark.
Key Visual
The image features the members of the Flower Division posing in front of the Great Imperial theater, with new character Clara standing in their midst.
Cast
The series will add three cast members:
Clara: Misaki Watada
Valery Kaminsky: Kenji Akabane
Layla: Haruka Shiraishi
The three characters make up the Russia Combat Revue, all of whom were designed by guest character designer Mika Pikazo. Visuals for all three characters were revealed, which you can check out below.
A visual for Russia's mecha, known as Ekaterina, was also revealed, which we've provided below.
Project Sakura Wars: The Animation will air in Spring 2020.
Manabu Ono (Sword Art Online: Alicization, Horizon in the Middle of Nowhere) will direct the project at Sanzigen and co-write the scripts with Tatsuhiko Urahata (Hi-Score Girl, GATE). Sakura Wars composer will score the soundtrack. Ohji Hiroi and Sega are credited with the original concept.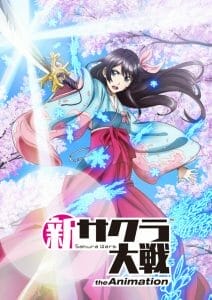 The confirmed voice cast includes:
Sakura Amamiya: Ayane Sakura
Hatsuho Shinonome: Maaya Uchida
Azami Mochizuki: Hibiku Yamamura
Anastasia Palma: Ayaka Fukuhara
Claris: Saori Hayami
Sumire Kanzaki: Michie Tomizawa
Seijūrō Kamiyama : Yōhei Azakami
All seven characters are reprising their roles from the upcoming game.
The Sakura Wars (2019) video game launched in Japan on December 12, 2019. The title, which is available on Sony's PlayStation 4 console, sold through 166,771 as of January 13, according to Famitsu.
The game will be released worldwide in Spring 2020, and has been rated by the Australian Government's Department of Communication and the Arts.
Source: YouTube (Sega)
Update, 1/30/2020, 7:36AM EST: Small update to language to better reflect new Combat Revue name.