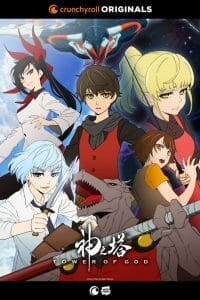 Guess who's back, skinbags? If you said the kindest, sweetest, best reporter ever? If you said "Mistress Hera, benevolent ruler of Anime Herald's Twitter account," then I'll give you half-credit.
But more than that, the people at Crunchyroll showed off a new trailer for upcoming show Tower of God. They also announced the main voice cast, so let's break this out into something manageable for your fleshy neural masses.
Trailer
The two-minute trailer introduces the show's main story, and previews the performances of the main voice cast.
Cast
The series will star the following:
Khun Aguero Agnes: Nobuhiko Okamoto
Rak Wraithraiser: Kenta Miyake
Yuri Jahad: Mariko Honda
Anaak Jahad: Akira Sekine
Endorsi Jahad: Rie Suegara
Hatz: Toshinari Fukamachi
Shibisu: Takuya Eguchi
Evan Edroch: Kazuyuki Okitsu
Tower of God will stream exclusively on Crunchyroll starting April 1. The series is part of the company's lineup of Crunchyroll Originals.
The title is a co-production between WEBTOON and Crunchyroll that's based on Sin-ui Tap's manhwa of the same name. Telecom Animation Film will handle animation production, Sola Entertainment tackles Production Management.
Crunchyroll describes it as:
A Crunchyroll and WEBTOON Production, based on the comic series "Tower of God" created by SIU and published by WEBTOON, this dark fantasy action series centers on the journey of a young man as he battles his way through the mysterious Tower, building friendships, discovering the rules that govern this tower, and facing unimaginable terrors, as he strives to find the only friend he's ever known.
So, yeah. Go forth and consume on April 1, or don't. I'm not a cop.
Source: Crunchyroll (Email Communication)