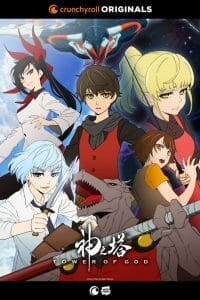 Hey flesh units, guess who's totally not covering for her boss's Animal Crossing addiction? If you said "the best, sweetest, most adorable reporter Anime Herald has to offer," then I'll give you partial credit.
I'll cut to the chase. Crunchyroll announced the full English dub cast for The Tower of God today. The show will star the following:
Bam: Johnny Yong Bosch
Rachel: Valerie Rose Lohman
Headon: Christopher Swindle
Khun Aguero Agnis: Chris Hackney
Rak Wraithraiser: Matthew David Rudd
Yuri Jahad: Kira Buckland
Evan Edroch: Kyle McCarley
Anaak Jahad: Cherami Leigh
Hatz: Nicolas Roye
Shibisu: Scott Whyte
Endorsi Jahad: Jeannie Tirado
Lero Ro: Trent Mills
Hansung Yu: Lucien Dodge
Serena: Cristina Vee
The Tower of God's English dub launches on April 13.
The Tower of God is stream exclusively on Crunchyroll as part of the company's lineup of Crunchyroll Originals. The show is a co-production between WEBTOON and Crunchyroll that's based on Sin-ui Tap's manhwa of the same name.
Crunchyroll describes it as:
A Crunchyroll and WEBTOON Production, based on the comic series "Tower of God" created by SIU and published by WEBTOON, this dark fantasy action series centers on the journey of a young man as he battles his way through the mysterious Tower, building friendships, discovering the rules that govern this tower, and facing unimaginable terrors, as he strives to find the only friend he's ever known.
So go nuts, folks. Enjoy and consume. Or, you know, don't. I'm not gonna fight ya.
Source: Crunchyroll (Email Communication)