Content Warning: Descriptions of Watsuki's buying child pornography from his confession, includes comments from his deposition.
Earlier today, HBO Max announced that they are partnering with Crunchyroll to provide dubbed and subtitled anime content. Through the agreement, HBO Max will offer a selection of titles from Crunchyroll's library, which were curated by the streaming provider.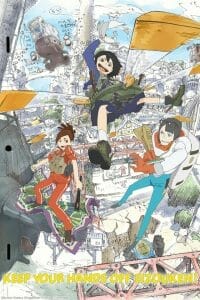 The launch lineup for HBO Max's anime catalog will include:
Fullmetal Alchemist: Brotherhood (Full Series)
In/Spectre (Season 1)
Keep Your Hands off Eizouken! (Season 1)
KONOSUBA -God's Blessing on this Wonderful World! (Seasons 1 – 2)
Bungo Stray Dogs (Seasons 1 – 3)
Berserk (Seasons 1 – 2)
Kabaneri of the Iron Fortress (Season 1)
Kill la Kill (Season 1)
Your Lie in April (Season 1)
ERASED (Season 1)
Kiznaiver (Season 1)
Schwarzes Marken (Season 1)
91 Days (Season 1)
The Testament of Sister New Devil (Seasons 1 – 2)
Rokka -Braves of the Six Flowers (Season 1)
Rurouni Kenshin (Full Series)
In addition, Hunter x Hunter and Death Note will be added to the platform after the initial launch window. A selection of new titles will be added to the service every quarter.
HBO Max will launch in North America on May 27.
Source: Crunchyroll (Email Communication)
---
Rurouni Kenshin's "Hokkaido Arc" manga was officially suspended in November after Nobuhiro Watsuki was arrested for possession of child pornography. The artist was sentenced and assessed a 200,000 yen ($1,847.40 USD) fine in February for a "Simple Possession of Child Pornography" charge.
The title will return to Jump SQ in their June 4 issue. The Jump SQ editorial board apologized for "the inconvenience to their readers" for the suspension
Nobuhiro Watsuki was charged with Simple Possession of Child Pornography in November 2017. According to investigators at the time, Watsuki possessed numerous DVDs, which contained nude footage of girls as young as their early teens. He stored the discs in a Tokyo office, with authorities confirming that he maintained the collection at the office through October 2017.
This investigation comes on the heels of a second unrelated child pornography investigation, which saw investigators searching the author's home. Watsuki was under suspicion that he had purchased child pornography. During this first investigation, authorities found several DVDs.
In his deposition, Watsuki stated that he "liked girls aged from late elementary school to the second year of junior high school." Sankei News notes that Watsuki also stated "I like the nudity of children, I bought it."
Nobuhiro Watsuki, real name Nobuhiro Nishiwaki, was born on May 26, 1960. The author is best known for his work on Rurouni Kenshin, which ran from 1994 through 1999 in Weekly Shonen Jump, and sold over 60 million copies across the globe. The series inspired a 95-episode anime series, which ran from January 1996 through September 1998, as well as numerous anime films and OVAs. A live-action film trilogy was also produced, which hit Japanese theaters from 2012 through 2014.
Watsuki launched a new arc of the Rurouni Kenshin manga with his wife, Kaoru Kurosaki, in September 2017. The ongoing series launched in September, and was receiving an English simulpub from Viz Media. The arc was suspended by Shueisha, due to the charges against Watsuki. The title returned to Jump SQ in their June 4 issue. The Jump SQ editorial board apologized for "the inconvenience to their readers" for the suspension.