Earlier today, the Japanese patent office updated with four new Sakura Wars trademarks, which were filed on April 16. According to the site, the publisher filed the following marks:
Sakura Wars B.L.A.C.K. (Sakura Taisen B.L.A.C.K.)
B.L.A.C.K.
Sakura Restoration (Sakura Isshin)
Sakura Revolution (Sakura Kakumei)
The filings for Sakura Wars B.L.A.C.K., Sakura Restoration, and Sakura Revolution, include video games, optical discs, ROM Cartridges, and other recording media as intended usages.
Sakura Wars (2019) shipped worldwide on Sony's PlayStation 4 console on April 28. The title launched in Japan on December 12, 2019. The title, which is available on Sony's PlayStation 4 console, sold through 166,771 as of January 13, according to Famitsu.
Sequel anime series Sakura Wars (2019) The Animation hit Japanese TV on April 3, with Funimation streaming the title in North America, the United Kingdom, and Ireland. Wakanim is offering the show in Europe.
The core voice cast includes:
Seijūrō Kamiyama : Yōhei Azakami
Sakura Amamiya: Ayane Sakura
Hatsuho Shinonome: Maaya Uchida
Azami Mochizuki: Hibiku Yamamura
Anastasia Palma: Ayaka Fukuhara
Claris: Saori Hayami
Sumire Kanzaki: Michie Tomizawa
Reiji Shiba: Tomikazu Sugita
Kaoru Rindou: Yui Ishikawa
Komachi Ooba: Ryoko Shiraishi
Yang Shaolong: Yuuichirou Umehara
Yui Huang: Sumire Uesaka
Arthur: Nobunaga Shimazaki
Lancelot: Manami Numakura
Yaksha: Chisa Yokoyama
Elise: Nana Mizuki
Margarethe: Rie Kugimiya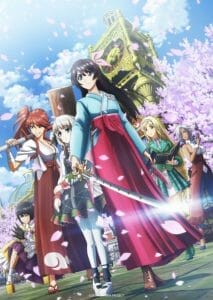 Bleach creator Tite Kubo provided the original character designs, while Jiro Ishii (Nine Hours, Nine Persons, Nine Doors, Under the Dog) was in charge of the story structure. Series composer Kohei Tanaka (Sakura Wars franchise, One Piece, Mobile Fighter G Gundam) returned to score the game's soundtrack.
Other staff members include:
Script: Takaaki Suzuki (Girls und Panzer, Strike Witches)
Setting and Scenario Summary: Takanobu Terada
Development Director: Tetsuya Ootsubo
Producer: Tetsu Kitano
Character Visual Setting: Masashi Kudou
Main Mechanical Designer: Mika Akitaka
Executive Producer: Haruki Satomi
Original Concept: Ohji Hiroi
Sega describes Sakura Wars (2019) as:
The stage is set in a steampunk version of 1940s Imperial Tokyo. Only a short while ago, a cataclysmic event destroyed the Imperial Combat Revue of Tokyo, the capital's global defense force stationed at the Imperial Theater. Now home to the Flower Division, an inept rookie squad who also strives to impart hope on the citizenry with their theatrical talents, the theater has fallen on hard times and risks closure. It's up to Seijuro Kamiyama as the captain of the new Tokyo revue to lead his squad and restore the Imperial Combat Revue and the theater back to their former glory! With the help of the revue's five colorful performers, he must rise to the challenge of competing in the Combat Revue World Games, protecting the inhabitants of Tokyo and getting the theater back on track.