Meeting Date: 7/25/2020
Disclaimer: The Herald Anime Club discusses shows in a generally unmoderated format. Naturally, there will be spoilers for a given episode. You have been warned!
---
Samantha Ferreira: Hi everyone, and welcome to the Herald Anime Club (Retro Edition!). I'm Samantha, and I'm here with Anthony and L.B.
L.B. Bryant: Hello
Anthony Simpson: Evening
Samantha Ferreira: Tonight, we're heading back to Kyushu to meet some undead moe idols in Zombie Land Saga 2: "EPIC! RAP BATTLES OF HISTORY!"
Or "the one where Tatsumi shows the zombie idols the equivalent of a snuff film"
Anthony Simpson: This episode, this was an enjoyable one start to finish.
Samantha Ferreira: It really was. I'm kind of glad they didn't rush it and try to push this in the premiere
L.B. Bryant: This was a solid follow up to the first episode plot intro.
Samantha Ferreira: It really was. I liked how they worked in the cop from the first episode, even. That said, those rappers had it coming.
Anthony Simpson: They certainly did have it coming
Samantha Ferreira: Also: Much has to be said about The Great Tae Yamada (TM), who is always nothing short of stellar
Anthony Simpson: Tae Yamada is amazing even though she has no lines so far.
Samantha Ferreira: Right? The scene at the concert was outstanding
Anthony Simpson: The concert was my favorite part of this episode just amazing all around
Samantha Ferreira: Hehe… I still remember when this first aired. The impromptu rap battle was what solidified it as a must-see for SO many people
L.B. Bryant: Yeah, I remember the buzz that the rap battle generated among the anime blogs around the world.
Samantha Ferreira: It was the most-shared video on Crunchyroll DE for ages
IIRC, they had the best-quality version of the scene, and it just kept getting passed around like "You've gotta see this!"
It's up at something like 1.8 – 2 million views now
That said, the western version's up there too
Anyway! This episode just had so many great moments… Saki being this badass undead biker, Ai, Junko, and Sakura sneaking out, rap battles, and just… yeah.
Anthony Simpson: Top to bottom this episode was packed.
Samantha Ferreira: Right? I mean… we haven't even touched on, like, the street rappers, or the death metal dudes, or…
Anthony Simpson: The death metal dudes are my favorite side characters in this show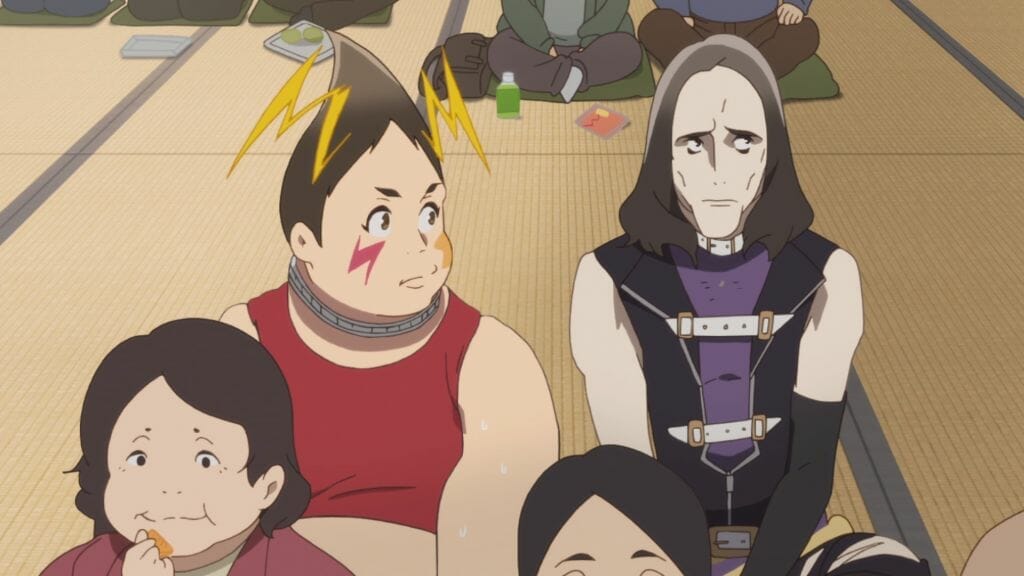 Samantha Ferreira: You'll see more of them, I assure you
I do wish we saw more of the rappers, though. I don't remember if they show up again or not, but they were funny.
Anthony Simpson: I certainly wouldn't mind seeing them again
Samantha Ferreira: They were great, along with the poor cop.
Aniwho, any final thoughts this week?
Anthony Simpson: None for me
Samantha Ferreira: Likewise. 'til next time, then, remember: when in doubt start a rap battle and save the day while roasting your friends and audience!
Have a great night!
L.B. Bryant: Nighters :)
Anthony Simpson: Good night