Header Image Credit: Coop Bicknell (Used With Permission)
With each passing day, it seems that more and more people are turning to digital platforms to enjoy their anime or media of choice. These formats are easy, convenient, instant, and most important, readily accessible during this little thing called a "pandemic" that's going on right now. Rather than risk that trip to Wal-Mart, it's becoming more appealing to just stay home, turn to a streaming app of choice, and indulge in the latest episodes of One Piece, Dragon Ball, or whatever the current flavor of the month may be.
Despite the rise of the digital behemoths, physical media still has its proponents. And while there are still plenty of stores that will ship the latest releases to customers' doors, they still can't satisfy those who yearn for something even more tangible.
Something… analog.
While Blu-Ray is a fantastic medium for archival and content delivery, it's hard to deny the charm that comes from the "thunk" of a cassette being sucked into a VCR, or the artistic charm of a LaserDisc sleeve.
Despite the allure, there is certainly a hurdle to those seeking to dip their toes into classic media collecting. While second-hand stores like Savers and Goodwill may turn up a handful of copies of popular films, anime can be in remarkably short supply.
In cases like this, it helps to have somebody who can lend a hand. Somebody who's taken this journey before, and who can offer a guiding hand around the pitfalls of classic media collecting.
In short, it helps to have someone like me.
I jumped into the world of anime on VHS and Laserdisc in the dealer's room at Detroit's Youmacon convention. Being a little hungover (as one is wont to be at a convention), I was fortunate enough to find OtakuJoe's Booth: a shining beacon amongst the sad sea of ahegao hoodies and waifu merchandise.
This oasis in a desert of dreck was a cavalcade of classic merch. Near the back of the booth, though, was a series of boxes, stuffed with laserdiscs and records, Amid these massive discs, I found my first prize: a LaserDisc for GunBuster, which I snapped up in without a moment's hesitation. In the years that followed, I would partake of Joe's enviable selection of VHS cassettes, each of which contained a classic in its own right, from Project A-Ko to Bubblegum Crisis.
Since the first time I partook of that oasis' bounty, I realized that I was now on the lookout for any classic anime media that I could find. To reference a certain musical, I had tasted blood and I wanted more… more, more, more. Sadly, second-hand stores weren't able to successfully quench that thirst. This meant I had to do what so many others have done before, and so many others (including you, good reader) take up every day: turn to the World Wide Web.
In the new reality we all inhabit, we're seeing a large number of media hunters migrate online. And, for many, the first instinct will likely be to trawl the selection in online auction house eBay. Much like a yard sale, though, eBay's selection and price ranges tend to vary greatly from seller to seller. Seller knowledge, supply, demand, Some titles, like Dragon Ball or Rayearth, will be available for pennies on the dollar. Sometimes, bargains like a $20 LaserDisc copy of Akira, or a VHS copy of Macross: Do You Remember Love? for $14, will pop up. Other times, though, buyers could easily be staring down a contested auction on a desired rarity, or an inflated price on a LaserDisc that was imported from Japan.
For folks who are looking to tap into Japanese products, it would be remiss to not mention Yahoo! Auctions. Much like eBay in North America, Yahoo! Auction hosts millions of listings for any product that a person could imagine.
As a bit of a hint, when searching for products, it's often helpful to search by the actual Japanese characters (in this case, Gundam), as this will lead to more hits in the long run
But there's a catch: as Yahoo! Auctions primarily serves Japan, most sellers don't ship worldwide. Instead, would-be media hunters will need to rely on deputy services, like ZenDesk, White Rabbit Express, and Blackship. These organizations act as middlemen, who purchase a product on order from a customer, then ship it to the buyer when it arrives. In exchange, these services take a percentage of the total cost as a commission.
For those who go this route, be sure to read the listings carefully. Speaking from experience, it's not uncommon to receive just a tape with the boxart, but not the actual case. That may be due to these tapes, more often than not, being former rental copies. Due to some rental laws that could take up a whole article of its own, your purchase of a 20 year old tape might be the first time it has been privately owned.
For those who still want that Japanese swag without the complications of a deputy service, it would be wise to hit up Mandarake. This  famous franchise of Japanese second-hand stores, which was founded in 1980, ships worldwide with no middleman required. The best part about this is that Mandarake's catalogue is pulled from all eleven their locations plus their fulfillment center, giving customers a wide selection that spans the entire country.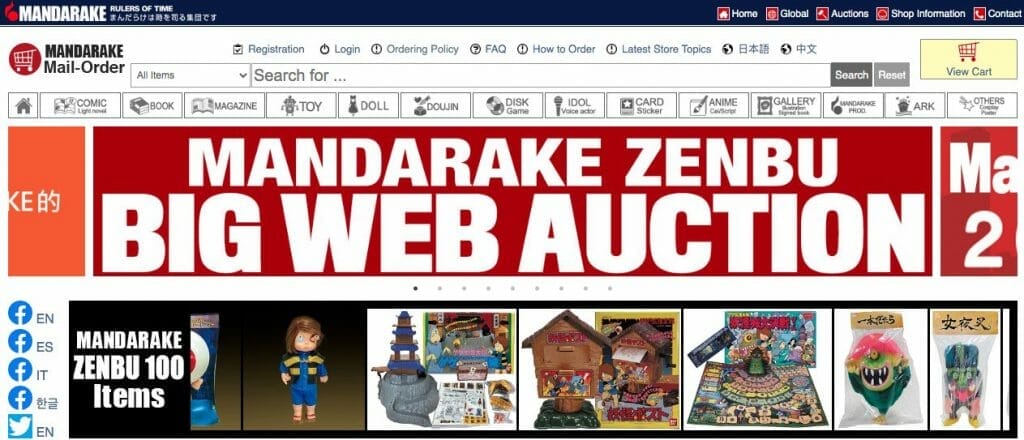 Though, there are a few stipulations here as well. If an order is under 5,000 yen (about $47.50 USD as of today), there will be a 500 yen ($4.75) service fee. The stock listed on the site is also for sale in the physical store as well, so there's also a chance that it's been purchased already, despite an order going through. This is no cause to worry, though. Mandarake only asks for payment once the item has been processed, set aside, and is ready to ship.
Speaking of shipping, given the current world state, I would advise checking with retailers and local mail carriers for the best available option.
With classic media in hand, all that remains is to enjoy it. Whether that involves tracking down a VCR or Laserdisc player and a TV that works with them, or just displaying them like pieces of pop art, the possibilities remain endless at this point.
Personally, I've taken to displaying my VHS tapes in a manner that would be at home in a classic video store. The sight of a row of tapes aligned on a shelf like a colorful collage is nothing short of astounding, and really invites onlookers and conversations alike.
That's to say nothing of a dedicated display rack, though. Old surplus shelving from video stores creates an amazing visual, which brings a pang of nostalgia for those days wandering through (or in my case working at) the old neighborhood video store.
For those who have a larger run of tapes, like, say, the full eight-volume run of Bubblegum Crisis, a floating long shadow box provides a wonderfully striking backdrop for the set that really allows the artwork to pop. For Laserdiscs, one could make a striking wall piece with the help of a vinyl record frame, held up with 3M Command strips.
When looking for a replacement VHS case, be sure to buy Library Style cases. These don't have the curved spine that many searches for "Replacement VHS Case" will turn up. They also have a slightly larger profile, which better fits the artwork found on the typical clamshell case and prevents damage from trying to fit the artwork into an unsuitable receptacle. (A huge thanks to Ashley Hakker for a hand with that!)
Hopefully, my experiences, along with the knowledge I've learned over the past few years will be helpful to you in starting an Laserdisc or VHS collection of your own. Learning about this is a never-ending task, and I know even I learned a thing or two while researching for this article.
Now, if you'll excuse me, I must go and laugh at how shameless and bombastic this Burn Up! case is.