It would be the understatement of a lifetime to say that the past eighteen months have been an upheaval in our collective lives. COVID-19 has ravaged the world, infecting more than 203 million people, and taking the lives of more than four million. Emergency rooms were brought to their knees, as nations and states locked down to limit the number of casualties from the illness. Stay-at-home orders became the norm, as people found ways to adjust to the new reality that would become our collective "normal."
As one would expect, the convention scene was all but decimated; one after another, conventions announced that they wouldn't be hosting an event in 2020. Every major geek gathering, from Anime Expo, to Anime Boston, to Anime Central, announced that their annual event would no longer be held.
Though all of us understood this as a necessity, nobody in the community could deny the massive void that emerged as the gravity of these events' absence began to sink in. Virtual cons like Anime Lockdown, FunimationCon, and KuroCon all rose up to fulfill the social experience that fans were beginning to crave, offering carefully curated slates of programming on digital platforms like Twitch and Discord. Meanwhile, established events like Otakon and Anime Weekend Atlanta dipped their toes into the digital space with ambitious setups that aimed to mimic a live con experience. While these events were beloved and appreciated by fans worldwide, few went on to suggest that they held the same energy as the in-person events.
In May, as new COVID-19 cases dipped to their lowest levels since the previous summer, Otakon stunned the world as they announced that this year's event would be an in-person convention. It would return to its home at the Walter E. Washington Convention Center, and while vaccinations wouldn't be required, masks certainly would be. Moreover, the convention center would close its doors at midnight each day to allow for proper sterilization of all surfaces within. The facility itself, meanwhile, was outfitted with the latest in self-sterilization technologies, from NanoSeptic Continuously Self-Cleaning Surfaces, to thermal temperature scanners, to Sharp Plasmacluster® Air Purifiers.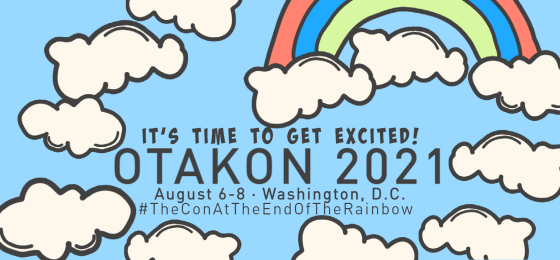 Dubbing their event the "convention at the end of the rainbow," Otakon cheerfully announced the return of beloved favorites, and brought together an enviable number of guests in short order. Fans, industry, and press alike clamored to secure their passes to the event, eager to take part in their first celebration of anime fandom. For a brief moment, it seemed like the world would take those first, nervous steps toward normalcy again.
Beyond the pomp and eagerness, though, concerns emerged anew. COVID-19's Delta Variant mutation quickly took over the headlines, as cases began to spread like wildfire among the unvaccinated, and news stories about breakthroughs among the vaccinated began to accumulate. As the weekend approached, a palpable sense of trepidation filtered through social media. Would Otakon's guidelines be enough? How would the convention deal with new developments?
Will we be safe?
These concerns colored the weekend, hanging over the event like a cloud as thousands trekked across the country in planes, trains, and automobiles. Though Otakon had billed itself as the Con at the End of the Rainbow, it remained to be seen whether the event would truly become a ray of sunshine in the middle of this ongoing storm.