Header Image by Bunniikitty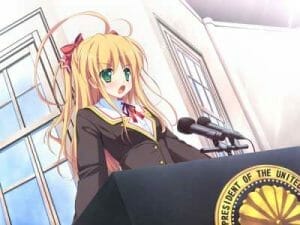 My fellow anime fans, good afternoon.
Today marks a big day in Anime Herald history. Today, we celebrate our eleventh anniversary. On this day, in 2010, we posted a short, innocuous message that was brimming with hope against the backdrop of an anime industry that was working tirelessly to rebuild itself in the wake of the burst of the 2000s anime bubble.
In the years that followed, we've grown and evolved in ways that I don't think I, or anyone who was pitching in at the time could have imagined. And, really, the past eleven years have been a journey of sorts, as we scraped, scrapped, and learned what we could about everything, from running a web host, to just straight-up running a crowd-funded business in this space. It's been a journey and, like any great trip, we've made friends and colleagues, and continued to learn and improve ourselves as we traveled along our path.
As I sit here, typing this, I can't help but feel a bit emotional. I mean, a lot has happened since that warm September day. Anime grew from this bubbling bit of subcultural kitsch to a full-blown pop-culture staple. More people are watching than ever, and anime itself has never been cheaper to acquire. It still blows my mind that just six bucks a month gets you access to literally tens of thousands of episodes, all instantly, with a few clicks of a mouse or a few taps on a tablet. I'm still amazed to see folks of all ages milling about in the grocery store, clad in My Hero Academia and Dragon Ball shirts. It'll never stop being amazing to see new generations of voices rise up and add to the conversation every year, bringing new perspectives into the fold as more dig down into the medium.
And somehow, in some way, we've been here to see it all, and we're now working to make the next ten years even better. Today, Anime Herald works with freelance writers around the world, paying fair rates to our editorial team and writers alike, while exploring the spectrum of what anime, as a medium, has to offer. Whether we're talking about anime licensing in Taiwan, Black representation in anime, or the raw power of a great soundtrack, we're doing our best to ensure that you always have something to make you smile, or laugh, or just think about.
We couldn't be here without you. No, really. Every day, you give us a billion reasons to keep building Anime Herald as readers, as supporters, and as friends. Your kind words and your support have been a true blessing, lifting our spirits when the going got tough, and continuing to motivate us to do better with each passing day.
Anime Herald's supporters have allowed us to go places we never imagined. In 2019, we made the conscious decision to go 100% crowd-funded, casting aside the shackles of the ad game, as we entrusted our fates to all of you. It's been an amazing experience. With your support, we've been able to explore all manner of topics, from and elevate voices within our community,
As friends, you've given us so much encouragement and joy, whether we've chatted on Discord, crossed paths on Twitter, or even just traded words at a convention. It's been so amazing to meet you all, and we can't thank you enough.
I say this every year, but it never stops being true: without you, there is no Anime Herald. Without your amazing presence, we don't exist; we'd just be a bunch of disconnected voices screaming into the void. And no matter where the fates take us, whether the industry rises or falls, whether the subculture grows or shrinks, we've been here for you, just as you have been here for us.
And for that, I'll always be grateful.
I'm not a psychic. I can't say for sure that we'll be here in ten, twenty, thirty years. Still, for as long as I'm capable, Anime Herald will continue to live on as a place you can turn to, where you can feel comfortable tuning in to read topics that make you think, laugh, or cry. Where you can read about the fractious history of the Rising Stars of Manga, explore critiques of Patlabor 3's layered subtext, or ponder cyberpunk anime's complex relationship with portrayals of police.
It's been an honor and a pleasure to work on Anime Herald, and I look forward to continuing our journey as we write this new chapter in our story.