When scrolling through TikTok recently, I noticed that among the fashion videos there was a subsection of NANA Y2K fashion and alt-fashion posts. They laud Nana Osaki as an icon of late nineties and Y2K fashion, and they are absolutely correct. After all, fashion tends to operate within twenty-year cycles, making NANA, a fashion-focused series from the late 1990s/early 2000s, the perfect source of inspiration for the current Y2K trends. Following this twenty-year cycle backward also provides an interesting look at the history of the current trends, for NANA is full of outfits inspired by clothes of the late 1970s and early 1980s.
If you are at all familiar with punk music, this should not come as a surprise. Very early on in the show, Nana Osaki mentions the Sex Pistols, a British punk band that took the world by storm in the mid-to-late seventies. While the Sex Pistols' original run was only two and a half years, they left a lasting mark on the world due to their shocking and groundbreaking aesthetics, lyrics, and sound. Vivienne Westwood was the designer for the Sex Pistols and created their signature style, and it is undeniable that Nana the character's style was heavily influenced by her designs for The Sex Pistols. After all, while watching NANA, it's impossible not to notice the Vivienne Westwood logos, accessories, and clothing that she often wears and, in the very beginning, is gifted by fans.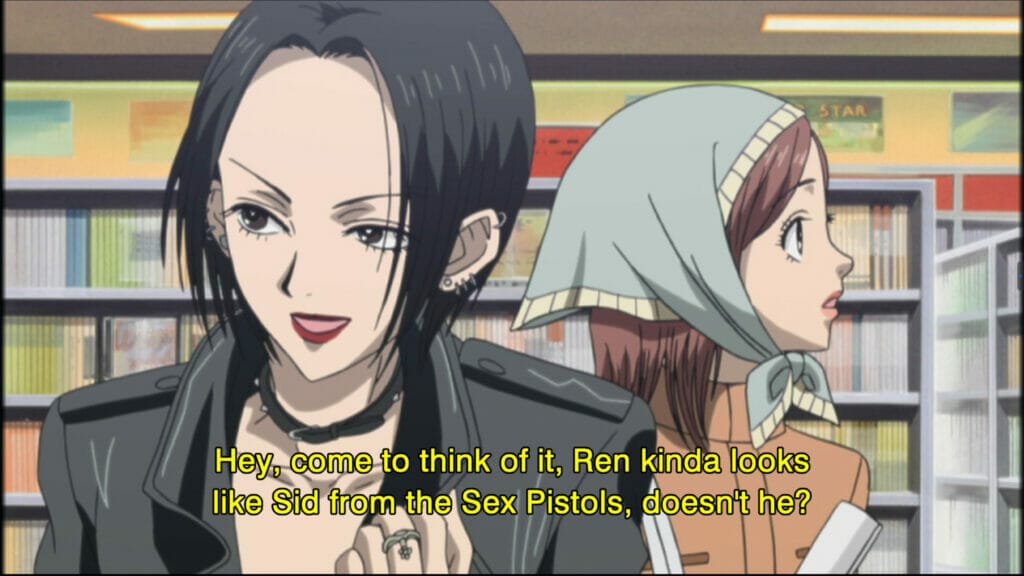 However, this is only a simplified explanation of Nana's style. The greater question, and arguably the more interesting discussion, is the fashion history that allowed for her specific fashion sense. After all, she doesn't just wear Sex Pistols-inspired spikes and chains and leather, boots, and graphic tees and plaid; she's also platforms and lace and corsets, frilly skirts, and detachable sleeves. This specific combination of aesthetics has a history of its own within Japanese fashion and within fashion history as a whole.
In 1970s Japan, British punk music found a niche. By the '80s it had revolutionized the rock scene and influenced the creation of alt-music magazines such as "Doll". As often happens, alt-music creates alt-fashion. As British music influenced Japanese music, so did British fashion. Long skirts and blazers, ruffled Victorian-era esque blouses, long gauzy dresses, and matching accessories began to be popularized by brands such as Milk. More punk and alt-stylings also began to creep into this alt-fashion scene, popularizing the aforementioned clothing in dark or monochromatic color palettes and plaids. These British-influenced hybrid fashions began appearing on album covers, and were eventually dubbed "doll fashion".
By the 1990s, doll fashion was starting to split into several distinct styles, including Visual Kei and Lolita. Visual Kei was, and still is, dark and over the top. It takes influence from many different alt-fashion cultures, including elements of doll, goth, and 1970s British punk fashions. It was (and still is) a style favored by Japanese bands such as X Japan and Malice Mizer (and NANA's the Black Stones) who fell into genres akin to rock, punk, metal, and other alt genres. The lighter, brighter, softer elements of doll fashion became Lolita fashion as we know it today. Brands and designers popped up that catered to these various aesthetics, but there was one designer who spanned multiple fashion subcultures.
In the late 1990s, Vivienne Westwood's first shop in Japan opened in Harajuku. The store brought in fans of punk, British, doll, visual kei, Lolita fashion, and more. Pieces like the now-famous rocking horse shoes (worn by Nana Osaki)  became coveted by those who wore Lolita fashions because of their doll-like aesthetic. The heart blazers (also worn by Osaki) were worn by lovers of punk and doll fashion. Then, there were hybrid pieces, such as the pleated plaid skirts (also worn by Nana) that were coveted by all alt-fashion lovers. By the 1990s the designer had taken on softer elements, incorporating some lacy details and Victorian-era stylings. While Vivienne Westwood still sold chains and plaid and leather, she was also beginning to sell frilly skirts, pieces with lace and corsets, and pieces that managed to incorporate elements from both styles. Westwood had morphed into a designer that was perfect for many corners of Japan's alt-fashion world. For these reasons, Vivienne Westwood was the perfect designer to represent Nana Osaki. After all, while she most likely did wear other designers in NANA, the series' creator, Ai Yazawa only name-dropped Vivienne Westwood. 
So Nana's wardrobe does take a lot of direct influence from 1970s punk fashion. It is also a distinctly 1990s Japan version of the British punk fashions of the 1970s that can be perfectly summed up by the Vivienne Westwood catalogues of the 1990s and early 2000s. It has elements of doll and Lolita fashions, British Victorian and punk fashions. It is an iconic amalgamation of styles, and yet the individual influences behind this amalgamation still shine brightly.
If we were to take this a step further and take another look at the TikTok fashion videos, we could say they are distinctly 2020s versions of 1990s and 2000s fashions that come from styles of the 1970s and 1980s.  While I could write an entire book on current fashion trends and their influences, the long and short of it is this: the NANA-inspired fashion of today features platform shoes with different fits, skirts with different shapes, jackets that are cropped, and shirts that, while they have the same essence, have slightly different cuts and fits. As with Nana's clothes, the influences are obvious but the final product is distinctly its own. All fashion, whether mainstream or alternative, works within twenty-year cycles, and it will continue to do so. And to me, that is a beautiful and fascinating thing.