India isn't known for great animation – and rightly so. The last major animation blockbuster was released way back in 2014[1], with the box office in India itself dominated by live-action films. But way back in the 1990s – amidst the country's great economic reforms – a film on Indian mythology graced India, and forever etched itself in the nation's heart.
Indian mythology is one the oldest in the world[2] and houses within itself a treasure trove of epics, tales and stories that can still mesmerise and mystify viewers around the world. Many Indian legends and epics live to this day, in the form of numerous folk and traditional arts like Odissi, Kuttiyattam, Bharatanatyam, Ramlila, etc.
However, despite India's huge film industry, these stories rarely make it to the silver screen. The reason? Unlike other mythologies, Indian mythology is a living one and is intertwined with the daily lives of Indians. This means that a simple misrepresentation of tales, deities and Gods is a grave issue. That said, there have been a few who managed to create something with so much love and care that viewers were left awestruck. While many such storytellers were Indian like Ramanand Sagar's cult classic Ramayan (1987), Ravi Chopra's Mahabharat Katha (1991) and VG Samant's animated feature Hanuman (2005), there was one Japanese man who gave India its most beloved animation film.
Yugo Sako, a Buddhist monk-turned documentary filmmaker, was on a trip to India in 1983 to film his NHK documentary on archaeological findings related to the Indian epic Ramayana. The epic follows the journey of Shri Rama, the prince of the Kosala kingdom, through India on a fourteen-year exile. It culminates in his triumphant battle against the all-powerful King Ravana of Lanka, who kidnaps Rama's beloved wife, Sita. Ramayana, one of Hinduism's two principal epics, literally means Rama's Ayana or journey.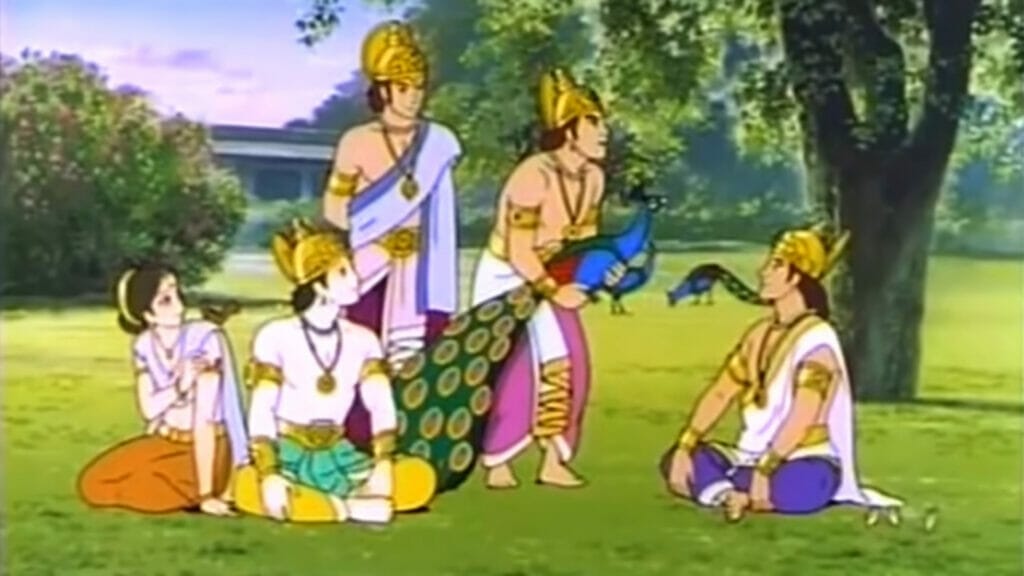 Sako first read about India and Hinduism at a Zen temple in central Japan, where he was raised by monks after he lost his parents at the tender age of three[3]. As Sako shot his documentary, he became fascinated by the story of Rama. While in India, he saw the Ramayana in every nook and corner of the country. He famously stated, "Has there ever been a story in which nature, God, man, and animals were so united in sorrow, fighting, and rejoicing together?"[3] when asked about the reason behind his passion for Ramayana. From Ramlilas (Folk re-enactment of the story) to daily rituals and even greetings, Sako had decided to make an animated adaptation of the story. He believed that a live-action feature couldn't justify the holy epic. Thus began his long journey of making an anime feature of Ramayana.
However, the road was long and arduous. There were huge religious and cultural emotions at play. Even Sako's 1983 documentary had faced protests in India[4]. He needed huge financing and an extensive team of artists. Moreover, though animation was mainstream in Japan, in India, it was still limited to typography and simple cartoons. And despite his extensive research, Yugo Sako still needed an Indian perspective in the film.
To overcome these obstacles, Sako conducted exhaustive interviews with academics, archaeologists and historians – including legendary Indian actor-turned-politician Sunil Dutt – to cater to the finest details of the epic. In 1984 he teamed up with veteran Indian animator, Ram Mohan, along with his team at Ram Mohan Biographics, to better design Indian actions as well as characters[5][6]. Understanding the need for numerous resources, Sako along with Mumbai-based Oberoi Films approached the Government of India for support. Sako had pitched to do the entire production work in India and thus not only create the film, but with it, create a whole Indian animation ecosystem. The government initially showed some enthusiasm. India's then Prime Minister Rajiv Gandhi even met Sako and his team. But negotiations were slow, and after more than seven years, fell apart owing to internal political situations in India. Left with no options, Sako had to put the production in cold storage.
But Yugo Sako just couldn't see his dream project die. Back in Japan he partnered up with Atsushi Matsuo of TEM Co. and set up a venture, Nippon Ramayana Film Company, solely for the film. Then a new production studio was set up in Hiroo, Tokyo[4]. Ram Mohan and his team were called to Japan for the production while Koichi Sasaki was roped in to head the Japanese animators. The Japanese artists were at the helm of the storyboards, background, original drawings, animation, colouring, photography, and editing, while the Indian team was in charge of the scenario, art settings, conversation recording, music, etc.[3]
The result was a fusion of animation styles, influenced by animation schools like anime, Disney and India's Ravi Varma.  Over the next two years, nearly 500 artists created over 120,000 celluloid pictures for the film. Finally, the production was completed in December 1992 with an investment of over 800 million Yen[7]. The original film was created in English with Sanskrit songs, while a Hindi-dub version and an American English-dub version – with actors like Bryan Cranston and James Earl Jones – would be released later.
The film initially premiered at the Delhi International Film Festival in January 1992 as "Ramayana: The Legend of Prince Rama" and had a runtime of 135 minutes. It received heaps of praise. It was distributed as a work to commemorate the 40th anniversary of Indo-Japan diplomatic relations and seen as the ultimate symbol of Indo-Japanese collaboration and relations[4]. The anime was hailed by critics as well as the media, and was poised to be one of India's first successful animation features. However, two events dashed this early momentum against the rocks.
The 1990s were politically unstable and religiously charged times for India. Riots after the Babri Mosque demolition on religious lines had rocked the country. On the other end of production, the sarin nerve gas attack in Tokyo by the Aum Shinrikyo cult created an environment against Hinduism and its symbols like "Aum" (ॐ) that appeared very prominently in the film[7]. And in such an atmosphere, the film saw very limited releases both in India as well as Japan when it was theatrically released in 1997. The film wasn't widely promoted,  in fears of an uptick in violence. As such, the majority of people didn't even know about its release[8]. Its releases in western markets couldn't get much buzz either. Although the movie was acclaimed at film festivals including the Santa Clarita International Family Film Festival and was even in the race to be nominated for the 2001 Academy awards[8]. Though the film saw few brief premiers abroad, its distribution was limited due to the creators' insistence on sticking to the plot. In one instance, an American studio had even suggested changing the 14-year exile theme into an extended honeymoon of Rama and Sita[6].
Both Ram Mohan and Yugo Sako were heartbroken by the film's performance. However, just like its creator, the film, too, was indomitable. After the box office disaster, the anime's television rights were bought by Cartoon Network's India unit and aired regularly on TV[9]. This was the turning point in the film's history. Following its feature on television, the film gained a cult following in India and went on to become one of a favourite among Indian kids. By the early 2000s, it felt like there was absolutely no one (myself included) who hadn't seen the film. Yet none of us knew about its fascinating history or the fact that a Japanese man gave his life to create this masterpiece. Sako gave Indian children a film we could relate to and knew about, from the stories told by our grandparents.
The film left such a deep impact on the Indian audience and animation that, in 2005, India saw its first-ever animated blockbuster, Hanuman by Percept Picture Co. The film was based on Hanuman, the Hindu monkey deity and another holy character from – you guessed it – Ramayana. This was followed by a slew of films based on Indian mythology, primarily the Ramayana. However, they never had the honesty and zeal that Yugo Sako, Koichi Sasaki and Ram Mohan brought out in Ramayana: The Legend of Prince Rama. Many Indian animators today state that had the anime been produced in India as Yugo had envisioned, it could have laid the foundation for a globally-competitive Indian animation industry. In an interview, Chetan Sharma, co-founder of Animagic and one of India's most reputed animators stated, "It (Ramayana) is one of the most important works in animation with an Indian subject. This film was a testament to what Indian animation could have been"[9][10]. On the other hand, Ram Mohan highlighting the importance of this film stated, "This work has had a shocking impact on the Indian animation world. I want more Japanese people to know the importance of this work."[4]
Though Ramayana did provide a mythological premise and a foundation to the Indian animation space, the lack of basic infrastructure like mass production, creative manpower, financial resources, etc. meant that Indian animation, barring a few exceptions, never took off.
But that's a story for another day.
Ramayana, even today, is a sweet, nostalgic memory for many Indians. It gave us a sense of belonging with the characters, it made our Gods feel like humans full of emotions, and it gave us the precious gift of animation. Today the film's songs, characters and memes still find themselves popular in the country. Even India's current Prime Minister praised the film and hailed it as the ultimate symbol of Indo-Japanese friendship while thanking Yugo Sako for his dedication to Ramayana[11].
With TEM Co. announcing a 4K remaster of the same[10] to be released in 2022-23, the film may rescue Indian animation once again – just as Shri Rama rescued the Sita and the world from King Ravana.
Sources
[2] https://en.wikipedia.org/wiki/History_of_Hinduism#cite_note-11
[3] https://ramayana-anime.net/
[4] http://wp.tufs.ac.jp/tufscinema/2019/12/06/200110-2/
[5] https://scroll.in/reel/1005269/tireless-and-peerless-the-debt-that-indian-animation-owes-to-ram-mohan
[6] https://www.beliefnet.com/faiths/hinduism/2001/04/yugo-sakos-ramayan-odyssey.aspx
[7] https://english.kyodonews.net/news/2022/03/a547ab3fbb77-feature-groundbreaking-ramayana-anime-remastered-for-new-audience-30-yrs-on.html
[8] https://www.upi.com/Odd_News/2001/12/12/Best-animated-feature-will-get-an-Oscar/62701008199393/
[9] https://scroll.in/reel/1025233/the-continuing-journey-of-an-indo-japanese-animated-film-based-on-the-ramayana
[10] https://www.animationxpress.com/latest-news/indo-japanese-anime-classic-ramayana-to-get-screened-at-miff-on-31-may/
[11] https://zeenews.india.com/india/mann-ki-baat-pm-modi-talks-about-japanese-animation-film-ramayana-read-details-2468400.html