Editor: Samantha Ferreira
Date: 4/7/2023
Host: Helen McCarthy
In the earliest days of anime fandom, before Robotech, and even Star Blazers, anime fandom was defined by a wild, punk energy that was equal parts youthful brashness and calculated hustle. While The Clash held court at the Rainbow Theatre, anime fans in the UK were building a subculture that reveled in the iconoclastic energies of the era. As fans came and went, so too did their raw punk energy, which lives on through humble fanzines.
Helen McCarthy is a leading scholar of anime, having written more than a dozen books on the topic, in addition to co-authoring The Anime Encyclopedia with Jonathan Clements. On the afternoon of April 7, though, she was eager to spread the gospel of British fanzine culture. She arrived at the panel fifteen minutes early, though she was eager to start a conversation with the quickly filling panel room. "Anime has a way of infecting you," she exclaimed to the audience with a warm smile, adding that "when I realized what anime was, I realized it was a key that could unlock entirely different art forms."
By 3:30 PM, all eyes in the capacity crowd were on McCarthy, as she eagerly dove into her lecture. She explained that "This is my fandom, but I've forgotten so much about it!" Because of this, she wanted to chronicle the full, accurate story of the British fanzine scene. She hoped to educate anime fans about where they came from, how things worked, and how the subculture can continue to thrive in the modern era.
"There will not be a test," she noted, "because that would be very un-punk!"
Before diving into the zine culture, McCarthy began with a crash course on the early history of British anime fandom. She began with the earliest days, which started in 1959 and were defined by films like Panda and the Magic Serpent and Alakazam the Great. From there, she moved into the first anime TV broadcasts, which included works like Marine Boy and Battle of the Planets. According to McCarthy, American adaptations of anime shows started filtering into the country because they were cheap to license. Kids of the era took notice, particularly of how "weird" these new shows were, but they could hardly deny their innate coolness.
Meanwhile, anime fandom—as anyone in the room would recognize it—began to take root outside of the schoolyards. Science fiction magazines began publishing articles about the cartoons and model kits that were being imported from the United States. In turn, fans took notice that they were more appealing than what had previously captured the hearts and minds of the greater community. Awareness of anime and manga steadily built with each passing day, as the budding fanbase hungered more for more of it.
McCarthy noted that she was working for the National Library of Britain, then. Unfortunately, her searches for new information about anime proved fruitless, as any information on record was either in a foreign language or patronizing in nature. This was exacerbated by the fact that few in the country were capable of translating Japanese to English, to the point that the translator for BBC's adaptation of Monkey could neither read nor write Japanese.
The first British anime fanzine made its way into the community in 1986. Titled Robotech UK, the book consisted entirely of an extended interview with Carl Macek. In 1988, Medtek, which focused on war games like Battletech, made its debut in fan communities. The publication would run through 1990, spanning several issues.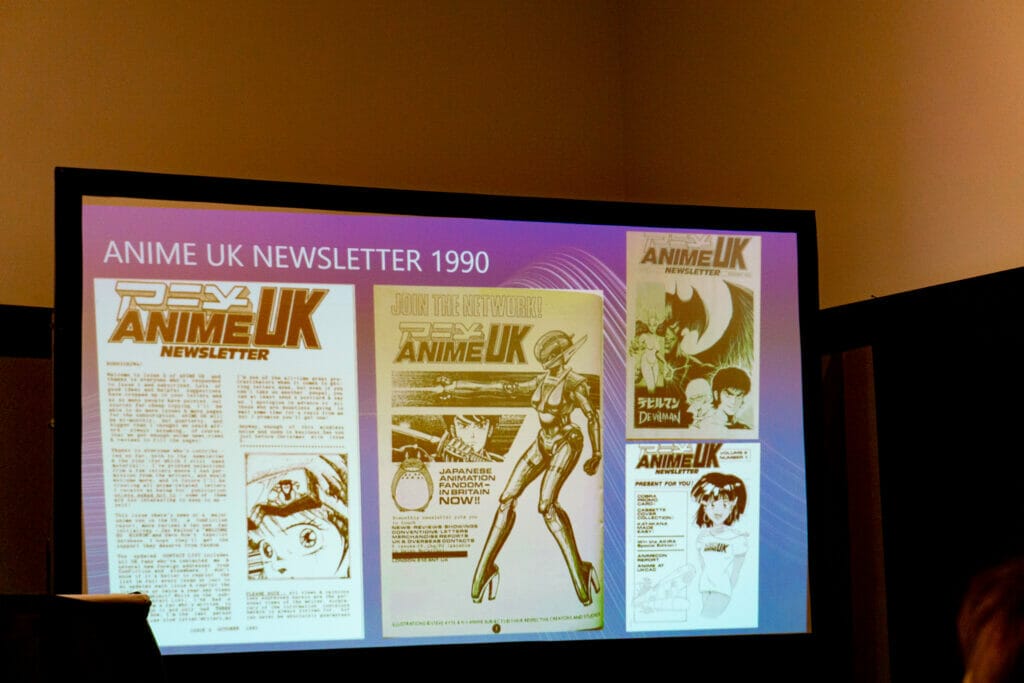 As McCarthy paged through each PowerPoint slide, she provided an anecdote about the people who made each publication happen, and who left an indelible mark on England's anime community. She playfully commented on the totally punk escapades of long-running fanzine Trash City, which founder Jim McLennan photocopied at his office, using company resources, and still somehow managed to receive several promotions for diligence. In the next breath, she discussed founding her own zine, the Anime UK Newsletter, in 1990.
She explained how zine culture helped cons like Eastcon and Minami-con—which caps out at 500 attendees and only has openings when somebody dies—as well as clubs like Anime Babes and Anime Kyo find their footing. She repeatedly praised the diversity and ambition of fanzines of the era, from the all-woman Anime Babes group to the fanfic-centric Tales from the Cajun Sushi Bar, to the array of ecchi books.
When discussing the production of the zines themselves, McCarthy explained that layouts were primarily handled using cutouts and Cow Gum, adding that, "if you inhale it, you will be high as a kite!" As one would expect, this led to many layout mishaps over the years.
Due to their nature, though, anime zines were produced in low numbers, and the number of surviving copies continues to dwindle with the passage of time. McCarthy emphasized this fact on several occasions, and implored the audience to archive the materials they may have, so that future generations may learn from them.
Through the panel, she was affable and friendly and seemed genuinely delighted to be back in Boston. It was impossible to deny her intimate knowledge about the subject, which was delivered with an infectious sense of humor and playful sense of humor. She weaved her own experiences effortlessly into her lecture, as she guided the room through an era in which fans were not only willing but required to dig into the dirt to find anime in any form.
Update: 5/4/2023: Trash Taste was founded by Jim McLennan.