Editor: Samantha Ferreira
Hosts: Zack Davisson, Helen McCarthy, Neil Nadelman, Darius Washington
On February 13, 2023, the skies grew dark, as the 999 set off on its final voyage. Influential manga author Leiji Matsumoto embarked on his final journey to the sea of stars, after passing away due to heart failure. He was 85. Anime fans and professionals around the world mourned his passing and celebrated his works. Some, like Dawn of the Anime Nostalgia Podcast, gathered fans young and old to commiserate and share their experiences with Matsumoto's work. Others, like Trigun creator Yasuhiro Nightow, shared stories of how Matsumoto served as a beacon in their own lives.
Even two months later, it still hurts to think about it.
It's hard to really impress just how important Leiji Matsumoto was even in Western circles. The first conventions in North America, from the Star Blazers Mini-Con in Grand Rapids to YamatoCon in Texas, were Star Blazers cons. The second major anime club in North America was the Star Blazers fan club, founded by Michael Pinto. The first major anime cosplay gathering at Worldcon was a Star Blazers event!
Without Matsumoto's work—without Star Blazers—North American anime fandom as we know it would not exist. As such, this year's Anime Boston saw fit to send the artist off with a smile.
Anime scholar Helen McCarthy, translator Zack Davisson, translator Neil Nadelman and journalist Darius Washington greeted the capacity crowd, as the opening to Space Battleship Yamato played on the screen next to them. Davisson rose up, microphone in hand, and began singing the song's chorus.
After a brief explanation, Davisson, McCarthy, and Nadelman explained their own experiences with Matumoto's work, and the artist himself. Davisson described himself as a "Leiji Matsumoto baby", joking that Star Blazers was the only thing he would ever wake up early for as a kid. He would go on to become the artist's primary translator, localizing all of his works (minus Galaxy Express 999) to English and producing Discotek Media's Leijiverse production bible.
McCarthy was quick with a joke, exclaiming that "I never had Star Blazers, because I grew up in England!" She was, however, a fan of fashion dolls, adding that Jenny and Licca-chan were both "idols of Japanese childhood." She explained that Licca-chan was designed by Matsumoto's wife, Miyako Maki, before noting that, "if a girl as successful and dynamic as that, married a guy like that, he must be something special."
Nadelman took the microphone next, stating that, unlike his fellow colleagues, he wasn't a "Star Blazers baby." He grew up in Connecticut, where the series didn't air. He actually didn't encounter Matsumoto's work until he was in high school. He added that, while Robotech was the first anime he remembered as dubbed in a big way, he was drawn in by the stories Matsumoto told. He added that "Captain Harlock just looks cool, no matter how you see him."
Following the introductions, McCarthy and Davisson began a friendly banter back and forth, with the conversation ultimately coming to the time when Matsumoto, Osamu Tezuka, and Shotaro Ishinomori were arrested together. It was during the post-war period, and the trio had purchased a large number of films for their own entertainment and study. Authorities suspected that they were trying to open an illegal cinema. The only thing that saved them from a prison cell was Tezuka's clout, and his ability to talk his way out of a tight situation.
From there, the conversation drifted to Harlock's acquaintanceship with strong and cool women, which Matsumoto attributed to his childhood in Kyushu. According to McCarthy, "If you upset a Kyushu woman, or your wife is from Kyushu, and you do something stupid, when behind closed doors, they will let you know and you will stop!"
The audience chuckled, as Davisson quickly began to remark about Matsumoto's impact on the world. "He's one of the most influential creators to come out of Japan," he remarked, adding that Matsumoto "is as well known in Japan as George Lucas is [in North America]." He was the first real "fan turned pro," whose works touched viewers around the world. Davisson remarked that, in no uncertain terms, that Star Blazers, in particular, "is the beginning of [anime] fandom! […] Without Matsumoto, we'd have none of this. None of our anime fandom [would exist]."
As the three conversed, Darius Washington helmed the computer, queueing up slides packed with reminders of the sheer impact that Leiji Matsumoto has held, from old book covers and manga panels to clips of the Space Battleship Yamato anime.
Through it all, Davisson's delivery just dripped with passion for Matsumoto, both the man and his work. There was a reverence to his commentary that one couldn't help but be drawn in.
McCarthy's command of all things anime, meanwhile, shone as she called up genuinely obscure facts effortlessly. From Matsumoto's David Bowie manga to his adoption of Wagner's "Ring of Time" philosophy.
Nadelman seemed just as invested in their conversation as the rest of the room, noting that he was "actually kind of rapt, just listening to you guys."
As the three discussed works like Cosmo Warrior Zero and Otoko Oidon—Matsumoto's inaugural work—conversation inevitably drifted to Insterstella 5555, a film Davisson has long described as his bane, "until I just had to accept it." He recounted a conversation with a fan who, after learning that Davisson was a fan of Matsumoto's work, blurted out "Oh, the Daft Punk Guy!" Davisson played up his theatrics as he cried out "No! Not the Daft Punk guy! The guy who created Yamato and fandom! Not! The! Daft! Punk! Guy!" pounding the table for emphasis.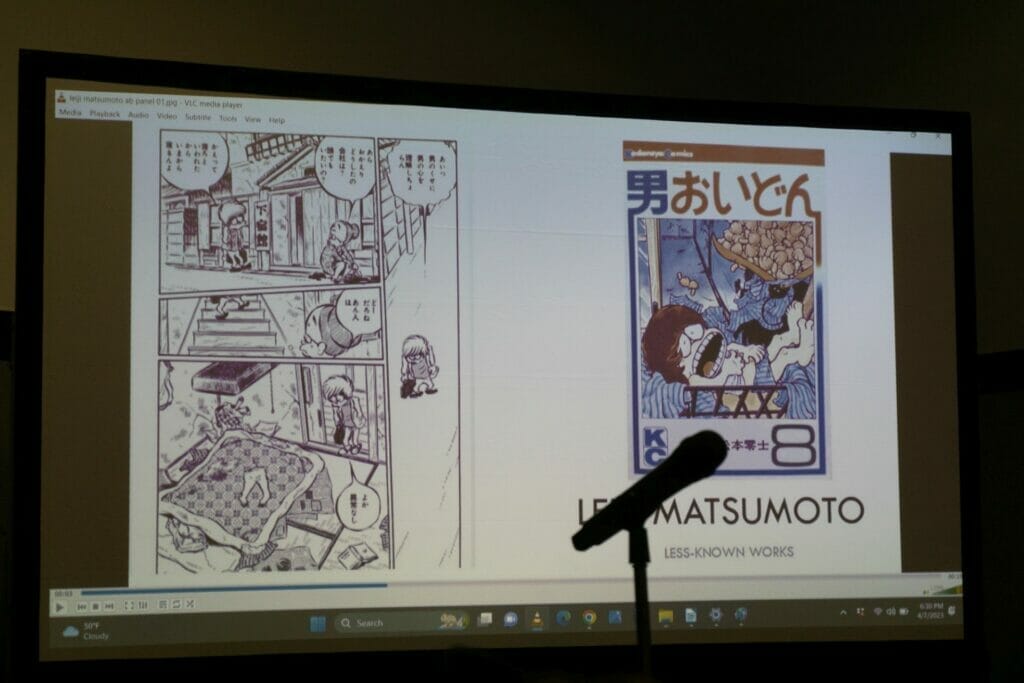 The room erupted in laughter, as Nadelman asked "And how much did Matsumoto actually work on Interstella 5555?" to which Davisson glibly exclaimed "Absolutely nothing!" But, ultimately, he came to accept that Leiji Matsumoto was fine being "The Daft Punk Guy." He posed in photos, did interviews with the band, and generally relished the experience. But, more than that, as Davisson concluded, "Matsumoto Leiji loved being Matsumoto Leiji."
Their discussion continued from that point, as they talked about Matsumoto's refusal to produce endings for his works, and his penchant for using over-the-top words and phrasing to produce an almost lyrical tone to his deliveries. They chatted about his love of cats and shared clips from long-forgotten works like Cockpit.
Ultimately, the panel was part commiseration between friends, and part lecture, as three of anime fandom's brightest minds held court for all to see. The warm atmosphere gave way to a sharp and playful conversation that was equal parts sharp and playful, with a genuine adoration of Matsumoto, both as an artist and as a person. But, ultimately, it was a chance for the many in attendance to offer a collective thanks to a man who allowed millions to dream of sights beyond the stars.