Interview With Kotaro Sudo
Location: Anime Expo 2018
Interview Date: 7/28/2018

---
On his career ambitions
"I wanted money, but no job." -Kotaro Sudo
What are his favorite anime?
"My anime is the best." -Kotaro Sudo
What are his hobbies? What does he do for fun?
"My hobbies? Drinking tequila and vodka. Games? I like playing Grand Theft Auto." -Kotaro Sudo
Ladies and gentleman, the producer and mind behind the Pop Team Epic anime. When Bkub Okawa created Pop Team Epic he couldn't possibly have known it would become an anime. And not just any anime, but an anime that would be broadcast on American television. Let's step back a bit, to when Kotaro Sudo brought the idea to the brass at King Records.
"King Records asked me 'are you really doing this'? They didn't go for the idea at first. I had a lot of confidence that it would be good. It took two months to convince them. I ignored the criticism and played my wildcard on it." -Kotaro Sudo

"I wasn't thinking we'd sell a lot of DVD's. I was more focused on the potential merchandising of the main characters." -Kotaro Sudo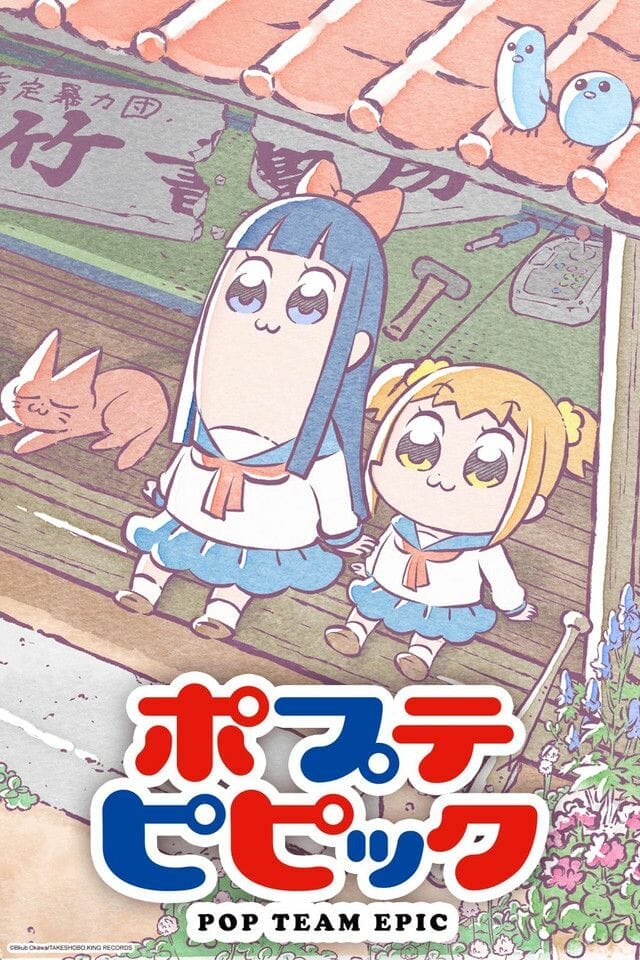 On the unusual production of Pop Team Epic:
"It's not normal to give this much freedom to the staff working on an anime." -Kotaro Sudo
On being broadcast on American Television:
"I'm so happy to be on Cartoon Network (technically Adult Swim's Toonami Block)." -Kotaro Sudo
What has made Pop Team Epic a success:
"Twitter. Twitter has been the driving force since the beginning." -Kotaro Sudo
The changes to Episode Five:
"We were scared of a mouse. There are some corporations you just don't mess with. That means there are some things you just don't parody." -Kotaro Sudo
How his career has changed since Pop Team Epic's release:
"Now, more people are listening to me since it has become a hit." -Kotaro Sudo
What he's working on right now:
"I'm working on three to four new projects. I can't talk about them right now." -Kotaro Sudo
When we can see what he's working on:
"We'll have new anime in 2020."
On the Pop Team Epic trip to France:
"I wasn't surprised, because the person working on it was French." -Kotaro Sudo
The food in Los Angeles:
"The hamburgers are too big! The hot dogs are very good. I love hot dogs." -Kotaro Sudo
More on traveling:
"I love spending time traveling. I like to get in a day early. I'll be heading to Santa Monica tonight." -Kotaro Sudo
His time at King Records:
"I've been at King Records for 11 years. I didn't want to do anime. I don't know why I'm in this department. I was in sales for my first five to six years. So boring." -Kotaro Sudo
What's in store for Pop Team Epic:
"I want to do a one-hour special, starting with the opening theme of episode one. Use the same voice actors from episode one, as well as new voice actors and new material." -Kotaro Sudo
When we might see this special:
"New Year's Day." -Kotaro Sudo
More on Pop Team Epic:
"It's not my fault if people do bad things after watching Pop Team Epic."
On Anime Expo:
I'd love to come back to Anime Expo next year." -Kotaro Sudo
I only had a few minutes with Mr. Sudo, but when he had some more free time, he gave one of the most revealing interviews in the history of anime:
Q: Be honest. Do you think this anime is shit?

A: "It's shit. There's no mistaking that." -Kotaro Sudo
I highly recommend you check it out.
Thanks to Vertical Comics and King Records for making this interview possible. Special thanks to Kotaro Sudo for talking with us.
Update 8/1/2018, 10:40PM EDT: The possible project is not officially confirmed by King Records.