Interview With Mai Van, Pui Che, Christian Angel, RJ Palmer, & Lynne Schaffstall 
Location: Anime Expo 2018
Interview Date: 7/4/2018 - 7/8/2018

---
I decided to do something a little different at this year's Anime Expo. I've always been a fan of the Artist Alley, so I decided to check out the scene and interview some of the artists who impressed me with original work.
Mai Van
Mai Van has two distinct styles. When she works in 2D, she draws dinosaurs, dragons, and kaiju. Of these works, I Am Fire is the one that sticks with me the most. However, it was her 3D work that blew me away.
"I went to school for astrophysics." -Mai Van
I asked what convinced her to change careers.
"Lord of the Rings. I ended up going to Expression College in Northern California. I studied to be a generalist. It's a 3D-focused school. I specialized in modeling, animation, and visual design." -Mai Van
After school:
"I worked for Digital Dreams. I moved to San Diego and took a job with Sony. Now I do high-res modeling. I can be as detailed as I want. I also learned how to optimize low-res models. There are tricks when you have limited resources." -Mai Van
I was wondering how long it took to do the digital pieces:
"They take about a month. The modeling takes three weeks, then the painting takes a week." -Mai Van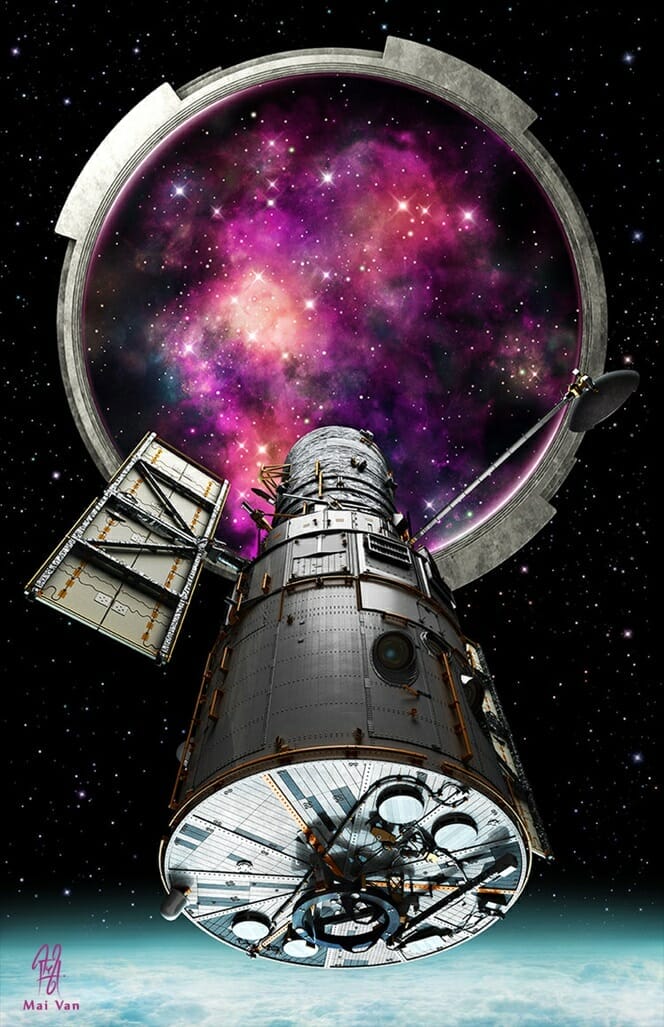 How she got into doing conventions:
"I've been doing cons for about two years. I started at Alamo City Comic Con. A friend invited me to come take a corner of their table. I went with one print. Next, I did Wondercon. I liked it and kept going from there." -Mai Van
What she's working on now:
"I'm developing my own game. It's a space RPG. I'm also writing a book. I'm trying to finish the book by the end of this year." -Mai Van
I was curious about the massive difference between her two styles:
"I learned how to do 3D modeling, but I felt like the artist who couldn't draw. I liked Jurassic Park and The Land Before Time, so I decided to start drawing dinosaurs and kaiju. I also do a lot of papercraft. I get bored easily." -Mai Van
I asked for her advice to aspiring artists:
"Be nice to everyone." -Mai Van
You can check out her digital or traditional work on her website. It's available via her online store. (Editor's note: her most fun work might be found in her sketchbook.)
Pui Che
The complexity and range of color in Pui Che's work is noticeable, even at a distance. I haven't seen anyone doing anything else like this, so I decided to ask for a bit of background.
"I'm surrounded by artistic friends. Friendly rivalry has kept me going." -Pui Che

"My hobby (drawing) was constantly there. I almost flunked high school AP art. My teacher saw I was slacking. She pushed me to realize my potential." -Pue Che

"Negative complex emotions made me reexamine what it's value and what art means to me." -Pui Che
"In 2014, after college, I learned about conventions. They allow the artist to reach the audience directly. Conventions have intrigued me since then. I started at Anime Central in 2014. It opened my mind to the possibility I might turn my hobby into my profession. I turned pro in 2016." -Pui Che

"We, as artists, have voices. We need to find a way to share them. Conventions are great for that, allowing us to share our experiences. I'm grateful to everyone involved, press, industry, audience, and of course, the other artists. They're more friendly competition." -Pui Che
In terms of specific artists who have inspired him to work harder, Che mentioned Vonn Art, Gawki, and Gavin Gray Valentine.
What he's working on:
"The nine daughters of Zeus. They are my muses. I use an abstract painting process. It's controlled chaos. I listen to the higher force of consciousness, the larger force beyond reality. These ethereal dreamscapes allow the mind to wander." -Pui Che
His process:
"It's digital, but painted. I use a traditional background, a digital canvas. I use a Wacom Cintiq 13hd. It comes with a stylist that allows me to paint." -Pui Che
His experiences at Anime Expo:
"2017 was my first Anime Expo. Penelope Love Prints convinced me to come. They had enjoyed a positive experience at Anime Expo. I got to enjoy a bit of friendly competition with them. I came back to Anime Expo and I'd like to keep returning for years." -Pui Che

"I travel across the globe. The cultural experience affects my work." -Pui Che
His advice to aspiring artists:
"Take action. Don't just talk about it. Failure is a large part of it. Embrace failure and learn to enjoy it with your passion to grow and improve. Stagnation is brought upon by contentment. Always strive to be more ambitious. Find a muse." -Pui Che
You can find Pui's work on his website. His prints are available via his online store.
Christian Angel
Walking around Anime Expo you will see a lot of anime art. However, very few pieces will be done in traditional art styles. Christian Angel was an exception and I decided to learn more about his art background.
(Editor's note: We're still waiting on Satsuki)
"I've always been an artist. I was training to be an architect. I switched career paths when I realized it was going to be just as hard to find work as an architect as it would as an artist, so I might as well do something passionate." -Christian Angel

"These days, I do conventions and work with game studios." -Christian Angel
His unique style:
"I created it via trial and error. I used to have a different style. I flatlined and decided to unlearn it. I taught myself the old master style. I studied the work of Gustave Moreau and Robert Frederick Blum. I referenced and replicated their work to the best of my ability. I'm still never happy with it. It took my five years to get where I am now." -Christian Angel

"Snow White and the Seven Dwarves was my first contest win." -Christian Angel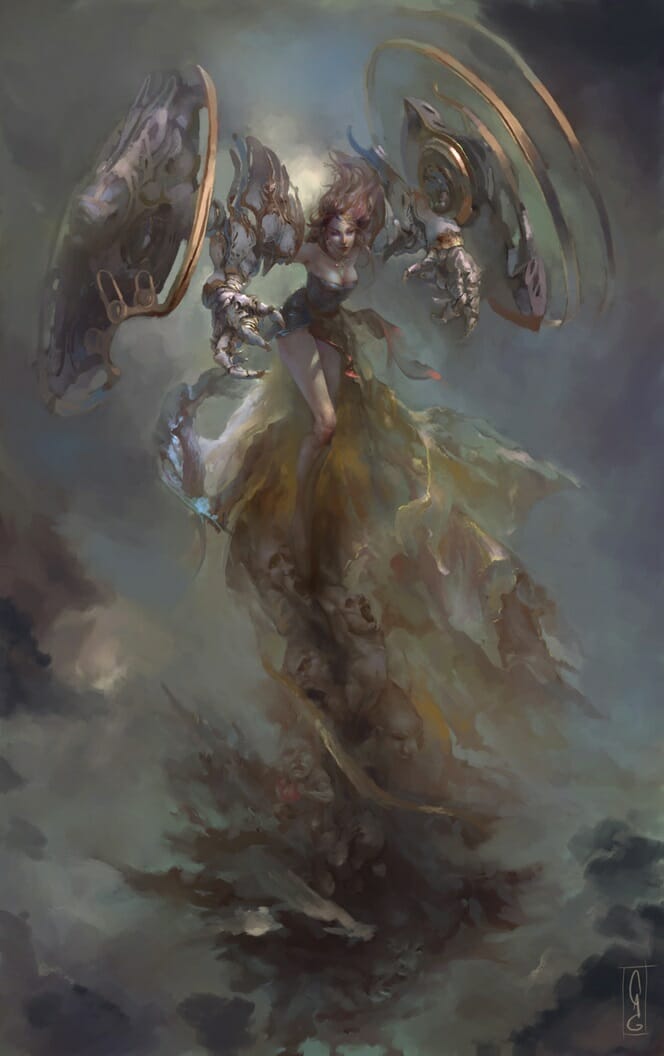 (Editor's note: Look for the faces and the apple down below)
His thoughts on Anime Expo:
"I love AX. It's the reward for all the hard work rest of the year." -Christian Angel
His future con plans:
"Youmacon, Crunchyroll Expo, Anime NYC."
His work:
"I like to do my characters late. I want to do the best version." -Christian Angel

"I'm working on an art book. The theme is Japanese women's fashion. I'm shooting for AX 2019." -Christian Angel
"The individual pieces take 80-100 hours. I work with airbrushed colors in [Adobe] PhotoShop CC."
His advice for aspiring artists:
"Paint what you love. It won't feel like such a grind." -Christian Angel
You can find Christian's work online at artstation. You can find his prints for sale on his store. It's worth checking out to see his take on Chun-Li.
RJ Palmer
Yep, someone took Pokemon and made them high-def realistic. I spoke briefly with RJ Palmer.
"I posted Garchomp on DeviantArt in 2012, and people went nuts." -RJ Palmer
"I did Fanime in 2009. I did my first con with the realistic Pokemon, Fanime again, in 2013. It went really well. Way better than 2009." -RJ Palmer
"I did two shows, then three shows, now six shows." -RJ Palmer
"I do creature design, concept design, freelance. I worked on Detective Pikachu and Saurian, a dinosaur game."
"I've been drawing since I was three. It was always what I was going to do. I went to art school from 9th-12th grade. Then I dropped out." -RJ Palmer
You can check out his work on his DeviantArt page, or his website. You can pick up his work at his online store. (Editor's note: The books are amazing.)
Thanks to Mai Van, Pui Che, Christian Angel, and RJ Palmer for speaking with us.
Bonus email interview: Lynne Schaffstall 
I didn't have time at AX to do a sit down interview with artist Lynne Schaffstall so, we did one over email:
Anime Herald:. How did you first become involved with AX?
Lynne Schaffstall: I first learned of AX easily by its reputation and standing in the convention community before I even manned my first table. I always thought, if I wanted to be anywhere near the industry or get noticed, AX was the place to be. Due to the talent and high standards of such a large con I held out on pursuing space, until I had more artistic skills and experience selling at conventions. By chance, an exhibition booth became available in 2018 (a corner for two artists to split) and I took the chance.
Anime Herald: Was this your first year showing there as an artist? If yes, did it exceed your expectations?
Lynne Schaffstall: It indeed was my first year showing, and I felt like a baby Stegosaurus in a field of T-Rex's (not that I felt like I would be eaten, but tabeling in the same room with such talent is always scary). I came with the expectation not necessarily to generate tons of sales, but more to be seen to a new audience. Having so many positive compliments for my original work (such as the galaxy kittens) was great. But having tons of great reception for Steggy, the subject of a slice of life comic in the works, exceeded the expectations I set for myself. It's thanks to the diverse interests of the attendees who come there for anime but also appreciate original creations. (Editor's note: Artists are pretty sensitive to the talent of the artists around them. I guess that's not surprising.)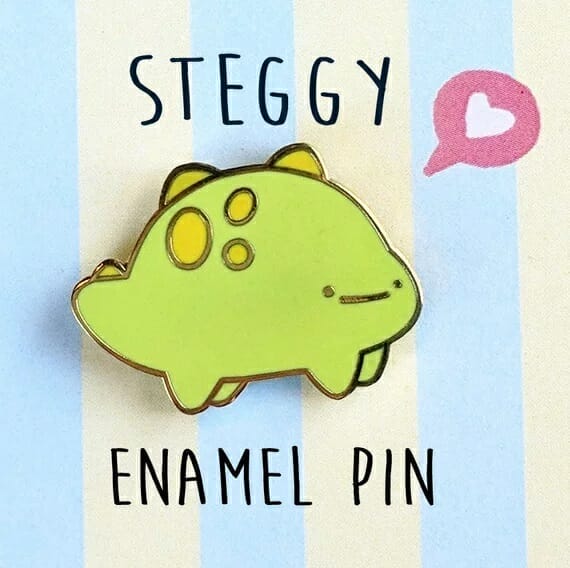 Anime Herald: You work in multiple forms of media, including little cat pins. Is this because you just want to go where your muse takes you? Do you have a preference between working digitally vs. with watercolors?
Lynne Schaffstall: 100% I let my muse take me around. Pretty sure she has a leash on me! To be very honest, I'm constantly battling a war of ideas, concepts, and varying motivation all the time. The result is my style and art subjects change constantly. But in an attempt to reel in the chaos, I've been branching into different mediums for art (such as the pins) to make a cohesive style or brand. As for the digital vs watercolor preference, I would say watercolor has my vote. For now…
Anime Herald: Are you working as an artist full-time? If so, are you independent, or working in the industry (game studio, advertising, etc.)?
Lynne Schaffstall: I am a full-time, independent artist that attends conventions all year round. So far I've been able to survive for 2 years and hope for many more to come.
Anime Herald: Are you attending any other cons this year?
Lynne Schaffstall: I'll be at Anime Weekend Atlanta, Youmacon, and then Daisho con to round out the year.
Anime Herald:  What was your first con and how did it go?
Lynne Schaffstall: My first con was a Mighty Con in Wisconsin, Mighty Con Milwaukee I believe? I showed up with a small showing of fan art paintings I had gotten at a local Staples. I didn't know anything about making a table display, so I had a plain tablecloth, and put all the prints on the table with a small cardboard sign. Probably less than 150, if that. For the entire three day event, I was just shy of $80. $20 went for gas, $20 for the table, and then the rest was hotel and the bill for all the prints, so really I was still short to even break even. But you know what? It went great. It was the most stressful, anxiety ridden activity I subjected myself to and I managed to walk away with $80? I was proud I could do it.
Anime Herald: What advice would you give to aspiring artists?
Lynne Schaffstall: There are a lot of 'talents' in the art world. We have talented minds, colorful art, sculpt well, create beautiful melodies, have gifted hands, or just born with it (don't worry, it's not Maybelline). But one talent doesn't get recognized enough, and that's persistence. You will seemingly have more failures under your belt than successes, fall down even though you know how to walk, drown into the deepest art blocks, worry how you stack against your peers, and have to bear thru the harshest of words. But you WILL stand up over and over again. Our talents aren't measured by the universe or given to us by chance – they are the product of unfaltering persistence when others would have walked away. So, my advice to you is to turn the page, and don't give up.
You can find Lynne's work via her Etsy or Instagram pages. My particular favorite is Star Kitty:
"He came from space to lick your face."
Good kitty! Thanks to Lynne Schaffstall for chatting with us.