Interview With Tina (Nosy Dog Soaps)
Location: Anime Expo 2019
Interview Date: 7/5/2019

---
Anime Herald: How did you first get the idea to create anime soaps?
Tina: I started buying cold-processed soap after a friend gave it to me. I started buying a ton of it because I loved it so much and I loved boutique artisan hand-made soaps. I decided to get into soap making. After that I was thinking of what kind of soaps I wanted to make, what kind of designs I wanted to see. I started to draw a lot of inspiration from the characters I liked.
Anime Herald: What is the process you use to make your soaps?
Tina: The process of making soap the way I make it is called cold process. It's hard to explain. It's chemistry, the chemical reaction between sodium hydroxide (lye) and oil. People can make soap out of tallow or olive oil or shea butter. My soaps are mostly vegan. It's mostly a combination of shea butter, coconut oil, palm oil, olive oil, and sodium hydroxide. By the way, sodium hydroxide is a caustic substance. It's lye. That chemical reaction makes soap, and then you add colors and fragrances.
Anime Herald: Is this your first time bringing them to [Anime Expo]?
Tina: No, I tabled last year. That was my first time tableing. This is my second time at AX and my third time overall.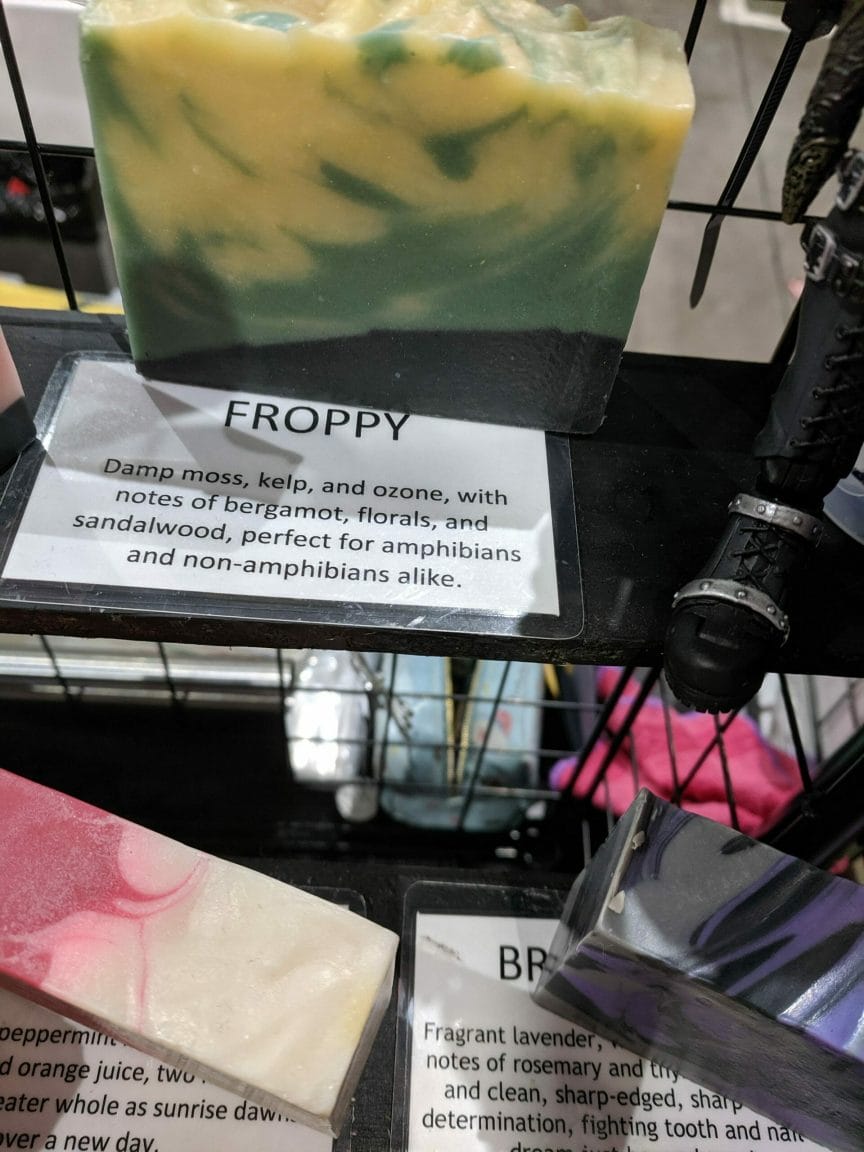 Anime Herald: How has the reception been?
Tina: It's been pretty good. I really enjoy seeing people's reactions to the soap. A lot of people are like "Oh, I've never seen this!" It makes me really happy when someone picks up the soap and says "Oh, it looks just like the character." or "Oh, the scent reminds me of the character." That makes me very happy.
Anime Herald: How do you make the layers?
Tina: You pour it. Most of the soap a make there's a mold like a loaf or a log. You pour in the layers. To get different designs you pour it in, it's hard to describe, it's a little like painting.
Anime Herald: Do you do traditional art as well.
Tina: No, I'm watching my friend's table.
Anime Herald: Everyone's watching someone else's table. I love it.
Anime Herald: Do you do other cons as well?
Tina: I did Anime Los Angeles. I'll be at Crunchyroll Expo. After that we'll see.
Tina: This is for fun. Of course I'd like to make back what I spent. I really enjoy seeing people's reactions. The surprise when they smell them.
Anime Herald: Do you sell them online?
Tina: Yes, I have an Etsy shop.
Anime Herald: Thanks for speaking with us.
Tina: Thanks for taking the time to interview me.
Nosy Dog Soaps can be found on Etsy.
(Editor's note: I have personally tried the soaps. They are fantastic. I ended up purchasing sets as gifts for this holiday season.)