Interview With Cisco Maldonado
Location: Email
Interview Date: 8/13/2020

---
Cisco Maldonado, Bandai America's Senior Director of Brand Strategy, was kind enough to grant us an interview.
(Minor edits for spelling and grammar)
Anime Herald: What is Bandai's criteria for adding shows to the Anime Heroes line?
Cisco Maldonado: We intend Anime Heroes to be an 'umbrella brand' that will be a sort of incubator for well-known as well as not so well-known anime and bring them to the spotlight of the consumer marketplace.  The IP we look for ranges from how engaged the fan following is, to how varied are the characters stylistically to make for a compelling action figure, to how the property makes sense in our growing portfolio of products.
Anime Herald: What type of collector is Bandai targeting with Anime Heroes?
Cisco Maldonado: We are targeting the fan who is familiar at least at a basic level with the Anime genre in general as well as the casual fan who has a passing recognition. We want to surprise and delight the hardcore fan as well as introduce the casual fan to a property that they may not be completely familiar with
Anime Herald: The Anime Heroes line's first properties are Shonen Jump classics. Does Bandai have plans to expand the line beyond Shonen Jump in the future?
Cisco Maldonado: We are always open to new and exciting properties… [Shonen Jump] provides a wealth of properties to draw from- and very similar to the comic book world I came from prior to landing at Bandai; Shonen Jump is a solid and reliable treasure chest of properties, up and coming talent, and constant consumer feedback. I think if there was a property that got some attention in the "anime" medium vs a manga first we would definitely consider it. There are just so many great stories and characters to choose from… you'll always have to make tough choices… like picking Chicago deep dish pizza over a fantastic plate of sashimi from Nobu… one is not better than the other… it depends on the setting and your mood.
(Editor's note: Chicago deep dish "pizza" is not pizza. It's a casserole.)
Anime Herald: How has the customer reaction been to this first wave of Anime Heroes figures?
Cisco Maldonado: We have been very pleased with the overall performance of Anime Heroes.
a
Anime Herald: Is there anything you've learned from the launch that will help with the introduction of new figures?
Cisco Maldonado: That's a tough question…there are hard core collectors and you have "mass" consumers who just like cool looking action figures that may not necessarily be deep anime fans…we are still learning, but are encouraged with the journey so far.
Anime Herald: Where would you like to see the Anime Heroes line in three years?
Cisco Maldonado: I would like to see collectors and key retailers recognize Anime Heroes as a trusted brand known for the best craftsmanship and faithful representations of the source anime.
Anime Herald: How about Five?
Cisco Maldonado: I would like to see one or two lines of action figures from an "out there" property that perhaps hasn't made its way to mass appeal… it would be great to have the action figure drive the popularity of the content, as opposed to the current universe were we look for a "good property" to make figures for.
Anime Herald: What would you say is the biggest challenge that comes with launching figures in the current marketplace?
Cisco Maldonado: Timing… at record speed, you are looking at a minimum of 6 months to create a figure assuming all the internal milestones are met… then you have to work with retailers who have set windows of time that they place product in store. You want to be nimble and react to a property that is experiencing a spike in popularity…but are constrained with the "business of making toys"
Anime Herald: Given that Saint Seiya isn't quite as popular in the US and Canada as it is in other regions, what has Bandai done to draw folks to the line?
Cisco Maldonado:  We have made efforts to promote the property on social media as much as possible.  Netflix has recently carried the title, and we will continue to be ready to leverage spikes in popularity when it hits… but it is sometimes a waiting game.
Anime Herald: What challenges does a property of this nature bring to the table when marketing specialized figures?
Cisco Maldonado: The challenge is recognition and affinity for the Saint Seiya brand…our action figures look gorgeous…that has been a universal comment from multiple sources… but the IP never quite took hold like it has in other countries, so there will always be that challenge until more consumers become familiar with the series.
Anime Herald: Though Naruto is a popular series, it's hard to deny that Bandai is entering a competitive market for merchandise for the property. What makes the Anime Heroes line stand out against, say, figures like Good Smile's Figma, Banpresto's Vibration Stars, Toynami's line, or even Bandai's own S.H. Figuarts brand?
Cisco Maldonado: Bandai stands apart from the competition in the level of craftsmanship and a "dead on" translation from the anime to the action figure without sacrificing on the overall price. We have best in class articulation, a solid feel to all our figures, and a household name recognition with collectors and retailers.
Anime Herald: If you could sum up the Anime Stars brand in a single sentence, how would you describe it?
Cisco Maldonado: Anime Heroes takes the most beloved anime and creates a "dead on translation" in an action figure at an exceptionally fantastic price.
Anime Herald: The anime industry has continued to explode in the US. Has that made it easier for Bandai America to gain access to Japanese IP for new toy lines?
Cisco Maldonado: I think the rise in anime consumption in the US has given a level of "comfort" for Japanese IP holders to venture out a bit and explore previously less traveled paths.
Anime Herald: How quickly can you react to changing market conditions if a toy line proves to be far more popular than you anticipated?
Cisco Maldonado: Funny you should ask… we are experiencing that very situation with the Naruto line of Anime Heroes. Within the last few months, we saw sales shoot through the roof… we have a fantastic operations and supply chain team who have reacted quickly to keep our accounts in stock. It's a "good problem" to have…but was still a bit hectic.
Anime Herald: What anime-related toy lines have proven to be the most popular over the past year?
Cisco Maldonado: Dragon Ball if you look at overall unit sales.
Anime Herald: Are there any lines you came close to launching, but then had to cut?
Cisco Maldonado: That is a bit before my time here at Bandai, so I can't really speak to that.
Anime Herald: Are there any figures on your desk? If so, which and why did you choose them?
Cisco Maldonado: I have a Gundam frame (Barbados), a Hawkman and a Broly. I chose them because they each have a unique aesthetic that is fun to look at.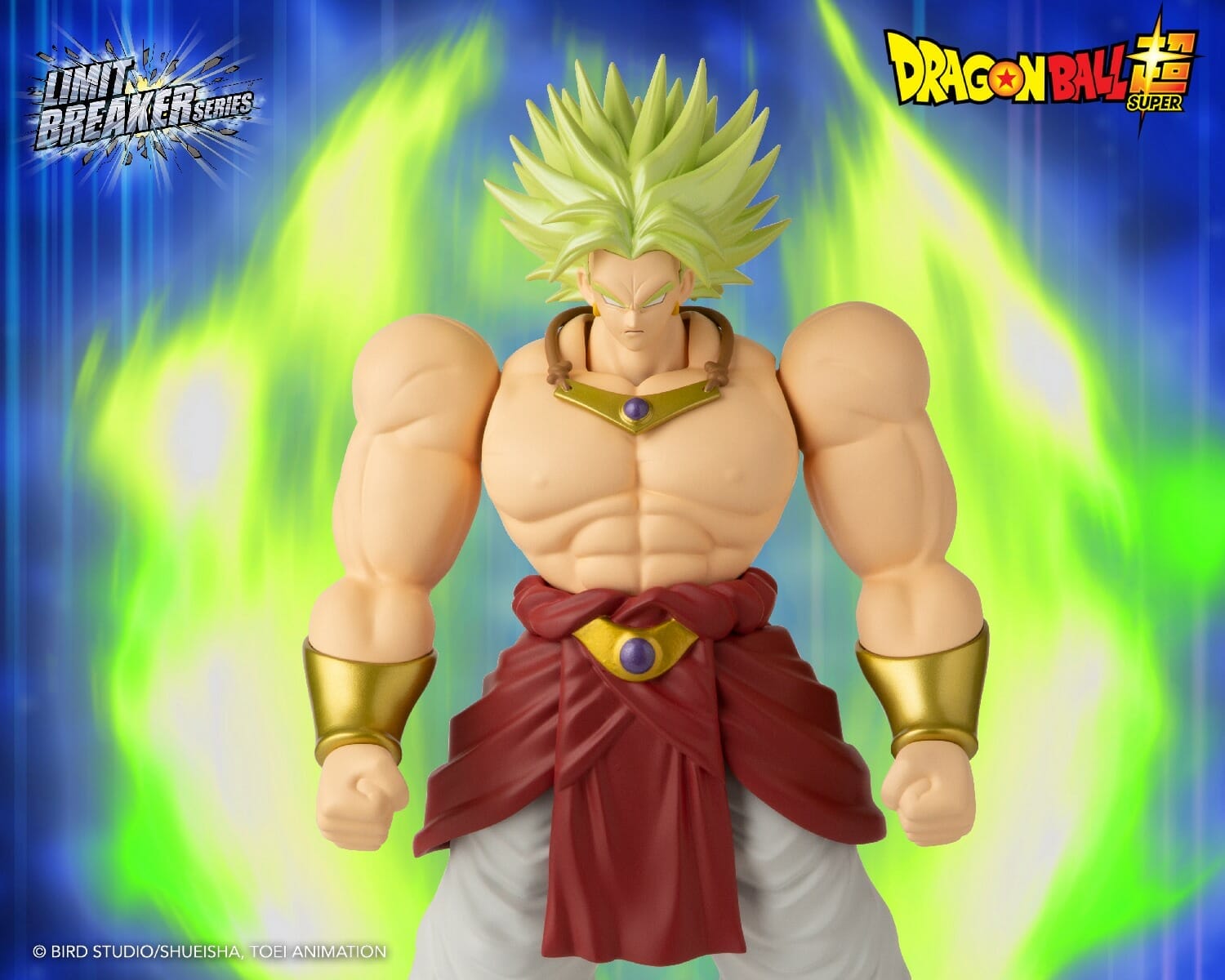 Anime Herald: How does Bandai decide on what price levels to target when launching a new line?
Cisco Maldonado: The process usually starts with a market analysis, what competitive product is out there and how "different" can you make yourself in the same space.
Anime Herald: Has any kind of "Project Moonshot" ever landed on your desk?
Cisco Maldonado: Bandai always seeks the "next thing" and is on the constant lookout of what would "make a dent" in the marketplace. I am working on an action figure line that when I learned what it was I said to myself "how the hell will this 'work' in an action figure"… when I saw the protopype I then said… "wow that actually works"… and then I was able to sleep easy that night.
Anime Herald: If so, can you share some information about it?
Cisco Maldonado: Time will tell
Anime Herald: What kind of gender split does Bandai have with the Anime Heroes line?
Cisco Maldonado: There isn't a whole lot of consumer data that specifically says x% of males vs females buy this particular action figures. The best we really have to go on is overall anime fandom which skews male… but not overwhelmingly so.
Anime Herald: Classic gaming has seen a massive comeback, with the various mini systems. Did those inspire the Pac Man Connect-N-Play?
Cisco Maldonado: It did…PAC-MAN is as iconic as any game property out there… and all the stars aligned for a great offering at $20 which I think is a complete steal.
Anime Herald: The entire market has seen a massive shift due to Covid-19. Do you see it causing permanent changes to the industry?
Cisco Maldonado: Overall the toy industry has fared well given all the recent changes… Bandai has weathered this storm as well. I don't think there will be "game changing" shifts in consumer behavior per se, long term… but we have realized how important it is to keep nimble and keep our supply chain as responsive as possible.
Anime Herald: Do you have any lines or products that will be launching for this holiday season?
Cisco Maldonado: We have a great Dragon Ball display set …the Tenkaichi Budōkai… it's a fantastic place to display Dragon Stars action figures! Itachi from Naruto that will be available with the other popular Naruto line from Anime Heroes. And also Bandai has partnered with Rubik's Cube to create a whole line of "puzzles" based on anime … imagine a Naruto figure crossed with a Rubik's Cube crossed with a Funko Pop figure…. They are really cool and just "cute enough" that anime fans will want it.
Anime Herald: What is the average workday like for you?
Cisco Maldonado: It's a cliché… but no two days are the same. There are regular meetings and administrative things to take care of…but lately I've been thinking of how best to "tell the story" of some awesome new action figures we have slated for next year.
Anime Herald: What advice would you have for someone trying to get into brand management?
Cisco Maldonado: RUN….. just kidding…My advice is to love (or at least really like) the product you are working on. I've always been a fanboy… so this stuff is up my alley and I would be "in it" even if I wasn't in the industry.
Anime Herald: Are there any skills you picked up in college that you hadn't expected to use professionally that have surprised you by being essential?
Cisco Maldonado: I think the best skills I picked up were my presentation skills… its key in this line of work. I'm a storyteller…and I always try to make myself a better one.
Anime Herald: Do you miss your days back on the radio at KSCR 104.7 (now KXSC)?
Cisco Maldonado: I have fond memories of those times…I loved my morning show, giving wake up calls, etc… fun times.
Anime Herald: Any funny stories from those days?
Cisco Maldonado: There was a period of a few days when our antenna wasn't working and we were broadcasting to no one…. For 3 days… no one told us. We didn't have a whole lot of listeners back then.
Anime Herald: Finally, is there anything you would like to share with our readers?
Cisco Maldonado: Watch more anime… buy more Bandai action figures… you can follow me @C1scoX on Twitter and C1scoX on Instagram.
Thanks to Mr. Maldonado for taking the time to chat with us.