Interview With Ben Fiquet
Location: Email
Interview Date: 8/10/2020

---
Sega's Streets of Rage franchise  is often considered to be the pinnacle of the beat' em-up gaming genre. The series, which made its debut in 1991, saw vigilante heroes Axel, Blaze, and Adam punching and kicking their way through the grungy locales of an unnamed city. Since its inception, the franchise has gained a reputation for having what is considered one of the best, if not the best, soundtracks in gaming history.
Though it rose to prominence at the apex in the grunge-gangsta rap decade, the Streets of Rage series faded away shortly into the  21st century. On  April 30, Streets of Rage 4 made its way to storefronts , breaking a twenty-five-year gap between   the saga's last outing.  Set ten years after the events of Streets of Rage 3, this new entry manages to deliver the intense action gameplay fans remember, albeit with a sleek anime-influenced aesthetic and an all-new soundtrack by French composer Olivier Derivière, with contributions by series composer Yuzo Koshiro and his partner Motohiro Kawashi.
French artist Ben Fiquet, who served as the creative director for Streets of Rage 4, worked with background artist Julian Nguyen-You, to tackle the Herculean task of bringing  the classic to a new generation while appealing to  those who grew up playing the beloved franchise. It was a project of passion by  LizardCube, DotEmu, and Guard Crush Games, which has since been made available on all major consoles, from the Switch to the PC
Fiquet is the co-founder of Lizardcube Game Studios, as well as a veteran artist who's worked on everything, from comics, animation, and video games. We had the pleasure of talking with him through an email interview, in which we discuss the game, his main influences, and how Streets of Rage 4's violence and cast diversity can be interpreted, especially when compared to current events around the globe.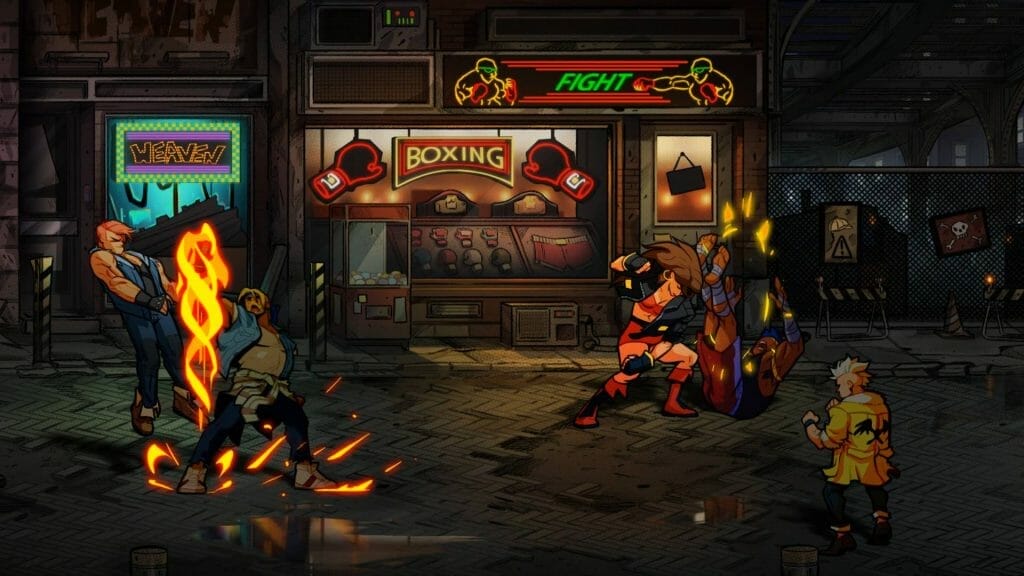 Anime Herald: How did you develop the art style for Streets of Rage 4? What was your process for updating such a beloved franchise?
Ben Fiquet: I think the artstyle in itself is just a continuation of our previous work, but adapted to better fit the mood of Streets of Rage.
I spent a lot of time trying to get the overall feeling of the original games, which have very different approaches throughout the series. But a few things that stand out is the neon-lit streets or the fact that the characters are actually very colourful.
Anime Herald: Why did you diverge from the pixelated style?
Ben Fiquet: From my perspective, I didn't think as pixel art as a way forward but a technical limitation of the time. I strongly believe having beautiful handmade art and animation would bring the series forward and maybe help attract newcomers. It is also what Lizardcube is known for and good at.
Anime Herald: Streets of Rage 4 has an art style that draws heavily from manga and anime. What figures were your main influences as an artist, and what are the roots of the art we see in your game?
Ben Fiquet: There's a lot of different influences in my art. I was raised with French comics (which is a huge part of our culture here) but I was heavily drawn to anime and manga when they arrived in the 90's in France. Dragon Ball, Cowboy Bebop, FLCL, Yuasa, Otomo, Imaishi are just a few of the names that I grew up with! I could go on and on about the Japanese craft in these mediums.
Anime Herald: How was to marry your art with the soundtrack and gameplay, particularly given the series' reputation as an audio powerhouse?
Ben Fiquet: It was a perpetual work of back and forth. Everything is influenced by one another, especially if you lean on such great games before you.
Anime Herald: Streets of Rage portrays a very diverse cast with women, people of colour, older people, and different cultures. What was the approach to working with established characters while bringing the newcomers?
Ben Fiquet: I think it was important to have a diverse cast, as it reflects the diversity you find in big cities. I wanted to respect the world of SOR but also bring some modernity, like having strong female characters.
Anime Herald: Although not a game aimed only for a mature audience, Streets of Rage portrays subjects that sadly are making the news and causing social unrest around the globe: Police brutality and corruption. It also has as playable characters an African-American cop (portrayed by the heroic Adam), a young black female teenager in Cherry, the former's daughter, and an NPC who plays the "by the book" female law enforcer Estel Aguirre. How do you perceive these issues and characters in the way they are portrayed by the storytelling and the art dialoguing with the current world?
Ben Fiquet: Even though I wrote the story back in 2018, it resonates more strongly now with all the current events. But the story is not a commentary of the real world, it is but a reflection.
Social inequalities, police brutality, class war, these are very strong issues that concern everyone.
This game doesn't justify going to the streets acting as vigilantes – I think it's a fantasy, a work of fiction, sort of catharsis. I hope it can bring just a bit of fun.
Anime Herald: Given the current state and cultural zeitgeist, what does Streets of Rage 4 bring to the culture of gaming history?
Ben Fiquet: I don't think it brings more than what it is, a fun game!