Source:
NIS America
Summary:
NIS America announced that they acquired the domestic rights to Cardcaptor Sakura. The company will release the series on August 5, 2014 in both standard and premium editions. The sets will be contain both in subtitled and English-dubbed editions of the show.
Cardcaptor Sakura's Premium edition will be a Blu-Ray set with metallic gloss packaging and a 76-page hardcover art book. The standard edition will be released on DVD, across three sets. The premium edition will be priced at $249.99, while the standard release will cost $59.99 per set.
---
CARDCAPTOR SAKURA TO BE RELEASED IN BOTH PREMIUM AND STANDARD EDITION FORMATS THIS AUGUST!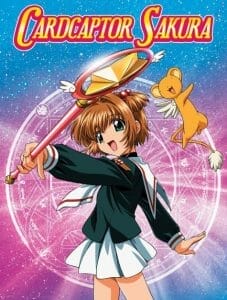 Santa Ana, CA (April 30, 2014) – NIS America is excited to announce that the highly praised hit anime CARDCAPTOR SAKURA Complete Series will be released on August 5 across North America in Premium and Standard Edition versions. All versions will be available simultaneously at online retailers, and will offer a bonus English dub. The Premium Edition version will include 70 episodes on a 9 metallic gloss Blu-ray disc set, with a fully illustrated 76-page hardcover art book packed with new content/illustrations and a collectible slipcase.
All versions will be available at the following select online retailers:  Right Stuf,  The Anime Corner Store,  Anime Pavilion, and  NIS America Online Store.
CARDCAPTOR SAKURA Complete Series Premium Edition
About the show:
Ten-year-old Sakura lives a pretty normal life with her older brother, Toya, and widowed father, Fujitaka. At least she did, until the day she returned home from school to discover a glowing book in her father's study. After opening the book and releasing the cards within, Sakura is tasked with collecting each of these magical cards, while trying to live the life of a normal fourth grader. In the monumental task of collecting all the cards, Sakura must rely on her friends and family, and decide what she finds most important in life.
About the extras:
–  Hardcover art book (full color, approx. 76 pages) with Tomoyo's diary of Sakura's adventure and full color character illustrations.
–  Bonus English voice overs (monaural), clean openings (2), clean endings (3)
| | |
| --- | --- |
| Japanese Cast | Production |
| Sakura Tange as Sakura Kinomoto | Original Comic: CLAMP |
| Aya Hisakawa & Masaya Onosaka as Kerberos | Director: Morio Asaka |
| Junko Iwao as Tomoyo Daidoji | Character Design: Kumiko Takahashi |
| Motoko Kumai as Xiaolang Li | Animation Studio: Mad House |
| Tomokazu Seki as Toya Kinomoto | |
© CLAMP, ST, KODANSHA / NHK, NEP
CARDCAPTOR SAKURA
TITLE:   Complete Series Premium Edition
MSRP:
$249.99
RELEASE DATE: August 5, 2014
ITEM #:
CCS1-BRD-US-PE
UPC:
813633013831
AGE RATING:
Teen
LENGTH:
Approx. x mins
FORMAT:
9 Blu-rays, 4:3 (pillarboxed 16:9)
LANGUAGE:
Original Japanese w. sub, bonus English
Standard Edition info:
CARDCAPTOR SAKURA Standard Edition Volume 1 (DVD)–CCS1-DVD-US-SE
4 DVD disc set, x mins. – 23 episodes – $59.99
– UPC 813633013848
CARDCAPTOR SAKURA Standard Edition Volume 2 (DVD)–CCS2-DVD-US-SE
4 DVD disc set, x mins. – 23 episodes – $59.99
– UPC 813633013855
CARDCAPTOR SAKURA Standard Edition Volume 3 (DVD)–CCS3-DVD-US-SE
4 DVD disc set, x mins. – 24 episodes – $59.99
– UPC 813633013862
About NIS America
In 2003, NIS America was established in Southern California to bring exciting, one-of-a-kind Japanese culture to North America. NIS America's team members devote themselves to the fans. Their respect for their fans is at the heart of everything they do. As an established entertainment publisher in the U.S., NIS America is committed to continuous growth and improvement.
NIS America is a subsidiary of Nippon Ichi Software, Inc., a Japanese company famous for its unique line of strategy RPGs with titles such as Disgaea, Phantom Brave, and Makai Kingdom. NIS America has also become a publisher of Japanese anime titles, such as Toradora!, bunny drop, and Natsume's Book of Friends.