Source:
NIS America
Summary:
NIS America announced that pre-orders are now open for the Standard Edition of Love Live!. The new set, which contains the show's English dub, will be priced at $59.99 when it hits stores on February 14, 2016.
Extra features in the set include clean openings and closings, Japanese trailers, and Japanese TV spots.
---
Love Live! School Idol Project 1st Season Standard Edition now available for preorder!
Santa Ana, CA (October 27, 2015) – NIS America is thrilled to announce a standard edition of Love Live! School Idol Project 1st Season is now available for preorder! It will be released in North America on February 14, 2016 with a full English dub for all speaking parts! This coming Valentine's Day, find out where these nine school idols got their start!
This Standard Edition will be available at the following select online retailers: Right Stuf, The Anime Corner Store, Anime Pavilion, Collectors Anime and NIS America Online Store.
Love Live! School Idol Project 1st Season Standard Edition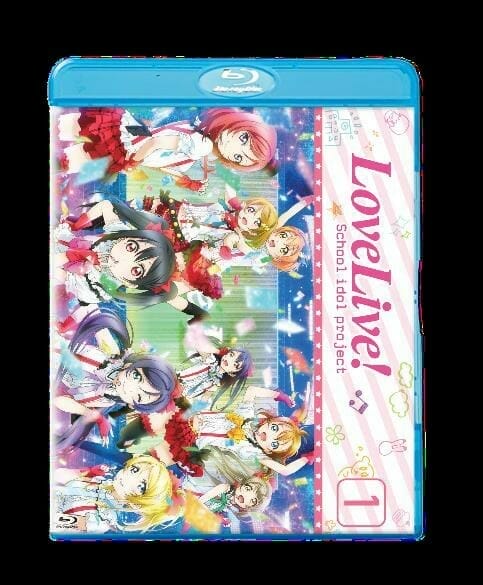 About the show:
The traditional school Otonokizaka High is situated between the three towns of Akihabara, Kanda, and Jimbocho. This school is also in imminent danger of closing. Because of this crisis, the second year student Honoka Kosaka takes center stage with eight others to do something about it! "To protect the school we love so much, we have to do all we can… We have to become school idols! By becoming idols and advertising how great our school is to the world, more students will want to apply!"
About the extras:
– Bonus features: Clean opening and ending, Japanese trailers, and Japanese TV spots.
Cast:
Emi Nitta as Honoka Kosaka
Yoshino Nanjo as Eli Ayase
Aya Uchida as Kotori Minami
Suzuko Mimori as Umi Sonoda
Riho Iida as Rin Hoshizora
Pile as Maki Nishikino
Aina Kusuda as Nozomi Tojo
Yurika Kubo as Hanayo Koizumi
Sora Tokui as Nico Yazawa
Produced by
Original Story: Hajime Yatate
Original Plan: Sakurako Kimino
Director: Takahiko Kyogoku
Series Organization: Jukki Hanada
Character Design & Animation Director: Asako Nishida
Character Design & Main Animator: Yuhei Murota
Design Works: Yukiko Aikei, Kyoko Shinmura
Set Design: Takeshi Takahashi
Art Director: Yukihiro Watanabe
Color Planning: Sayoko Yokoyama
Director of Photography: Daichi Nogami
Editor: Daisuke Imai
Sound Director: Yukio Nagasaki
Music: Yoshiaki Fujisawa
Music Production: Lantis
Animation Production: SUNRISE Inc.
Presented by: 2013 PROJECT Lovelive!
TITLE: Love Live! School Idol Project 1st Season Standard Edition
MSRP: $59.99
RELEASE DATE: February 14, 2016
ITEM #: LLI1-BRD-US-SE
UPC: 813633016610
AGE RATING: Everyone
LENGTH: 307 mins/13 eps
FORMAT: 2 Blu-ray disc set
LANGUAGE: English dub, Japanese w/subs
For more information,
visit NISAmerica.com/lovelive &
www.lovelive-anime.jp/worldwide
About NIS America
In 2003, NIS America was established in Southern California to bring exciting, one-of-a-kind Japanese culture to North America. NIS America's team members devote themselves to the fans. Their respect for their fans is at the heart of everything they do. As an established entertainment publisher in the U.S., NIS America is committed to continuous growth and improvement.
NIS America is a subsidiary of Nippon Ichi Software, Inc., a Japanese company famous for its unique line of strategy RPGs with titles such as Disgaea, Phantom Brave, and Makai Kingdom. NIS America has also become a publisher of Japanese anime titles, such as Toradora!, bunny drop, and Natsume's Book of Friends.