Source:
NIS America
Summary:
NIS America announced that they shipped the standard edition of Arakawa Under the Bridge x Bridge to retailers. The release, which is priced at $49.99, lacks the slipcase and hardcover book that accompanied the initial release. Instead, the title ships in a single Amaray case, which contains the show's four discs and an episode guide leaflet. All on-disc extras from the original release are still included.
---
ARAKAWA UNDER THE BRIDGE X BRIDGE STANDARD EDITION IS NOW AVAILABLE ACROSS NORTH AMERICA!
Santa Ana, CA (April 29, 2014) – NIS America is excited to announce that Arakawa Under the Bridge x Bridge Standard Edition, the wacky, hilarious continuation of the exploits of the denizens that reside below the Arakawa bridge, is now available for purchase across North America. Arakawa Under the Bridge x Bridge Premium Edition comes packaged with 13 episodes on 2 Blu-ray discs/2 DVDs and contains all the original bonus features included in the Premium Edition version. Additionally, the Standard Edition comes with a brief episode guide leaflet.
It is now available at the following select online retailers:  Right Stuf,  The Anime Corner Store,  Anime Pavilion, and  NIS America Online Store.
Arakawa Under the Bridge x Bridge Standard Edition
TITLE:
Arakawa Under the Bridge x Bridge
Standard Edition
MSRP:
$49.99
RELEASE DATE: April 29, 2014
ITEM #:
ARA2-BDS-US-SE
UPC:
813633013794
AGE RATING:
Teen
LENGTH:
Approx. 316 mins/13 eps
FORMAT:
2 Blu-rays and 2 DVDs
LANGUAGE:
Japanese audio, English subtitles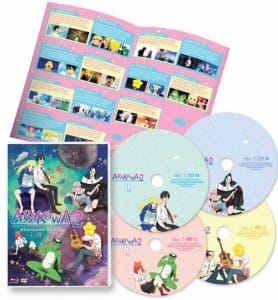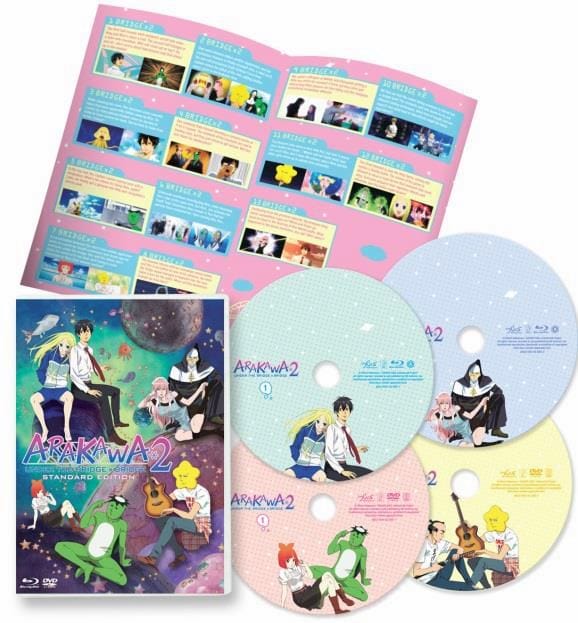 About the show:
Just when you thought things couldn't get any weirder by the banks of the mighty Arakawa, they go ahead and get weirder by a whole lot. Rec, Nino, and the rest of the riverside residents return, and with the addition of another batch of nutty citizens the insanity gets turned up to eleven…thousand. Now Rec has to deal with a sci-fi loving comic nerd who's convinced he's a captain in the Earth Defense Force, and the less said about the Amazon woman living upstream with her demonic "female" Amazon followers, the better. On top of that, Rec struggles with the pressing issues of romantic expression, media obsession, weight loss, weight gain, beach parties, haunted houses, interplanetary travel, and the ever-present threat of global thermonuclear war!
About the extras:
–  Audio tracks featuring commentary from various voice actresses/actors and even the original author, Hikaru Nakamura. These tracks will let you take a peek behind the scenes – it's a very intimate way to learn how the cast thinks and feels about the characters and events!
–  TV spots and an end card gallery.
Cast
Hiroshi Kamiya as Ko Ichinomiya (Rec)
Maaya Sakamoto as Nino
Keiji Fujiwara as Village Chief
Tomokazu Sugita as Hoshi
Takehito Koyasu as Sister
Miyuki Sawashiro as Maria
Staff
Director: Akiyuki Simbo
Animation Production: SHAFT
For more information, visit  NISAmerica.com/arakawa
About NIS America
In 2003, NIS America was established in Southern California to bring exciting, one-of-a-kind Japanese culture to North America. NIS America's team members devote themselves to the fans. Their respect for their fans is at the heart of everything they do. As an established entertainment publisher in the U.S., NIS America is committed to continuous growth and improvement.
NIS America is a subsidiary of Nippon Ichi Software, Inc., a Japanese company famous for its unique line of strategy RPGs with titles such as Disgaea, Phantom Brave, and Makai Kingdom. NIS America has also become a publisher of Japanese anime titles, such as Toradora!, WAGNARIA!!, and Natsume's Book of Friends.