---
PIED PIPER, INC. LAUNCHES CROWDFUNDING CAMPAIGN FOR SKIP BEAT! NORTH AMERICA DVD/BLU-RAY RELEASE
San Francisco, CA – March 1, 2016 – Pied Piper, Inc. announces the launch of its Indiegogo campaign to fund the North America Blu-ray and DVD release of Skip Beat! with English dub. Pied Piper, Inc. licensed with property from TV TOKYO with the guarantee of producing an English dub.
In the 25-episode shojo series, 16-year-old Kyoko Mogami is devastated to learn that her long-time crush Sho Fuwa has been using her as a servant while he waltzes to stardom. She vows to beat him at his own game and joins a rival talent agency, and in the process transforms from a docile people-pleaser to ingenious creative talent. The anime's riveting story arcs include Kyoko's discovery of friendship with fellow actress Kanae ("Moko") Kotonami and her tumultuous relationship with romance-challenged star Ren Tsuruga, who slowly leads her away from revenge and returns her to the path of love.
The campaign goal is to raise $210,000, which is the minimum budget required to produce a solid Blu-ray and DVD release with English dub. Pied Piper, Inc.'s president Ann Yamamoto explains, "It is unbearable to me that Skip Beat! has not had an official release. Thanks to my experience in crowdfunding the Time of EVE: The Movie international release, I am in a position to do something about it."  The Time of EVE: The Movie campaign on Kickstarter raised $215,433 to exceed the original goal by over 1,000%, and additional funds were used toward bonus material, English dub, soundtrack, official fan book and exclusive merchandise. Ann Yamamoto continues, "Crowdfunding is ideal for Skip Beat!, which has a passionate fan base but has remained unlicensed, in large part because shojo titles are seen as being challenging for an English dub, which can easily cost $200,000. I commend TV TOKYO for believing in Skip Beat! and requiring the English dub as a condition for the release, and I believe the fanbase in North America has the passion to make the release a success."
On February 16th, Pied Piper, Inc. launched a Coming Soon Page with an email signup to preview the Indiegogo campaign page. As of February 29th, over 300 people had signed up and the feedback has been used to hone the campaign perks and improve the presentation of the story and dub.
The Indiegogo campaign will run from March 1st through March 31st  and will focus on enhancing the quality of the English dub, which will have Mela Lee (Rin Tohsaka in Fate/stay night, Yuki Cross in Vampire Knight, Shinku in Rozen Maiden) acting as executive producer along with Cristina Vee (Sailor Mars in Sailor Moon, Homura Akemi in Madoka Magica, Mio Akiyama in K-ON!) and Jason Charles Miller (Avatar: The Last Airbender, Final Fantasy XIV, World of Warcraft, Hellsing, and owner of Central Command Studios). The rewards include exclusive merchandise and experience-based tiers that pull back the curtain on the localization and dub production process.
The campaign will use Indiegogo's flexible funding option, which means that the funds will be collected and rewards will be delivered even if the $210,000 goal is not met. Ann Yamamoto explains, "I decided to go with flexible funding for a scenario where we come very close to the goal, such as reaching $190.000. I didn't want the dub team to be left with the zero funding. I think our biggest danger is that fans might assume that since Skip Beat! is such a strong title, doesn't need their help. Nothing could be farther from the truth."
Skip Beat! was produced by Hal Film Maker and aired on TV TOKYO from October 2008 to March 2009 and currently streams on Crunchyroll. The anime is based on the on-going shojo manga by Yoshiki Nakamura, published in Japan in "Hana to Yume" and in North America by VIZ Media. Pied Piper, Inc. licensed the anime from TV TOKYO.
About Pied Piper, Inc.
Pied Piper, Inc. produced the Kickstarter campaign in 2013 for the international Blu-ray release of Yasuhiro Yoshiura's Time of EVE: The Movie, which achieved 1,000% funding at over $215,000. The additional funding enabled Pied Piper, Inc. to expand the original Blu-ray release to include an English dub by NYAV Post, subtitles in 10 languages, cast and director interviews and audio commentary, director Yasuhiro Yoshiura's short films, the original soundtrack, exclusive merchandise, and original artwork.
About TV TOKYO
TV TOKYO Corporation is a leading Japanese content producer and broadcaster with particular strength in animation, high-concept infotainment and business news. TV TOKYO has been the home of the hit animation series such as "YO-KAI WATCH",  "NARUTO", "Yu-Gi-Oh!", "BLEACH", "Pokémon", and "Beyblade".
About Mela Lee
Mela's standout roles include Rin Tohsaka in Fates/Stay: Night, Shinku in Rozen Maiden, Natalie in Scrapped Princess, Darry in Tengen Toppa Gurren Lagann, Rena Ryugu in Higurashi: When They Cry, Yuki Cross in Vampire Knight, and Erika Karisawa in Durarara!!. She's also known for voicing Meimi Haneoka in the TOKYOPOP dub of Kaitou Saint Tail. She and fellow voice actress/friend Erica Lindbeck host a Youtube series titled "Lindbeck and Lee."
Mela is also an accomplished musician as the vocalist for the band Magnolia Memoir.
About Cristina Vee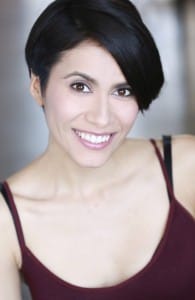 Cristina has voiced over 100 characters in animation and video games, including Sailors Mars in Sailor Moon, Mio Akiyama in K-ON!, Alisa Bosconovitch in Tekken Blood Vengeance, Homura Akemi in Madoka Magica, Morgiana in Magi: The Labyrinth of Magic, the eleven Honoka sisters in Netflix's Knights of Sidonia, Cubone (and others) in Pokemon Origins and Riruka Dokugamine in Bleach. Beyond voice acting she has a large YouTube following for her singing. She provides vocals to songs in Adventure Time: Hey Ice King! Why'd You Steal Our Garbage!? and Shantae: Half Genie Hero. She currently casts and directs Skullgirls and is recognizable to eSports fans for hosting IGN's IPL 4 and 5.
About Jason Charles Miller
Besides founding the internationally acclaimed rock band Godhead, Jason is the owner of Central Command Studios (Hellsing, Basura, Gun X Sword). As a songwriter or producer Jason has written theme songs for the Disney Channel, ABC Family, Geek and Sundry, Stan Lee's World of Heroes and has had multiple song placements on HBO, SyFy, CBS and FOX. As a voice actor, Jason has appeared in video games including Star Trek Online, World of Warcraft, Hearthstone, Neverwinter, Super Street Fighter 4, Street Fighter vs. Tekken, Final Fantasy XIV: A Realm Reborn, Persona 4, and animated features including Avatar: The Last Airbender, Batman: The Brave and the Bold, Code Geass, Yu-Gi-Oh, Moribito: Guardian of the Spirit, Nura: Rise of the Yokai Clan, One Piece and Wolf Children.
Links:
Indiegogo Campaign Page
https://www.facebook.com/piedinc
https://www.instagram.com/piedinc/
https://jp.pinterest.com/piedinc/
http://piedpiperinc.tumblr.com/
Twitter:
https://twitter.com/TheMelaLee
https://twitter.com/cristinavee
https://twitter.com/TheMelaLee
http://www.crunchyroll.com/skip-beat
###