Source:
Viz Media
Summary:
Viz Media announced that they are hosting a sale on digital editions of the Black Lagoon manga. Through April 2, 2014, volumes 1-9 of the series will be given a $2.00 discount. Barnes and Noble's online store is selling print editions for 40% off of the suggested retail price.
---
March 21, 2014
VIZ MEDIA DELIVERS THE ACTION WITH RED HOT BLACK LAGOON MANGA SALE
For A Limited Time, Lock And Load Big Savings On Digital Edition Of The Hit Manga Series Through VIZManga.com And Digital Partners; Print Version Available From BarnesAndNoble.com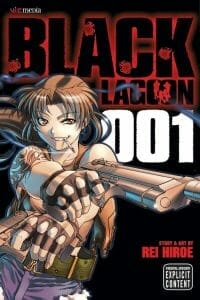 The bullets and high seas action flies off the page as VIZ Media unleashes special savings on Rei Hiroe's smash hit manga (graphic novel) series – BLACK LAGOON. For a limited time, BLACK LAGOON, Volumes 1-9, (rated 'M' for Mature Readers) are available digitally each for $2.00 off the regular MSRP ($8.99) from VIZManga.com; a discount will be available as well as through the NOOK, Kindle, Kobo, iBooks and GooglePlay stores. Print editions are also available to order for 40% off the regular MSRP ($12.99 + s/h) from BarnesAndNoble.com (http://www.barnesandnoble.com/u/manga/379003481). The special promotion runs until April 2nd, and coincides with the debut of the Black Lagoon anime series on Toonami on Saturday, March 22nd.
VIZManga.com is the web-accessible North American portal to VIZ Media's massive catalog of digital manga titles that spans more than 2,000 volumes across 180 different series. Fans can also purchase VIZ Media digital titles on the NOOK, Kindle, Kobo, iBooks and GooglePlay stores.
Lock n' load with the baddest group of mercenaries ever to hit the high seas of Southeast Asia! Aboard their World War II-era torpedo boat, the Black Lagoon, Dutch the Boss, Benny the Mechanic, Revy Two Hand, and Rock, the salaryman from Japan, deliver anything, anywhere. In the dangerous underworld of the Russian Mafia, Chinese triads, Colombian drug cartels, crazed assassins, and ruthless mercenaries, it's hard to know who to trust. But if you've got a delivery to make, and you don't mind a little property damage along the way, you can count on the crew of the Black Lagoon!
Creator/artist Rei Hiroe debuted his first manga series in 1993. His most notable work, BLACK LAGOON, has been published in Shogakukan's monthly magazine Sunday GX since 2002. The series is critically acclaimed for its unrelenting, fast-paced action, gritty stories and highly detailed array of weaponry and military hardware. Based on the success of the manga in Japan, BLACK LAGOON was also developed into a blockbuster animated series that gone on to garner substantial international acclaim and a fervent fan base.
To learn more about VIZ Manga, please visit www.vizmanga.com.
###