US Distributor:
Lucky Penny Entertainment
Production Studio:
Studio Deen
Was this provided by the publisher?
Yes
More Info:
Anime News Network
---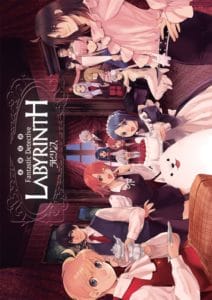 Fantastic Detective Labyrinth is an adorable 2007 throwback to classic kids' mystery-fantasy shows with suitably updated illustration and animation styles. If you want to relax while indulging in a bit of nostalgia, ranging from the character types to the music tracks, consider Fantastic Detective Labyrinth for a cup of cuteness.
The story takes place in Kyuto, an area of former Tokyo that was destroyed 30 years prior by an unprecedentedly devastating earthquake. After the Great Fall, most citizens migrated to the new capital Shinto, leaving ruined Kyuto to be a hub for criminal activities and scavengers. The esteemed Hyuga manor is located in such a place, and in such a place the singular Mayuki is raised by his butler. Mayuki is a scholastic genius, and he's privately tutored until he encounters his first friends, who influence him to broaden his personal horizons.
When he attends school, Mayuki's doll-like appearance and nerdy frailty catapult him to popularity. He maintains his good nature and isn't spoiled by the extra attention or the increasingly violent and disturbing crimes that he must solve. The plot eventually arcs from solving individual crimes to confronting the mystery of the Hyuga clan, and it ties them together for a tidy conclusion at the end of the series.
I mentioned that the characters made me nostalgic, but they weren't tropey in an off-putting way. The nostalgia partly came from the lovely voice actors in a cast which includes Miyuki Sawashiro, Junichi Suwabe, Kana Ueda, and Romi Park. The dialogue seemed natural and not pre-packaged, and although it could be predictable, flow and timing were well executed. The characters are surprisingly normal and pleasant, which almost makes them distinctive due to show's setting.
This series' illustration style is marked throughout with warm tones, attention to background details, and lovely lighting techniques. The music pulled a giggle from me, because the way in which it signaled scene transitions reminded me so much of what I watched during my childhood.  I found the dialogue after the ending credits to be worth watching, as the conversations often comically revealed a quirk of the characters' personalities that isn't even hinted at during the show.
I wasn't inspired to say much more about this simple throwback to the '90s, but don't let that trick you into thinking I wasn't satisfied. Fantastic Detective Labyrinth is cute, uncomplicated, and relaxing to watch. Familiar voice actors and unsurprising character developments help make this a comforting title to add to your queue when you need a break from intense shows, a bit of adorable nostalgia, or both! You can watch it on Crunchyroll or it makes an affordable addition to your collection thanks to Studio Deen.
Gallery