If you read my miniature rant last night, you probably know that I'm a sucker for a fancy package. I just won't pay $160 for one. While I won't place them at some absurd value, I'll usually be more than happy to place a few extra bucks down on a set that stands out from the rest. Sure, some may find things like this a bit superfluous, but I enjoy having something that I can put on display.
Over the years, I've naturally found a few favorites to add to my collection, which adorn my shelves and entertainment center with pride. Tonight, I'd like to highlight a few of these, that caught my fancy but didn't cost me a quarter of a rent payment.
The Melancholy of Haruhi Suzumiya
:
Bandai
went above and beyond with their Haruhi releases. Their first volume was bundled with the
Bouken Desho Desho
CD, and a gorgeous box that sported magnetically-closing doors
and
a drawer for the CDs that came in each LE. The single volumes were just as lavish, as they included a second disc that featured episodes of the series in their original TV broadcast order – something that wasn't even in the Japanese releases!
DiGi Charat
: This one has always been a favorite of mine. It's basically just a giant box that holds one DVD and a manga volume. However, the box itself is big enough to hold a six-volume series, with room to spare, and is packed with goodies that included the DiGi Charat TV series, a trio of trading figures, and a voucher for a free T-shirt (I still have the shirt – never wore it, oddly enough!). the motif is simple, but it works well. I only wish that Sync-Point had put out more of these before they closed up shop.
Coyote Ragtime Show
: This one is more recent than most on this list, with a 2007 release. Still, it's a charming metal case, with a gorgeous embossed, full-color render of Mister and Franca. the back of the box features the show's name stamped into the back with a repeating pattern, The overall look is clean, but distinct, and the color illustration gives just enough "pop" to warrant the coveted display space.
Persona: Trinity Soul:
I can't help but love what
NIS America
is doing for premium packaging. After what felt like an eternity without this treatment, they exploded onto the scene with giant, high-quality boxes and gorgeous companion books. Persona is no exception. Both of the show's releases were packaged in thinpack cases, with particularly impressive scenes from the show. The box is a sturdy chipboard with art of the main cast. However, the first volume proves more impressive, with its double-sided book, with half serving as an episode guide and half being a page-for-page recreation of
The Whale's Feather
: a picture book that plays heavily into the plot of the show.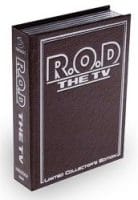 R.O.D The TV
: I actually forgot that I had this one until I came across it earlier today. The R.O.D TV box is absolutely impressive, with its bound-book appearance and transparent pages to hold all seven volumes of the show.The inside is adorned with a few of the nicer pieces of artwork from the show, and the box itself is a sturdy plastic. It's definitely one of the finer pieces to come from Geneon in their years of business. As a bit of a zing, this one only cost me about $40 when it first came out in '04.
I've only scratched the surface of the fantastic and unique boxes, and my obsession by extension. After all, this doesn't count the "ones that got away", like ADV's Paul Champagne boxes, or Pioneer's Armitage lunchbox and figure bundle. Still, it's a fun diversion that will continue to suck an extra $5-10 from me every time a distributor puts out something shiny.